Individuals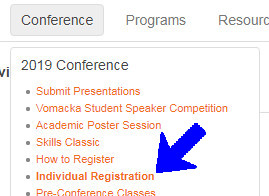 Conference registration requires you to have a profile in our database. If you have previously attended an NCEMSF conference, you already have one and you should log in using the right-most menu item or the form at the bottom of each page. Once you do, you will see an "Individual Registration" link on the menu bar beneath the "Conference" menu item.
If you do not have a profile yet, it's easy to create one by clicking here.
If you are not sure of your username or password, use the Forgot login? link at the bottom of any page.
Groups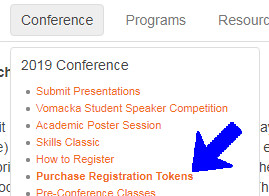 Organizations looking to purchase tokens to allow their members to attend should log into the Web site with their institutional account. You can log in using the right-most menu item or the form at the bottom of each page. Upon doing so, a "Purchase Registration Tokens" link beneath the "Conference" menu item will be shown. Once the tokens have been purchased and issued, you can distribute the code to your members for use during the individual registration process.
If you have forgotten your username or password, you can have it sent to you via e-mail. Having problems logging in? Please contact membership services for additional assistance.
Pre-Conference Workshops
Registration for Pre-Conference Workshops is limited to individuals who are already registered for the Conference. After your individual registration has been submitted and paid, visit our Pre-Conference Workshops page for registration links. If you have not yet completed your Conference registration, you can still view the Pre-Conference Workshop descriptions and pricing for planning purposes, but attempting to register for a Pre-Conference workshop before your individual Conference registration has been processed and paid will result in an error message. In addition, token codes are valid only on Conference registrations, and cannot be used towards Pre-Conference Workshop costs. If you wish to pay as a group for a Pre-Conference Workshop, please use one of the offline payment methods. Further details can be found in our Fees and Policies.
Pre-Conference Class
Individuals who wish to register for a pre-Conference class may do so only after they have registered and paid for the Conference. Once your payment has been processed, you will see a Pre-Conference Class link under the Conference menu, just below Individual Registration. The link will not be available until your registration has been processed.