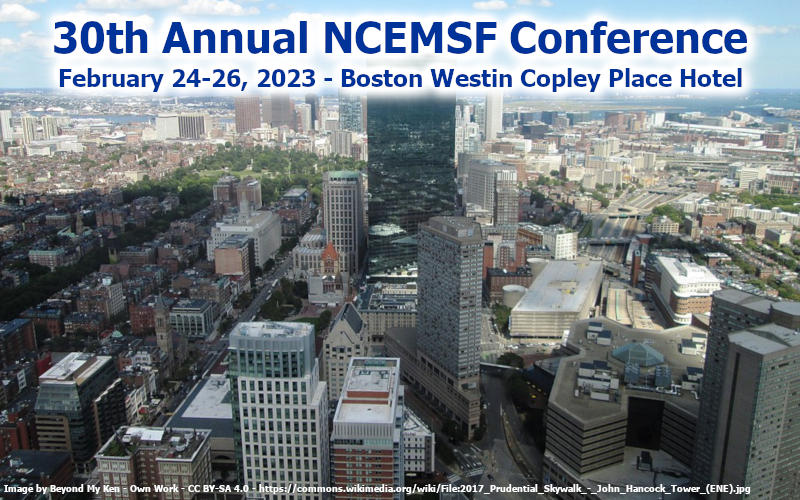 The National Collegiate EMS Foundation would like to invite you to our 30th Annual Conference, to be held on February 24-26, 2023 at the Westin Copley Place Hotel in Boston, MA. Join over 1,100 EMTs and Paramedics from more than 100 colleges and universities across the United States and Canada for three days of education, skills labs, and networking.
Registration | Schedule and Program | Activities | Submit Presentations | Finance | Hotel | Ground Transportation | Sponsors | Questions
---
COVID Safety
NCEMSF is committed to the safety of its attendees, Conference presenters, and hotel staff. While we are planning on an in-person Conference in 2023, we are still closely monitoring the public health situation as we develop our plans for 2023. NCEMSF will follow the CDC guidance in effect at the time of the Conference for the duration of the event. All registrants, as a condition of completing the Conference registration process, agree to comply with any safety measures NCEMSF, the host facility, or applicable health authorities put into place. More details will be posted as we get closer to the event.
Registration
Registration for the 2023 Conference will open in December, 2022.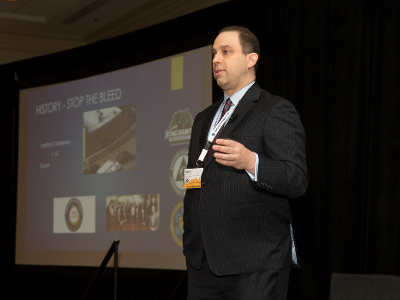 Conference Schedule and Program
The 2023 NCEMSF Conference will run from Friday, February 24, 2023 through Sunday, February 26, 2023. The Conference will include:
Pre-Conference Workshops (Friday morning and/or afternoon)
Twelve Workshop Sessions (Friday 6pm through 9pm, all day Saturday, and Sunday morning through early Sunday afternoon)
Multiple Plenary Sessions
Academic Poster Session
Hands-On Skills Labs
To get the most out of the Conference experience, we recommend arriving in the morning or afternoon on Friday, and staying through early evening on Sunday.
EMS Skills Classic
The NCEMSF EMS Skills Classic is an annual event allowing Collegiate EMS providers to showcase their patient care, teamwork, and problem-solving abilities. Teams of up to twelve individuals from the same school complete in a variety of scenarios at either the ALS or BLS level. The Skills Classic requires an additional fee per team. More details and registration will be available once Conference registration opens in December.
Activities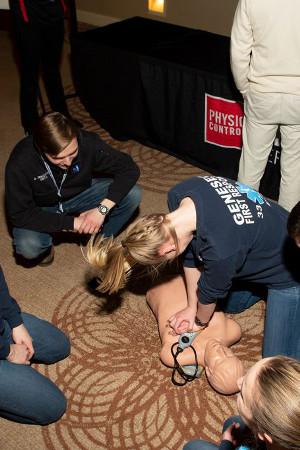 Pre-Conference Workshops
NCEMSF is pleased to continue the tradition of offering Pre-Conference Workshops to be held on Friday, February 24, 2023. Pre-Conference Workshops offer the opportunity to take an in-depth dive into a specific topic. Each Workshop lasts at least three hours, and seating is capped to ensure the optimal educational experience for all attendees. Additional Continuing Education credit is also available (issued as paper certificates on-site). More details will be available after Conference registration opens in December.
Alumni Mixer and Social
Each year, NCEMSF hosts an Alumni Mixer and Social, which takes place on the evening of Saturday, February 25, after the conclusion of the Awards Ceremony. Alumni Conference Attendees, along with Conference Presenters, are invited to attend this free event. Refreshments and light hors-d'oeuvres will be provided. Tickets to this event are distributed at Conference check-in to eligible attendees.
Other Conference Activities
NCEMSF Conferences are about more than just learning. They are also an opportunity for networking and socialization with other Collegiate EMS Providers and Leaders. We are currently making plans for Pittsburgh events, but expect a Welcome Social on Friday evening, Group Introductions and Meet-and-Greet on Saturday morning event (which will also include recognition for squad anniversaries and CPR saves), and a Saturday evening social event. All of these activities are included in your Conference registration fee! Check back for more details as the Conference approaches.
There are also multiple opportunities to celebrate the achievements of your squad and its members. NCEMSF's Awards Program has recognition opportunities for individuals, groups, and activities. Striving for Excellence is a self-evaluative program designed to recognize groups that meet best practices in EMS administration and management. HEARTSafe Campus is a recognition program for groups and schools that have improved the safety of their campuses through CPR education and outreach. EMS Ready Campus is a self-evaluative program designed to promote integration between Collegiate EMS and Emergency Management. NCEMSF also partners with the Sudden Cardiac Arrest Association to issue recognition certificates for collegiate EMS providers who participated in CPR Saves. More details about each can be found by following the appropriate links. The deadline for receipt of all recognition program nominations and supporting materials is February 10, 2023.
Submit Presentations and Academic Posters
Workshop Session Presentations
Presentations may be submitted online via our speaker portal. The portal also contains information on the available session formats, procedures for abstract submission, and additional details for individuals whose presentation requests are accepted.
A free NCEMSF website account is required to access the portal. Presenters who have submitted abstracts in the past should use their existing NCEMSF account; contact our IT team if you need assistance locating your username or resetting your password.
Submissions will be reviewed on a rolling basis, and NCEMSF may close submissions once a suitable number of presentations have been received.
Vomacka Student Speaker Competition
Current students are also welcome to enter the Vomacka Student Speaker Competition. This symposium is a chance for student lecturers to showcase their presentation skills and earn bragging rights for their collegiate EMS organization. The competition is judged on a speaker's ability to deliver a relevant high-quality seminar to their peers. Points are awarded based on strength of the submitted abstract, quality of the delivered presentation, and audiovisual materials. Please see our Vomacka Competition page for additional details.
Academic Poster Session
NCEMSF is pleased to partner with the Journal of Collegiate EMS on our annual Academic Poster Session, featuring original research and case studies in program development/evaluation. Poster authors need not be present at the Conference to be selected, but those who are will have the chance to show their poster in person. Detailed presentation information and required poster templates will be made available later in 2022.
Conference Finance
The NCEMSF Conference remains one of the most affordable EMS conferences in the United States. The registration prices for 2023 are as follows:
Early Registration: $80 members/$95 non-members and tokens
Regular Registration: $95 members/$115 non-members and tokens
Late Registration: $130
Additional information on payment and cancelation policies, as well as the specific dates of the registration periods, will be posted later in 2022.
Conference registrations can be paid individually or as a group, and NCEMSF accepts credit card/purchasing card payment via PayPal, as well as checks (personal or institutional) and institutional purchase orders. You can find financial documents commonly needed by schools when paying via Purchase Order at our Tax Forms Page.
For groups who have never attended an NCEMSF Conference, groups that were regular attendees in the past but have not attended in the last several years, or groups experiencing financial hardship, NCEMSF offers a Conference Scholarship Program/New Group Initiative. Applications will open later in 2022.
Conference Logistics
Hotel
The 2023 Conference will be held at the Westin Copley Place Hotel, 10 Huntington Ave, Boston, MA. Located in Boston's Back Bay neighborhood and connected to the Copley Place Mall, the Westin is ideally situated near historical sites, tourist attractions, restaurants, and shopping opportunities.
NCEMSF has negotiated a conference rate of $175 per room per night plus applicable taxes and fees. Bookings must be made online via the hotel's online reservations portal. NCEMSF's special room rate will be available for several days before and after the Conference, but the Conference itself will be Friday through Sunday only. This rate is guaranteed only through Thursday, January 26, 2023. After that date, market rates may apply. Please book early to ensure you are able to receive NCEMSF's negotiated rate.
Note that the hotel may set maximum occupancies per room, and that couches and roll-away beds may not be offered due to availability and/or fire code issues.
NCEMSF strongly recommends booking at the host hotel to get the most from the Conference experience. If you encounter any issues with your booking process, please contact confinfo@ncemsf.org.
Ground Transportation
Information on parking and other transportation options will be announced later in 2022.
Sponsors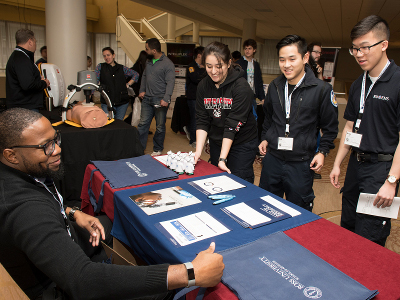 NCEMSF offers multiple avenues for companies, organizations, and educational institutions to support the NCEMSF Conference and the Foundation's work as a whole.
On Saturday, February 25, 2023, a vendor and career fair will be held in a prominent area of the hotel. Booths are available to companies marketing products to EMTs and EMS agencies, as well as to medical schools and others looking to recruit. Most of our attendees are current undergraduate students who also serve as EMTs and Paramedics on their college campuses. Many of them hold leadership positions with the groups they represent and are responsible for agency purchases. After graduation, many attendees either continue in EMS, go on to medical school, or complete post-graduate education.
We also offer the ability for sponsorship of specific Conference activities, assisting with one of our ongoing programs, or a named lecture track. 2023 pricing will be announced later in 2022, but for details on becoming a Foundation sponsor and examples of pricing at past events, visit the sponsors section of the website. For more information email sponsor@ncemsf.org.

Questions
Email confinfo@ncemsf.org and a member of our staff will get back with you promptly. You can also check out our Conference Frequently Asked Questions page.