Student medics pass test in dramatic quake drill
The Record
"EARTHQUAKE: LOPATA HALL." The words practically scream from the digital pager at a minute past noon.
Within four minutes, senior Sheila Lee, sophomore David Salvay and senior Rachael Payne of Washington University's Emergency Support Team (EST) race onto the scene. Blood. Wailing. Hysterics. More blood. Immediately, the three are mobbed by a handful of victims who stagger from the steps of the venerable engineering building. Payne darts from room to room, quickly taking stock of the situation.
Almost instantly, a command structure is established. Payne begins triage -- identifying, prioritizing and treating the victims based on the severity of the wounds.
Steadily, another 32 members of the EST team -- triggered via phone chain by Salvay -- stream in over the next 20 minutes, each falling into step and fulfilling a role in aiding what turns out to be nearly 50 victims.
The EST's David Salvay and Nadya Rashkovetsy tend to an "injured" Todd Chang during an earthquake preparedness drill April 5.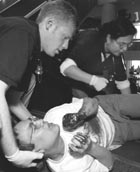 What seems like a scene from M*A*S*H is, indeed, staged. The mock disaster drill, held Sunday, April 5, was designed to test the emergency response capabilities of EST -- a volunteer student organization that provides free and confidential 24-hour emergency medical care to the University community.
As with any drill, the goal is realism. To that end, members of the 375th Moulage Team from Scott Air Force Base near Belle-ville, Ill., arrived that morning and applied makeup and fake blood to simulate injuries on some 50 student volunteer "victims" -- the gorier, the better.
Also on hand -- both to assist and critique -- were representatives of the Clayton and St. Louis fire departments, University Police and observers from the University's Emergency Preparedness Planning Committee.
By all accounts, the EST team came away with high marks. "Overall, I was very pleased with EST's performance," said Steven P. Hoffner, assistant vice chancellor for operations, who oversees the University's disaster preparedness. "The drill was a valuable learning experience -- both for EST and for those of us who were evaluating."
Added Laurie Reitman, M.D., Health Service director and EST's medical director for the past six years: "EST always exceeds my expectations. This drill was just one example of their commitment to the University community. It's practice, practice, practice."
Forty-four members strong, with 24 women and 20 men, the EST team prides itself on rigorous training and preparation. In addition to a thorough initial training regimen, the group also receives auxiliary training for nearly two hours every Sunday and Wednesday evening of the school year.
Such dedication pays dividends. Last semester alone, EST responded to 201 calls, ranging from sprained ankles to cardiac distress.
"EST is different, in many respects, from your basic Emergency Medical Service organization," said Justin Bachmann, EST's disaster co-chair. "The people we treat are colleagues -- friends and fellow students. For them to trust us, we have to be very good at what we do. That's why we train so hard."
The earthquake drill put that schooling to the test. Lopata Hall is home to biomedical engineering labs, where strange chemicals and hazardous materials abound. Two EST medics entered one darkened room where two patients lay prone. A quick examination revealed the symptoms of irreversible carbon monoxide poisoning. Further taking in their surroundings, the two medics discovered a cluster of gas tanks and vacated. Time elapsed in the room: 48 seconds. Time remaining until the medics themselves would become "casualties": 12 seconds. Test passed.
"In a disaster, there's a lot of things going on," Bachmann said. "It becomes chaotic. It's easy for things to get out of hand. Medics have to keep their composure or else everything could just disintegrate. That's why we train for this scenario. That's why we're ready."
--David Moessner