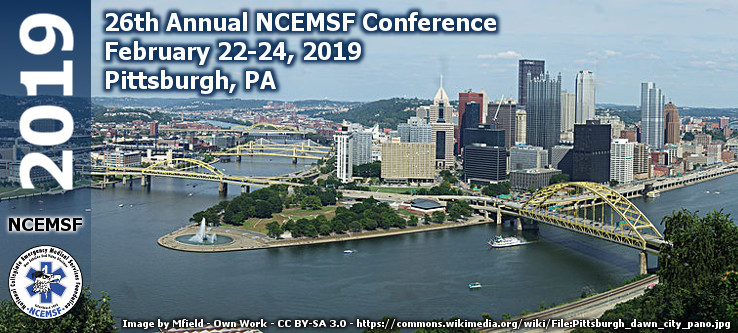 The National Collegiate EMS Foundation would like to invite you to our 26th Annual Conference, to be held at the Wyndham Grand Downtown Hotel in Pittsburgh, PA on February 22-24, 2019. Join over 1,100 EMTs and Paramedics from more than 100 colleges and universities across the United States and Canada for three days of education, skills labs, and networking.
Schedule and Program | Registration (Coming Soon!) | Activities (Coming Soon!) | Finance | Logistics | Sponsors | Questions
We are currently finalizing Conference details, and additional information and links will become available on this page as the year progresses.
---
Conference Schedule and Program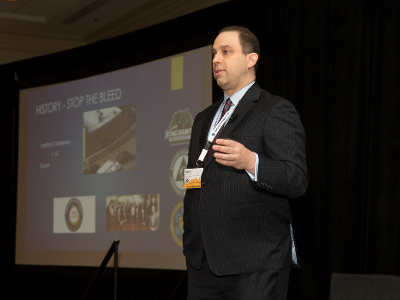 The 2019 NCEMSF Conference will commence on the evening of Friday, February 22, 2019, and run through the early afternoon of Sunday, February 24, 2019. The Conference Program has not been set yet, but will include:
Twelve Workshop Sessions
Multiple Plenary Sessions
Academic Poster Session
Pre-Conference Classes
Hands-On Skills Labs
EMS Skills Classic
Abstract submission will be available in the near future, and abstracts will be accepted on a rolling basis. For examples of past lectures, please see our pdf 2018 Conference Program (1.43 MB) .

Conference Finance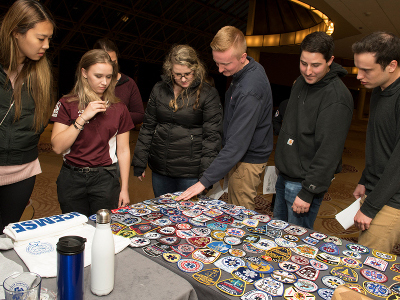 The NCEMSF Conference remains one of the most affordable EMS conferences in the United States. Early registration rates will be $75 for NCEMSF Members and $90 for non-members. Finalized information (including regular and late registration rates as well as registration periods) will be available soon, and attendance fees will remain comparable with past years.
For groups who have never attended an NCEMSF Conference, groups that were regular attendees in the past but have not attended in the last several years, or groups experiencing financial hardship, NCEMSF offers a Conference Scholarship Program/New Group Initiative. The application for this program will be available soon, but in the interim, please contact your group's Regional Coordinator to learn more.
Conference registrations can be paid individually or as a group, and NCEMSF accepts credit card/purchasing card payment via PayPal, as well as checks (personal or institutional) and institutional purchase orders. It's never too early to ensure that your school's purchasing or finance office is ready to pay NCEMSF. You can find financial documents commonly needed to set up a vendor in schools' purchasing systems at our Tax Forms Page. If additional information is needed, please contact confinfo@ncemsf.org.
Additional details can be found on our Conference 2019 Fees and Policies page.
Conference Logistics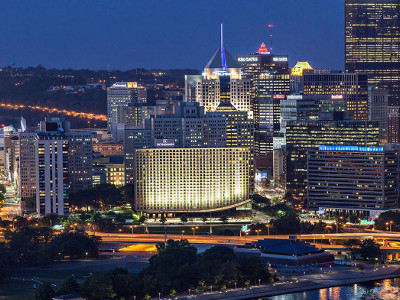 The 2019 NCEMSF Conference will be held at the Wyndham Grand Pittsburgh Downtown Hotel. Located in Pittsburgh's Golden Triangle, it overlooks the confluence of the Allegheny and Monongahela Rivers and is situated near several parks, the Fort Pitt Museum, and Pittsburgh's Cultural District. The hotel's address is 600 Commonwealth Place, Pittsburgh, PA 15222.
NCEMSF's special Conference rate is $148 per room per night plus applicable taxes and fees. Additional fees may apply for roll-away beds and other optional amenities. Bookings may be made online at the hotel's online booking website. For your convenience, the Conference rate is available for several days before and after the Conference weekend.
For those travelling from out-of-town, Pittsburgh International Airport (PIT), located 30 minutes west of downtown Pittsburgh, has 74 nonstop routes on 17 airlines. Pittsburgh is also on the Pennsylvanian and Capitol Limited Amtrak routes, and Union Station (PGH) is less than one mile from the Wyndham Grand Downtown.
For those driving to the hotel, the only on-site parking option is valet. For information on off-site self-parking locations, please see the Pittsburgh Downtown Partnership's website (which includes rates and maximum vehicle height for each garage listed), or consult the pdf hotel's self-parking locations map (10.25 MB) (which shows rates for public and private garages in the area).
Sponsors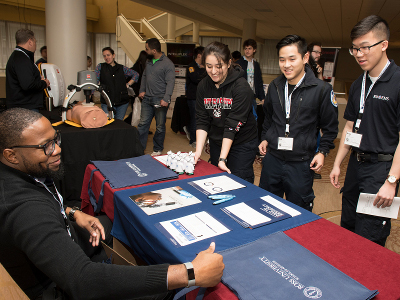 NCEMSF offers multiple avenues for companies, organizations, and educational institutions to support the NCEMSF Conference and the Foundation's work as a whole.
On Saturday, February 23, 2019, a vendor and career fair will be held in a prominent area of the hotel. Booths are available to companies marketing products to EMTs and EMS agencies, as well as to medical schools and others looking to recruit. Most of our attendees are current undergraduate students who also serve as EMTs and Paramedics on their college campuses. Many of them hold leadership positions with the groups they represent and are responsible for agency purchases. After graduation, many attendees either continue in EMS, go on to medical school, or complete post-graduate education.
We also offer the ability for sponsorship of specific Conference activities, assisting with one of our ongoing programs, or a named lecture track.
For details on becoming a Conference sponsor, visit the sponsors section of the website. For more information email sponsor@ncemsf.org.
Questions
Email confinfo@ncemsf.org and a member of our staff will get back with you promptly. You can also check out our Conference Frequently Asked Questions page.