Rice News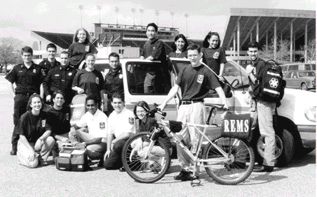 ABOVE: REMS members, pictured above, are, from left: (standing on truck) Christine Borgstrom, Stephen Chao, Alex Flores, Monica Ramos; (standing) Clay Juckett, lieutenant, John Cloudman, lieutenant, Noah Reiter, captain, Laura Grable, Mark Escott, chief, Sean Joyce, Tim Miller; (kneeling) Andi Tenner, Clayton Hall, Sandheep Surendran, Danny Chelius and Ginger Mills. Members not pictured are Anne Blaine, Rachel Doyle, Peter Ermis, Mike Escott, Les Hulsey, Troy Meeks, Matt Mendenhall, Anna Miller, Amy Nunnikhoven, Raymond Scholton, Martha Stegner and Alisha Young.
Volunteers Donate Much Time, Effort to Staff 24-Hour Rice Emergency Program
BY LISA NUTTING
Rice News Staff
Feb. 25, 1999
A visitor attending a wedding reception at the Cohen House collapsed from cardiac arrest. Another visitor enjoying a retirement social on campus suffered a heart attack. In both instances, Rice Emergency Medical Services (REMS) volunteers were on the scene within minutes--and both victims were "saves" and have since fully recovered.
REMS' quick response time--which currently averages 2:07 minutes--may have made the difference between life and death, said Mark Escott '96, director of REMS. "In those situations, timing is everything," he added.
After four years of research and planning, REMS came to fruition on Oct. 4, 1996. The program is the brainchild of Escott, as he persevered in gaining insurance and administrative and budget approval. Though he did not see REMS come unto its own while a student, he has volunteered as the program's director since its beginnings and was hired to run the program full time in August 1998.
REMS is volunteer-run, enlisting the help of 23 student, four staff and three police officer Emergency Medical Technicians (EMT). A supervisor and two EMTs are on duty at all times. Most EMT volunteers serve one or two eight-hour shifts per week, while three supervisors rotate shifts. An EMT volunteer is also on duty in each college to respond to in-house emergencies.
As a freshman in 1991-92, Escott began looking into bringing an EMS program to Rice. Escott and his brother Mike Escott '98 were volunteers for the Cypress Creek EMS at the time.
"We saw how effective it was and thought we could provide the same or similar service to Rice University," he said.
Escott first met with Rice administrators to discuss the possibility of beginning such an EMS program. He recalled that administrators initially were reluctant to delve into such a project because the medical center is nearby and because of possible liability problems.
Escott next asked Rice University Police Department (RUPD) Chief Mary Voswinkel to gather statistics from police records on the number of medical emergencies at Rice as well as the average response time of fire department personnel.
The statistics for 1992-93 proved daunting. Campus emergency calls averaged 150-200 per year, and response time from the outside agencies averaged nine to 10 minutes. A couple of calls even took 15-20 minutes, Escott recalled.
"If anything serious is going on, that's far too late," he said.
During the research phase, Escott recalled, a professor died of a heart attack on campus.
That was extremely frustrating for us because we were trying to get the EMS program [accepted]," he said.
Escott continued his homework. He researched other universities throughout the country and found that more than 150 campuses had EMS programs in place. He gathered examples about other university programs and their successes and made a list of contacts.