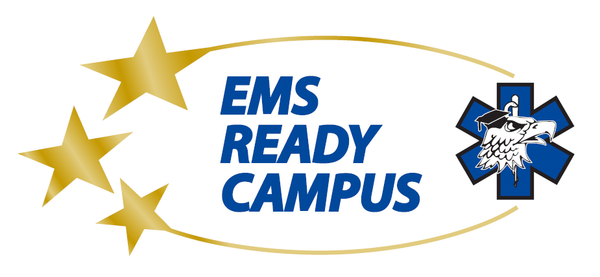 The National Collegiate Emergency Medical Services Foundation EMS Ready Campus program is designed to recognize excellence in emergency management and disaster preparedness of collegiate EMS organizations. Additionally, the program provides a framework for the enhancement of emergency management education, overall campus preparedness, and response capabilities for the applicant organization. Organizations will have the opportunity to receive recognition through a combination of self-evaluation, dynamic interaction with NCEMSF staff, and by completing a group of prescribed tasks.
EMS Ready Campus consists of three tiers of achievement: Bronze, Silver, and Gold.
This program is not a certification or an endorsement of any specific policy or procedure, but rather recognition for organizations that have embraced the challenges of EMS operations outside of traditional patient-care activities. Participants who meet the program requirements will receive an award plaque, acknowledgment at the NCEMSF Annual Conference, and on the NCEMSF website.
Recognition is valid for three academic years, but may be upgraded to a higher tier at any time upon completion of the requirements. An upgraded recognition begins a new three-year period for which the award is valid. The higher tiers require that all the tasks of the preceding tier are also completed or renewed.
A final elective component, which can be added to either the Bronze, Silver, or Gold recognition, is the Laurels in EMS Emergency Preparedness Research distinction. Completion of an optional research initiative in collaboration with NCEMSF earns this title.
All application materials must be received by the Friday two weeks prior to the start of the annual NCEMSF conference for the year in which the campus is to be considered for the award or renewal of the award. Please e-mail: emergency.management@ncemsf.org with any questions regarding the application process or the designation.
pdf Download the EMS Ready Campus Application (398 KB)
Past Recipients
2015 (Inaugural Year of Program):
Rowan University (Rowan University EMS) - Bronze
Virginia Tech (Virginia Tech Rescue Squad) - Bronze
2016:
Case Western Reserve University - Bronze
Drexel University - Bronze
Northern Illinois University - Bronze
St. Michael's College - Bronze
Syracuse University - Bronze
Temple University - Bronze
University of Pittsburgh - Bronze
2017:
Bighamton University - Bronze
SUNY Albany - Bronze
The George Washington University - Bronze
Washington University - St. Louis - Bronze
Rowan University - Silver
2018:
Eckerd College - Bronze
Fordham University - Bronze
Johns Hopkins University - Bronze
Rochester Institute of Technology - Bronze
Tufts University - Bronze
University of Arizona - Bronze
University of Massachusetts - Lowell - Bronze
Wake Forrest University - Bronze
St. Michael's College - Silver
Syracuse University - Silver
The George Washington University - Silver
Virginia Tech - Silver
2019:
Case Western Reserve University - Bronze
Stony Brook University - Bronze
University of Illinois - Bronze
University of Dayton - Bronze
University of Massachusetts - Amherst - Bronze
Western Carolina University - Bronze
Fordham University - Silver
Rowan University - Gold
Resources