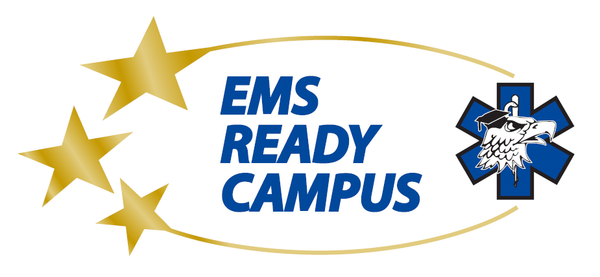 The National Collegiate Emergency Medical Services Foundation EMS Ready Campus program is designed to recognize excellence in emergency management and disaster preparedness of collegiate EMS organizations. Additionally, the program provides a framework for the enhancement of emergency management education, overall campus preparedness, and response capabilities for the applicant organization. Organizations will have the opportunity to receive recognition through a combination of self-evaluation, dynamic interaction with NCEMSF staff, and by completing a group of prescribed tasks.
About | Application Files | Past Recipients | Generic Resources | Tier-Specific Guidance | Frequently Asked Questions

About the Program
EMS Ready Campus consists of three tiers of achievement: Bronze, Silver, and Gold. Each Tier builds upon previous work to allow the applicant to progress towards stronger emergency management operations.
This program is not a certification or an endorsement of any specific policy or procedure, but rather recognition for organizations that have embraced the challenges of EMS operations outside of traditional patient-care activities. Participants who meet the program requirements will receive an award plaque, acknowledgment at the NCEMSF Annual Conference, and on the NCEMSF website.
Recognition is valid for three academic years, but may be upgraded to a higher tier at any time upon completion of the requirements. An upgraded recognition begins a new three-year period for which the award is valid. The higher tiers require that all the tasks of the preceding tier are also completed or renewed.
A final elective component, which can be added to either the Bronze, Silver, or Gold recognition, is the Laurels in EMS Emergency Preparedness Research distinction. Completion of an optional research initiative in collaboration with NCEMSF earns this title.
All application materials must be received by the Friday two weeks prior to the start of the annual NCEMSF conference for the year in which the campus is to be considered for the award or renewal of the award. Please e-mail: emergency.management@ncemsf.org with any questions regarding the application process or the designation.
Application Files
pdf NCEMSF EMS Ready Campus Application (496 KB)
This is the full application packet. Please download and complete as described in the packet.
spreadsheet EMS Ready Campus Training Documentation Spreadsheet (11 KB)
Roster information and documentation of most training courses is done on this spreadsheet. Complete and submit as described in the application packet.
Past Recipients
2015 (Inaugural Year of Program):
Rowan University (Rowan University EMS) - Bronze
Virginia Tech (Virginia Tech Rescue Squad) - Bronze
2016:
Case Western Reserve University - Bronze
Drexel University - Bronze
Northern Illinois University - Bronze
St. Michael's College - Bronze
Syracuse University - Bronze
Temple University - Bronze
University of Pittsburgh - Bronze
2017:
Bighamton University - Bronze
SUNY Albany - Bronze
The George Washington University - Bronze
Washington University - St. Louis - Bronze
Rowan University - Silver
2018:
Eckerd College - Bronze
Fordham University - Bronze
Johns Hopkins University - Bronze
Rochester Institute of Technology - Bronze
Tufts University - Bronze
University of Arizona - Bronze
University of Massachusetts - Lowell - Bronze
Wake Forrest University - Bronze
St. Michael's College - Silver
Syracuse University - Silver
The George Washington University - Silver
Virginia Tech - Silver
2019:
Case Western Reserve University - Bronze
Stony Brook University - Bronze
University of Illinois - Bronze
University of Dayton - Bronze
University of Massachusetts - Amherst - Bronze
Western Carolina University - Bronze
Fordham University - Silver
Rowan University - Gold
2020:
Binghamton University - Bronze
Drexel University - Bronze
Embry-Riddle Aeronautical University - Bronze
Georgetown University - Bronze
University of California - Davis - Bronze
University of Delaware - Bronze
Utica College - Bronze
University at Albany - Silver
2021:
Boston College - Bronze
Rensselaer Polytechnic Institute - Bronze
University of Florida - Bronze
Generic Resources
FEMA's NIMS Training webpage lists online and in-classroom classes related to the Incident Command System and National Incident Management System. Various classes from this list are required for all three Tiers.
A free online Hazardous Materials Awareness course is available from TEEX (required for the Silver Tier). TEEX is a member of FEMA's National Domestic Preparedness Consortium.
FEMA's Independent Study Program provides free online emergency management classes, including those required for the Silver Tier.
FEMA's Professional Development Series is a group of free, web-based classes that are required for the Gold Tier.
FirstResponderTraining.gov lists classes from state training offices, FEMA, and FEMA's partners related to emergency management, fire, and EMS. These include classes from the National Domestic Preparedness Consortium, a group of colleges and universities that produce emergency management and emergency response classes in specific topic areas. Please note while these classes may be available for free (either at your institution or off-site), the course application or request process normally involves your regional or state emergency management agency. Contact your EMA for details.
Organizations looking for information to support public outreach events should utilize the FEMA Ready program. There are specific resources for higher education campuses and emergency responders.
The Ohio State Board of Emergency Medical, Fire, and Transportation Services offers a free online Rescue Task Force Awareness Course. Providers not from Ohio should scroll to the bottom of the page for a training link that can be used without registration. Ohio providers should follow the directions at the top to meet state requirements for this course.
You can combine multiple documents into a single PDF file by using Adobe Acrobat Pro or Adobe Acrobat Pro DC (note that this is different from the free Reader versions). This software will also let you remove pages from documents or re-order pages. Your school's IT department should be able to tell you which computer labs have this software installed; you may also wish to check with your campus library or any sort of digital media center if one exists.