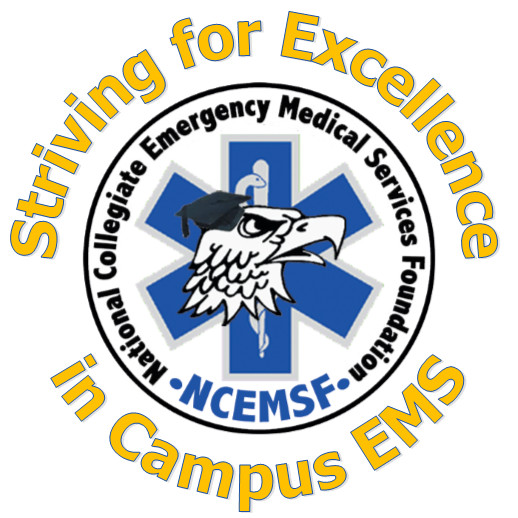 The National Collegiate Emergency Medical Services Foundation "Striving for Excellence in Campus EMS" recognition program is a self-evaluation program for campus EMS organizations. Eligible organizations include institutional members of NCEMSF. These are EMS organizations that are affiliated with an institution of higher education. This recognition program is oriented to operational EMS organizations that provide basic life support and/or advanced life support services such as quick response, ambulance transport, or special events medical services.
The evaluation is a self-appraisal of campus based EMS organizations assessing quality factors in EMS operations including the delivery of care, training and continuing education of employees and volunteers, and service to the community. The intent of this program is to recognize quality campus EMS organizations and hold them out as examples to other campus EMS organizations that are newly starting or are still developing their programs. Information from this program may be shared by NCEMSF with other campus EMS organizations in consulting, seminars, and written material for the purpose of helping organizations improve the quality of EMS.
Campus EMS organizations completing and submitting this self-appraisal packet with recommendations for recognition will be acknowledged by NCEMSF and recognized for a three year period with a "Striving for Excellence" award.
Tips for completing a successful application:
Please clearly label all attachments with references to the appropriate section of the appraisal form. Attachments should not normally exceed one page each. In the past, some schools have submitted bound computer printed applications.
All sections must be complete. All components are required unless otherwise specified (i.e. no vehicle is operated by the organization).
All four recommendation signatures are required in Part V. The recognition is made based on your school's recommendation.
In the past, although this is not required, some schools have submitted bound computer printed applications with graphics and other material. This makes a great annual report for your group and to submit for internal recognition by your school.
The NCEMSF awards committee reviews all nominations. Striving for Excellence recognitions are made each February during the Annual National Conference. Nominations received by the Friday two weeks prior to the start of the conference will be considered for that year's award.
The Striving for Excellence application can be pdf downloaded as a PDF file (196 KB) .
All nominations and supporting material should be sent to the e-mail (preferred), fax, or postal address below. There is no need to mail hard copies of electronic submissions.
(877) NCEMSF-1 - (877-623-6731)
NCEMSF
PO Box 93
West Sand Lake, NY 12196
Striving for Excellence Recipients
The following is a list of the Striving for Excellence recipients. Striving for Excellence is a three-year certification, and the year listed is the start of the three-year recognition period. Renewals of the Striving for Excellence designation are indicated by (R).
1999 - Brandeis University, Pennsylvania State University, Rice University, Syracuse University, University of Dayton, University of Delaware, University of Rhode Island
2000 - Columbia University, St. Bonaventure University, Texas A&M University EMS, Tufts University
2001 - Rochester Institute of Technology, SUNY Albany, Villanova University
2002 - Emory University, Pennsylvania State University (R), Rice University (R), Stony Brook University, Texas A&M University Rec Sports Medics, University of Dayton (R), University of Delaware (R)
2003 - Columbia University (R), John Carroll University, Loyola Marymount University, Montclair State University
2004 - Binghamton University, George Washington University, Rochester Institute of Technology (R), Syracuse University (R), University of Rhode Island (R)
2005 Duke University, Montclair State University (R), Pennsylvania State University (R), Rice University (R), Tulane University, University of Delaware (R), Villanova University (R), Virginia Tech
2006 - Columbia University (R), Loyola Marymount University (R), University of Dayton (R)
2007 - Binghamton University (R), Brandeis University (R), Georgetown University, George Washington University (R), University of Pennsylvania, University of Windsor
2008 - Carnegie Mellon University, Emory University (R), Pennsylvania State University (R), Syracuse University (R), SUNY Albany (R), Tulane University (R), University of Massachusets – Lowell
2009 - Columbia University (R), Cornell University, Muhlenberg College, Rice University (R), University of Dayton (R), University of Delaware (R), University of Rhode Island (R)
2010 - Georgetown University (R), University of Pennsylvania (R), University of Windsor (R)
2011 College of Charleston, Columbia University (R), Syracuse University (R), Temple University, University of Wisconsin
2012 - Emory University (R), Rice University (R)
2013 - Cornell University (R), Binghamton University (R), University of Massachusetts - Lowel, University of Pennsylvania (R)
2014 - Arizona State University, College of Charleston (R), Georgetown Emergency Response Medical Service (R), Rochester Institute of Technology Ambulance (R), University of Richmond EMS, PennState University Ambulance Service
2015 - Emory University (R), Fordham University, Rice University (R), Temple University (R), The George Washington University (R), University of Dayton (R)
2016 - Columbia University (R), University of Massachusetts - Lowell (R), University of Pennsylvania (R), Virginia Tech (R)
2017 - Arizona State University (R), Dartmouth College, Drexel Universirty, Massachusetts Institute of Technology, Syracuse University (R), University of Illinois - Urbana Champaign, Washington University - St. Louis.
2018 - Carnegie Mellon University EMS (R), Emory university EMS (R), Fordham University EMS, Georgetown Emergency response Medical Service (R), George Washington Emergency Medical Response Group (R), Harpur's Ferry Student Volunteer Ambulance Serivce (R), Rice University EMS (R), St. Michael's Ambulance, Tufts EMS (R), Western Carolina University EMS.
2019 - Columbia University (R), SUNY Albany, University of Massachusetts - Lowell (R), Stony Brook University (R), University of Dayton (R)
2020 - Universirty of California - Davis, University of Delaware, Universirty of Pennsylvania (R), Washington University - St. Louis
2021 - Fordham University (R), Rice University (R), St. Michael's College (R), Tulane University, University of Binghamton (R), Western Carolina University (R)
2022 - Embry Riddle Aeronautical University, University of Albany, University of Arizona, University of Dayton (R), University of Massachusetts - Amherst
2023 - Indiana University Bloomington, University of Denver, University of Texas - Dallas; Case Western Reserve University (R), Columbia University (R), University of Pennsylvania (R), University of California - Davis (R), University of Delaware (R), Virginia Tech (R)