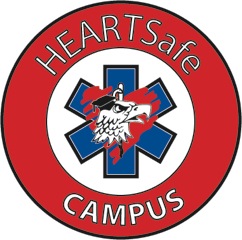 The National Collegiate Emergency Medical Services Foundation (NCEMSF) encourages and promotes community awareness of the potential for saving the lives of sudden cardiac arrest victims through the use of cardiopulmonary resuscitation (CPR) and increased public access to defibrillation.
In order to increase this awareness, NCEMSF, with support from HEARTSAFE Communities, the American Heart Association, The Sudden Cardiac Arrest Foundation and industry partners, has developed an initiative to designate college communities as "HeartSafe Campuses." NCEMSF affirms that the cornerstone of any HEARTSafe Campus is a vibrant campus-based emergency medical response organization.
"HeartSafe Campuses," like HEARTSafe Communities, promote and support:
Rapid Response by CPR and AED Trained First Responders

Rapid Public Access to Defibrillation

Early Access to Advanced Care

Public CPR and AED Training for the Community

Engagement in Preventative Cardiovascular Healthcare Activities
The intent of this program is to recognize quality campus based EMS organizations and their communities and hold them out as examples to other campuses as a means to improve overall cardiac arrest care. Information from this program may be shared by NCEMSF with other campus EMS organizations in consulting, seminars, and written material for the purpose of helping organizations improve the quality of EMS and overall cardiac care on campuses.
Campus EMS organizations completing and submitting this self-assessment and verification packet on behalf of their campuses and fulfilling all required criteria herein will be acknowledged by NCEMSF at our annual conference and recognized for a three-year period with a "HEARTSafe Campus" award. HEARTSafe Campuses will need to recertify ever three years by updating and refilling this application.
All application materials must be received at least two-weeks prior to the start of the annual NCEMSF conference for the year in which the campus is to be considered for the award or renewal of the award. Please e-mail heartsafecampus@ncemsf.org with any questions regarding the application process or the designation.
Campuses labeled as HEARTSsafe Campuses will receive appropriate signage for their campus. Additional Signage may be purchased from NCEMSF.
HEARTSafe CAMPUS Application (PDF)
Email: heartsafecampus@ncemsf.org
HEARTSafe Campuses:
2013 (Inaugural Year of Program):
Massachusetts Institute of Technology (MIT EMS)
2014: (Press Release: HeartSafe Press Release 2014 [PDF])
Binghamton University (Harpur's Ferry Student Volunteer Ambulance Service) - April 2, 2014 news article
Syracuse University (Syracuse University Ambulance)
University of Massachusetts-Lowell (UMass-Lowell EMS)
University of Richmond (University of Richmond EMS)
University of Pittsburgh (Pitt SEMS)
2015:(Press Release: HeartSafe Press Release 2015 [PDF])
Fordham Univeristy (Fordham EMS)
Georgetown University (Georgetown Emergency Response Medical Services)
Rowan University (Rowan University EMS)
Tufts University (Tufts EMS) - News Article
University of Albany, SUNY (Five Quad Volunteer Ambulance Squad)
University of Delaware (University of Delaware Emergency Care Unit) - Press Release
University of Maine (University of Maine EMS)
Virginia Tech (Virginia Tech Rescue Squad)
"The American Heart Association applauds the efforts of the National Collegiate Emergency Medical Services Foundation to foster and promote a stronger "chain of survival" through the establishment of HEARTSafe Campuses."