College Students Experience Emergency Medicine at Rowan University
By Ari Bross, EMT-B
From the July 2014 issue of JEMS. Also published on jems.com (http://www.jems.com)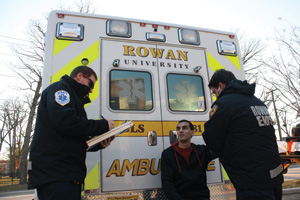 In 1978, a small group of students with previous EMS experience at Rowan University—a public university located in the southern New Jersey community of Glassboro—decided to start a campus EMS club. The university president at the time was a physician and a big supporter of the college-based EMS concept, and his support helped get the idea approved by their student government. Although the original group was small, the size of the squad grew rapidly alongside the university's growth throughout the following decades. Now, Rowan University has over 12,000 students, roughly 2,000 faculty members, countless visitors and a supportive surrounding community—all of which are serviced by Rowan University EMS 24/7.
Retaining Tradition
Today, our squad has roughly 40 active members and regularly recruits during club fairs and by word of mouth. Members come from all different backgrounds and majors, some with previous EMS experience, many without. Some are serious about getting involved and some just want to see what EMS is all about. A large number of applicants change their mind once they get more information about what the club does, but those who join—especially students interested in medicine—gain valuable experience by serving on the squad.
Qualified applicants must be current students or public safety employees. Of the 40–50 applications the club receives each semester, typically less than five people are accepted to become certified EMTs.
Once in, however, the first lieutenant in charge of training helps new members find and enroll in CPR and EMT classes. To assist with CPR training, a handful of our members who are CPR instructors teach classes, in addition to those offered by other organizations around campus.
Acquiring & Maintaining Skills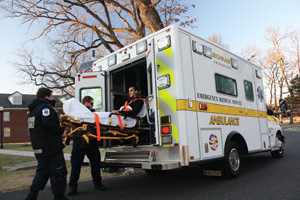 A major challenge we face is the ability to gain the necessary experience in treating patients. Most college-based EMTs aren't frequently tasked with handling the types of calls traditional EMTs are faced with every day. To overcome this obstacle, we host numerous training sessions to ensure EMTs maintain their skills. These training sessions range from weekend drills to having our medical director from Cooper Medical Center teach a class at the campus. After all, these students may be called upon to demonstrate their skills someday, and they'll need to perform adequately.
One of the major problems we and other collegiate EMS providers face is the misperceptions others in the public safety field have about such programs. Many think we're just a bunch of college kids with an ambulance, but we're like most other EMS agencies, many of which are traditionally staffed by people in their mid-20s and 30s. There's a challenge in getting public safety agencies to recognize that we're capable of providing appropriate and quality patient care. To overcome this hurdle, we always display a professional image. This can include anything from how we as first responders treat the public to maintaining a clean and tidy uniform.
Staffing University Events
Rowan's squad is always standing by at various sporting events on campus. Football games, men's soccer and rugby are all staffed with at least one ambulance. We also provide EMS at events with a large attendance expectation, like on-campus concerts, homecoming traditions and benefit gatherings. With Rowan University's rapid growth in recent years, our EMS services have been needed for an increasing number of large-scale events.
For example, Rowan University's student programming teams have experimented lately with new types of campus events. In 2012, Rowan began hosting an annual event called Ro-Glow—a variation of Day-Glo—at the start of the school year. This can best be described as a big electric DJ concert utilizing paint canons aimed at the audience. These types of events bring in anywhere from 30–40 patients to an established triage tent. Because of Rowan EMS's dedicated membership, we're capable of treating the rapid increase in patients. In the past, we've rarely needed to call on mutual aid for assistance. We have, however recently begun asking for assistance from groups such as the N.J. EMS Task Force (NJEMSTF). Last year, our preplanning found the need to borrow an NJEMSTF-owned tent to aid with treating the large number of patients expected.
Structure & Operations
Rowan EMS operates like a traditional squad with an executive board. The positions are held by student EMTs and include a captain, first and second lieutenants, secretary and a treasurer. These officers are actively involved in the bylaws process as well as the selection and purchasing of equipment. As a student-run organization, our funding comes from the Student Government Association, or SGA. Rowan EMS's executive board recently negotiated the purchase of our new 2012 GMC ambulance from Horton Ambulance, which was funded through the SGA and replaced our older 1995 ambulance.
The chief of EMS and communications is a paid employee of the Rowan University Department of Public Safety (DPS) and oversees all squad operations. In addition to our chief, we have two university employees who act as our SGA advisors and assist with squad logistics.
Both of our ambulances are stationed right on Rowan's main Glassboro campus. This convenience places less stress on the Gloucester County EMS (GCEMS) system, which already experiences a high call volume. Some of the benefits of being a campus-based squad are quick response times and the ability to provide professional EMS at no cost.
The Rowan University DPS operates a 24/7 dispatch center staffed with two operators. These personnel handle all emergency and nonemergency calls for the campus, including a full-time nationally accredited police department and security department. Rowan EMS is dispatched using Motorola pagers and all operations occur through a VHF radio system. In addition to campus communications, each ambulance has the ability to coordinate with county EMS resources on their frequencies for interoperability.
During the school year, Rowan EMS staffs a minimum of one ambulance every weeknight and on weekends. Our weeknight shifts are from 6 p.m. to 7 a.m. starting Sunday night and ending Thursday morning. From Friday evening at 6 p.m. until Sunday at 6 p.m., there are four 12-hour shifts to ensure at least one ambulance is always staffed. Throughout the week, daytime calls are handled as an all-call, where public safety will send out a different set of tones to indicate that there's no scheduled duty crew and for any available members to respond for a call. These are the same tones used when there's a second call on campus while the on-duty crew is already handling a call.
We run crews with no more than three people per truck to avoid crowding. Each crew consists of at least two EMTs, one of which is typically committed to driving and navigating the ambulance. Nearly every shift also has a third squad member—a trainee who's there to learn and gain experience. We try to pair people based on experience so members who aren't as experienced have someone they can look to for help. A major shift-staffing challenge is that we're all still in college and taking five or six classes a week, so many shifts require different people for coverage at the start of the shift due to night classes.
All members of Rowan EMS are volunteers, but two students every school year are selected to be paid DPS employees. These two EMTs provide transports for handicapped students to their classes. Because many students on campus don't have cars, these EMTs also provide nonemergency transports for students to doctor's appointment as well as return transports from the local hospitals. They still respond to 9-1-1 emergencies during the day when they're working, but because they're employed by Public Safety and not EMS, when they're on their weeknight duty crews, they're still volunteering.
Community Partnerships
ALS services are provided by Inspira Health Network, based in Gloucester County. Rowan EMS has a good working relationship with GCEMS. In 2012, our agency became part of the Gloucester County ambulance strike team. We had the opportunity to send an ambulance to Brick Township, near the New Jersey shore, to an area hit hardest in the aftermath of Hurricane Sandy. We assisted with the NJEMSTF mobile hospital as well as search-and-rescue efforts in surrounding communities. Recently, GCEMS approached us with a mutual aid proposal for Rowan EMS response into the surrounding communities.
In 2011, Rowan University was activated as a regional evacuation shelter during Hurricane Irene. Rowan became a temporary residence for about 1,200 evacuees from the Atlantic City area. A number of the displaced persons came with significant medical issues. A triage room was quickly set up with assistance from various hospital and health agencies from throughout the Gloucester County area. Rowan EMS provided support for the entire operation and transported 38 patients in 48 hours during the height of the storm. To recognize the efforts of the volunteer crews during the storm, all Rowan ambulances now display a hurricane symbol on the doors with "Irene 2011—38 in 48" printed inside.
To continue active preparedness, both Rowan University and GCEMS have partnered in an effort to provide free training to New Jersey first responders. In 2012, we began hosting an annual continuing education seminar. Topics have covered management of ST elevation myocardial infarction, when to use ALS, EMS and the active shooter, documentation, and shelter operations. We've also hosted other major training opportunities, like JEMS Editor-in-Chief A.J. Heightman's mass casualty incident (MCI) management seminar.
On the second day of the MCI seminar, the skills learned by responders were tested in a simulated incident drill on Rowan's campus. A large number of "patients" were assessed, treated, and transported via a network of triage, staging, transport and command processes. Later in the year, GCEMS and Rowan EMS joined together again to conduct a training exercise at Rowan's South Jersey Technology Park facility. First responders from the county, Rowan University, local police departments, local fire departments and first aid squads were tested in response to an occupied school bus accident with entrapment.
The November drill tested MCI scene management skills as well as interagency cooperation among the county's resources. EMTs and paramedics with the assistance of police and fire professionals were able to triage and transport all the patients before the "one hour" mark of the drill. They were being observed by GCEMS personnel as well as state task force members and local school administrators. During the debriefing session, the need for the involvement of school personnel in an incident involving children and their inevitably concerned parents was discussed.
A Bright Future
Throughout the years, Rowan EMS has been contacted by other universities that are either trying to form their own EMS program or are looking for guidance. Some of these schools include The College of New Jersey, Richard Stockton College of New Jersey, DeSales, and Ramapo colleges. Many of these schools were able to hear about the success of our EMS program through the National Collegiate EMS Foundation conference. In this annual conference, collegiate EMS groups attend various training classes as well as roundtable discussions with other college EMS providers. This gives us the ability to chat about current issues related to staffing, training and college administration. Rowan EMS has even been contacted by colleges as far away as Kentucky looking for assistance in how to convince their universities to purchase response vehicles.
Rowan University and Rowan EMS look forward to the growth of the school and the many new opportunities to come. We stand ready to respond to any and all emergencies that come our way.
Ari Bross, EMT-B, is currently an electrical and computer engineer at Lockheed Martin after graduating from Rowan University last spring. He's been involved in EMS for six years and was with Rowan EMS starting freshman year, serving as the squad's captain during his last two years.
Rowan University EMS Call Volume
Call volume for 2013 came in at just under 500. People sometimes assume college EMS agencies are consistently busy handling drunks, but this isn't always the case—especially at Rowan University. When you take a large number of students and faculty and put them on a small college campus, a large range of unique call types emerge.
The most common types of calls we experience at Rowan EMS are abdominal pain, fall victims, flu-like symptoms, various traumas, psychiatric emergencies, unconsciousness and general medical emergencies. The medical emergency category is for calls that are hard to categorize. College students who find themselves away from home for the first time can certainly come up with fascinating emergencies. Some 9-1-1 calls do come in for simple complaints like common coughs, and we also get called for patients who manage to get things like earbuds or cotton swabs stuck in their ear. Many students look up to us as parental examples who know what to do in all types of different situations.