Tops in nation, University's EMS squad wins Gold for campus readiness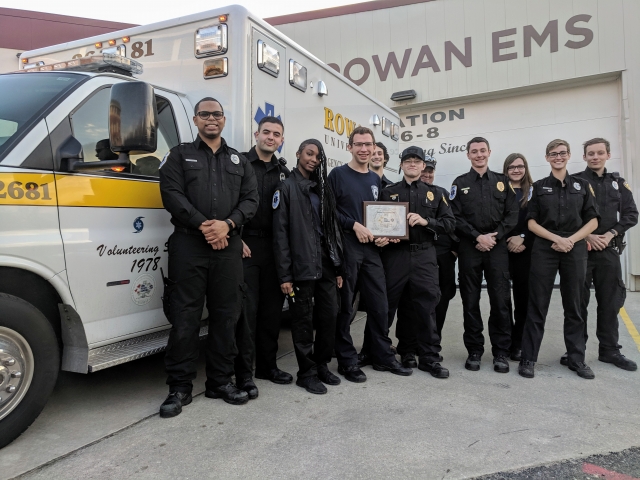 Rowan University's EMS squad, which last year celebrated its 40th anniversary of service, is among the best campus rescue crews in the country for emergency management and disaster preparedness, according to the National Collegiate Emergency Medical Services Foundation.
The squad, which has about 80 active student members, received a Gold award in February from the NCEMSF during the organization's annual conference in Pittsburgh, the only collegiate squad in the nation to do so.
Rowan EMS Captain John Brittin, a junior advertising major, said campus rescue agencies competed on a range of criteria including communications & public warning, interagency operations, training, exercises, planning, special threat preparedness, community outreach, and administration.
"The idea is that collegiate EMS squads are not standalone agencies but are integrated into the university's public safety department as well as local and county agencies," Brittin said.
He said Rowan's EMS squad is the only collegiate unit in the nation to receive recognition from the NCEMSF with bronze, silver and, now, gold awards. In fact, it's the only squad to ever receive gold since the awards program began in 2015, the same year Rowan shared the bronze award with the Virginia Tech University EMS squad. Rowan received the silver in 2017.
Brittin said the awards recognize and an ever-building level of preparation and readiness.
"For example, at the bronze level, organizations are required to hold one annual drill, tabletop or full-scale exercise on campus," Brittin said. "At the silver level, the exercise requires EMS to incorporate other campus departments. At the gold level, the requirements include the incorporation of community partners or off-campus response agencies to the annual exercise."
Last April, Brittin said, Rowan EMS planned and executed a full-scale exercise built around the premise of an active shooter situation. The crew staged the exercise at Linden Hall, just prior to its demolition, incorporating Rowan Public Safety, Glassboro and Gloucester County police and fire personnel. Posing as victims were Rowan students wearing professional stage make-up to simulate gunshot wounds.
Significantly, he said, the interagency planning was not limited to that one event.
"We have a lot of meetings with Rowan Public Safety as well as a rep that attends the county (public safety) meetings," Brittin said. "What it comes down to is emergency management. You're focusing on mass casualty events and natural disasters. When that kind of thing happens, there's never just one agency, it's a multi-agency response and it requires pre-planning."
In advance of last month's NCEMSF conference, Rowan EMS submitted a 90-plus page application detailing continual planning efforts with other agencies as well as the planning and execution of the Linden Hall exercise.
Brittin said students who serve on the campus EMS squad often pursue careers in medical and public safety fields but many members have a more altruistic reason for joining – service in its own right.
He said students who join the squad must complete a year-long emergency medical technician (EMT) course and commit to a minimum of 48 hours of volunteer service per month.
The unit is based out of Winans Hall and has two ambulances and an all-wheel-drive utility task vehicle that's often deployed at the Jean & Ric Edelman Fossil Park during events.
Brittin, who said Rowan's EMS squad is growing along with the University, credits past members for the success it's enjoying today.
"It didn't happen overnight," he said. "Over 40 years this place has seen some incredible members and dedicated leaders. Each year, a new group of leaders takes on the responsibility to be good stewards of what those before them accomplished."
Originally published at https://today.rowan.edu/home/news/2019/03/08/tops-nation-universitys-ems-squad-wins-gold-campus-readiness