Students who Serve and Save
SUNY Albany Web Site
UAlbany's students staff the Five Quad Ambulance Service and give 365/24/7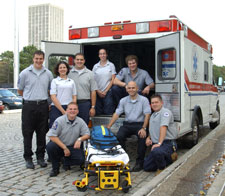 For thirty years, UAlbany students, extensively trained in American Red Cross cardiopulmonary resuscitation and first aid, have responded to the University community's emergency needs. Five Quad Volunteer Ambulance Service Inc., is staffed and organized by dedicated students who give from 20 to 40 hours a week of their time to answer some 600 calls during the academic year. Each crew that responds to an emergency includes at least two New York State-certified Emergency Medical Technicians (EMTs).
One of those EMTs is Captain Matthew Field, a senior majoring in communication is also a firefighter with the Merrick Fire Department and is an EMT at Jones Beach. Field and past President Randy Grant were among Five Quad volunteers who went to New York City right after the September 11 attack two years ago to provide T support at Ground Zero.
Most of the group's work is with the UAlbany campus community where they have had a presence since October 1973. Five Quad Director of Operations Jeff Tooker, a UAlbany junior majoring in history and Scott Wilk, an accounting major and vice president of Five Quad recently transported a patient who was having severe chest pains to a local hospital. Tooker and Wilk won kudos for a job well done from the emergency room doctor. "That compliment will be remembered for a long time!" said Tooker.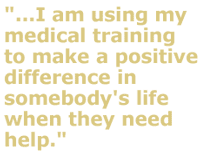 Five Quad President, Jessica Engle, is a senior human biology/prehealth major with medical school plans. "I came to this organization looking to gain hands-on exposure in the medical field." Engle says that volunteering is a component that has its own rewards. "Volunteering has always been a major part of my life," she said. Scott Wilk is an Eagle Scout for whom helping out comes naturally. Jeff Tooker notes: "The greatest reward is knowing that I am using my medical training to make a positive difference in somebody's life when they need help."
There are about 70 active members in the organization, which is funded by the Student Association. While the two Five Quad ambulances are often seen around campus, what is not as visible is the level of commitment these students exhibit by volunteering round the clock, when they could be working for pay or socializing. John Murphy, Five Quad's faculty adviser, from the Office of the Vice President for Student Affairs, speaks proudly of the volunteers. "The student volunteers exhibit professionalism, dedication, enthusiasm and commitment in their service to the entire campus community," said Murphy.
Five Quad Volunteer Ambulance Service
This article originally appeared at: http://www.albany.edu/main/features/2003/10-03/5quad/5quad.htm