By Joshua Schultz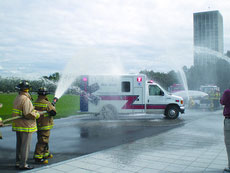 University at Albany officials, guest speakers, and emergency service personnel came together for a wet-down ceremony Sept. 16 to celebrate the arrival of a new ambulance for Five Quad Volunteer Ambulance Service.
The ceremony lasted a half an hour and a hundred people attended. During the event, brief speeches were given by Interim President George Philip, 2008 Class Gift Committee member Nick Fahrenkopf, Five Quad President Ryan Jankow, Five Quad Founder Barry Bashkoff, and Albany County Executive Michael Breslin.
The event ended with the speakers, university officials, firefighters, and members of Five Quad operating fire hoses, spraying down the new ambulance.
The fire hoses came off of fire trucks from Albany Fire Department, McKownville Fire Department, and South Schodack Fire District.
The ambulance, Unit 5281, a 2006 Ford E-350 has been in service since mid-August, according to Jankow. He said it cost approximately $107,000. The new ambulance replaces the old Unit 5281, a 2000 Ford said Five Quad Director of Operations Marc Scholer.
Since being in service, the ambulance has been on around 75 calls, Jankow said.
The funds to purchase the new unit mostly came from the Student Association budget allotted for Five Quad every year under an earmark for ambulance replacement. The leftover funds from Five Quad's budget are regrouped after the fiscal year into the replacement fund, Jankow said.
An extra source of money for the new ambulance came this year in the form of a gift from the UAlbany Class of 2008, which was highlighted during the ceremony.
Every year the graduation class gives a gift to UAlbany, which in the past has ranged from the digital signs that mark the entrances to the uptown campus, to the bronze Great Dane in the SEFCU Arena.
"It's a chance for graduating students to make a lasting impression on their Alma Mater, and to leave this university in a better condition than we found it," Fahrenkopf said during his speech.
Along with that challenges mentioned by Fahrenkopf, they were also issued a challenge by Philip, UAlbany Foundation President George Hearst, and Vice President for University Development Fardin Sanai, which was to come up with 300 pledges from graduating students. In reward for doing so, Philip, Hearst, and Sanai would donate $1,000 of their own money to the ambulance funds.
The end result was having "more than 400 people pledge a total of $16,316.12," Fahrenkopf said.
"I am very glad that the class of 2008 stepped up and was able to make the critical contribution to get this thing over the top," Philip said. "I think Five Quad has been a valuable resource for the campus community for 36 years. They were in dire need of quality equipment to perform the work that they do."
Five Quad has been operational since 1973, the idea to bring a campus based ambulance service started in the fall of 1972 after Founder Barry Bashkoff, while watching a football game saw an injury occur.
"One of the SUNY Albany kids got hurt, and he laid on the field for what I felt was an abnormal amount of time," he said.
Working with students and administration, Five Quad was eventually started, bringing "the third volunteer ambulance based at a state university," to UAlbany Bashkoff said.
Corey Bellarosa, a sophomore at UAlbany attended the event, and was glad to see the arrival of the new ambulance,
"They were a quick response last year when I need them, and I think it's a good thing to have here on campus,' he said.