Oswego State's ambulance squad celebrates 40 years of service
By Debra J. Groom, The Post-Standard on April 24, 2012 at 2:15 AM, updated April 24, 2012 at 6:29 AM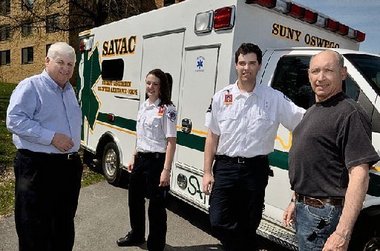 Gary Walts / The Post-Standard Two current members of the Student Association Volunteer Ambulance Corp at the State University College at Oswego are visited by founding members of the organization. The founders are Charlie Flood, left, from Nashville, Tenn and Ed Balaban, right, from Scottsdale, Ariz.. The two students in middle are Jennifer Figueroa, Baldwinsville, and Tyler Kelly, Binghamton.
Oswego, NY -- Back in 1972, the state was going through some difficult financial times.
Edward Balabon, a student at the State University College at Oswego at the time, remembers how Gov. Nelson Rockefeller was proposing some drastic cuts.
"He was canceling construction of the third dormitory and said he was going to close the infirmary," Balabon said. "We said 'Hey, there's 9,000 kids here. What are we supposed to do?' He said if we came up with a better idea, to let him know."
In a stroke of what Balabon called "sober brilliance," the students came up with an idea — they founded their own ambulance squad.
"We got $8,500 out of the student association, stripped a Ford Econoline van and made it into an ambulance," he said. "We put in some cabinetry and had anchor points for the stretchers."
Founding member Charlie Flood said then-Dean of Students Robert Rock "was crazy enough to be our adviser."
This year, SAVAC (Student Association Volunteer Ambulance Corps) celebrates its 40th anniversary. Friday, it marked the event with a dinner and reunion at the American Foundry in Oswego. People came from all over the country to talk about old times and share information with the current SAVAC crew.
"We could have talked all night," said Flood, a business consultant from Nashville, Tenn.
About 50 Oswego State students staff the ambulance on a daily basis. Operations manager Jennifer Figueroa, a senior psychology major, said the corps averages about 350 calls a year.
"Our primary coverage area is campus — covering all calls on campus," she said. "But we also are dispatched to big incidents in the city and if the city ambulances are on other calls, we can be called out to incidents in the city."
She said students who live in Central New York staff the rig during the summer, responding to calls and serving at special events such as Harborfest and the Oswego County Fair in Sandy Creek.
"We are completely volunteer and student run and student funded," said Figueroa, a 2008 graduate of Baker High School in Baldwinsville. "We are funded by the student association."
Student fees, divided among various clubs on campus, help finance the ambulance operation. The squad's budget is $109,582 this year.
The SAVAC website and those connected with the ambulance contend the corps was the nation's first student-funded, -staffed, -trained, and -operated campus volunteer ambulance service. Scott Savett, vice president of the National Collegiate Emergency Medical Services Foundation, said "we agree that SUNY Oswego is certainly one of the oldest, but we can't verify that it is the oldest."
"We know of several groups that are older. Unfortunately, we have no idea what those groups looked like in the late 1960s and early 1970s," Savett said. He said Cedarville University in Ohio claims to be the oldest college emergency medical services organization in the country, founded in 1965. Other college ambulances and their founding years include Columbia University in 1968, St. Michael's College in Colchester, Vt. in 1969 and State University at Stony Brook in 1970, according to foundation records.
SAVAC is considered a basic life support ambulance. Figueroa said the rig is staffed by certified emergency medical technicians, but they can administer only a few drugs, such as epinephrine for allergy attacks, glucose, albuterol (which increases air flow to the lungs) and ibuprofen. They cannot start intravenous fluid lines.
"For instance, if someone is seizing and (the drug) Versed needs to be pushed, they would have to send an ALS (advanced life support) ambulance," Figueroa said.
Balaban said all students who joined during that first year and those now take first aid courses and become certified emergency medical technicians, or EMTs. Many who work on the squad go on to careers in the medical field or on ambulances as paramedics.
Figueroa said after she graduates May 12 with her psychology degree, she is considering nursing school. Working the ambulance since her sophomore year influenced that choice.
She had never thought of medicine or ambulance work before she attended a campus involvement event in her sophomore year. She heard the presentation about the ambulance squad and "from there I joined, took the EMT class and I'm still here three years later."
Flood said it is amazing to see how the ambulance he, Balaban and others began has grown.
"We filled a very, very real void on the college campus when we founded the ambulance," he said. "Today, the members are savvy, they run a business and they save lives. You can't put a price on that."
Contact Debra J. Groom at 470-3254 or 251-5586.