http://www.1strespondernews.com/
By Rober O'Rourk
Setauket, NY ? On December 22 just prior to noon, Setauket Fire Department was called to an automobile accident with a bus which occurred on the Stony Brook University Hospital perimeter road.
The car, a Jeep Grand Cherokee, was broadsided by a Suffolk Transit bus and the Jeep driver received significant injuries. He had to be extracted from the vehicle with the ?Jaws of Life? equipment as the door and post were heavily damaged in the collision.
After his extraction he was taken by Stony Brook ambulance for the brief trip to the emergency room, only 1000 feet away, Five people from the bus including the bus driver were also transported to the Emergency room of University Hospital.
Setauket Fire Department responded with three ambulances and heavy rescue, along with the University Fire Marshals., Stony Brook Fire Department and Port Jefferson Ambulance also responded when the injuries aboard the bus were undefined.
Photos By Robert O'Rourk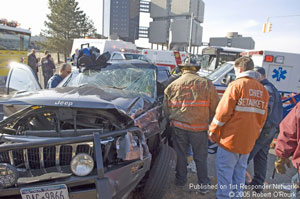 With several EMT's inside the Jeep. firefighters await the extraction. The accident occurred within sight of the Stony Brook University Hospital facility on the perimeter road.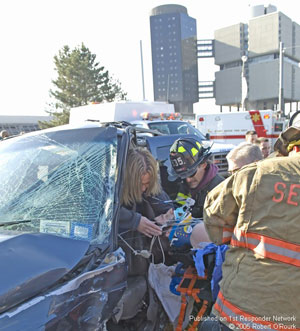 The driver emerges from the Jeep with serious injuries. The drivers door was braodsided by the impact with the bus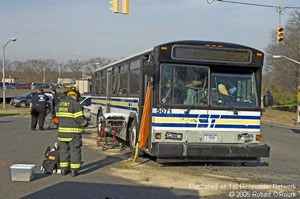 Damage to the front of the bus can be seen along with the bus driver who was placed in a neck brace as a precaution. There were four passengers requesting medical help and transport to the emergency room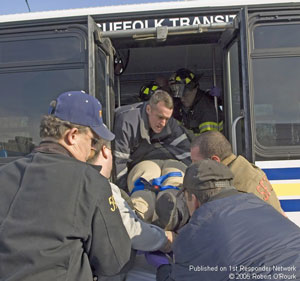 One of the victims is removed from the bus on a backboard by Setauket Firefighters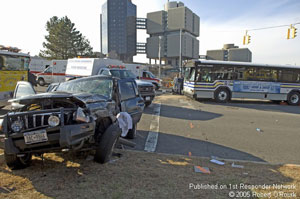 The University Heliport can be seen just to the left of the buses front window, after all of the patients had been transported. The car continued to the curb before stoping, with its side completely damage in the collision, which occurred at a T-intersection