SU Ambulance wins national awards for adviser, website at conference
By Casey Fabris
Staff Writer
The Daily Orange
When Paul Smyth's name was announced as the winner of the Emergency Medical Services Advisor of the Year award, he was surprised to learn that students within Syracuse University Ambulance nominated him for the honor.
"As they were doing an explanation of the award and some of the achievements that we've made since my start back in August, it was starting to sound familiar at some point, so I wasn't completely surprised, but I was still surprised when they said my name," Smyth said.
SUA received two awards, the EMS Website of the Year award and the EMS Advisor of the Year award, at the National Collegiate Emergency Medical Services Foundation Conference in Baltimore, Md., on Feb. 26.
Smyth first became manager of emergency medical services in August 2011, but made numerous changes to the organization during his first few months on the job.
When Smyth first joined the program, he made a list of tasks and initiatives he hoped to accomplish. He said a significant dent has already been made in that list.
"I think we're definitely on the way to accomplishing all the tasks I was given, but I'm sure as time goes I'll have new and more challenging tasks," Smyth said. "I don't think my list will ever be complete because there will always be some new challenge to take care of or some way to improve a program or do something better just to keep the organization growing and keeping it the best organization it can be."
Smyth said some of the new changes include the use of glucometry, which is the testing of a patient's blood sugar; the creation of a quality committee, which monitors how the organization carries out certain tasks and provides recommendations for improvement, should it be necessary; and the addition of a fourth field supervisor.
SUA is also working to get more involved with the county 911 system, Smyth said. Currently, 911 calls are not directly dispatched to SUA.
"Right now, if somebody from campus calls 911, it goes to the county 911 center. Then, they give the call to Rural/Metro Medical Services, which is the primary ambulance in the city, and the Rural/Metro dispatcher will then notify us with the call if it's on-campus or off-campus housing," Smyth said.
He said he hoped getting calls dispatched directly to SUA would give them the opportunity to respond to emergencies more quickly and provide more assistance.
Smyth also said some of the features of their award-winning website included an online application to join SUA and a patient satisfaction survey.
John Burke, a senior information management and technology major and field supervisor, was recognized for his website design.
Burke began working on the SUA website when he was a sophomore, preparing to take over for the designer that was graduating. He said website design is a hobby for him, much like SUA, and that he has had no formal training.
"I started when I was much younger, and I would just kind of tinker around and read tutorials, and I took one class in it in the iSchool, but other than that I've kind of just been tinkering on my own and figuring it out as I go," he said.
He said when he first took control of the website during his junior year, he did not know there was an award offered for best EMS website design at the conference. Once he heard about the award, it became his mission for his senior year.
"The website is dynamic, so we're constantly updating content. We're always adding new events to our website, and every week we feature the members who are promoted within the organization," he said.
In addition to improving the functionality and design of the website, Burke has now involved SUA with social media, making use of Facebook and Twitter. He said this also prompted the health center to embrace new social media services, which Burke is also in charge of.
SUA was first established in 1973, according to the organization's website. The program is run entirely by students who serve as both ambulance drivers and EMTs providing patient care. SUA responds to about 1,500 calls per academic year, Smyth said.
Smyth said there are approximately 70 active members and 14 new probationary members, and the number of applicants remains high each semester.
Students come in with different levels of experience — the majority without any EMS experience, but SUA provides the necessary training.
The SUA headquarters serves as a second home for the students involved in the organization. Billy Fletcher, a sophomore public policy major, said students often spend their free time at the headquarters, and as a result, there is a strong sense of family within SUA.
"We like to say that we can joke around in quarters and have a good time and mess around with each other," he said, "but then when that bell rings and there's a call, we all become very serious and professional."
cffabris@syr.edu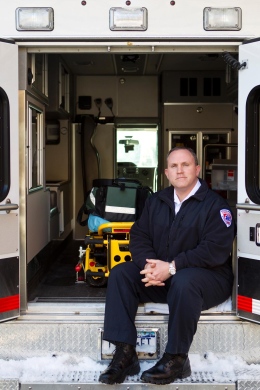 Mitchell Franz | Photo Editor
Paul Smyth, SU Emergency Medical Services manager, won the Emergency Medical Services Advisor of the Year award after several students within Syracuse University Ambulance nominated him.