Syracuse University Ambulance to hold Collegiate EMS Week, highlighting work of ambulance volunteers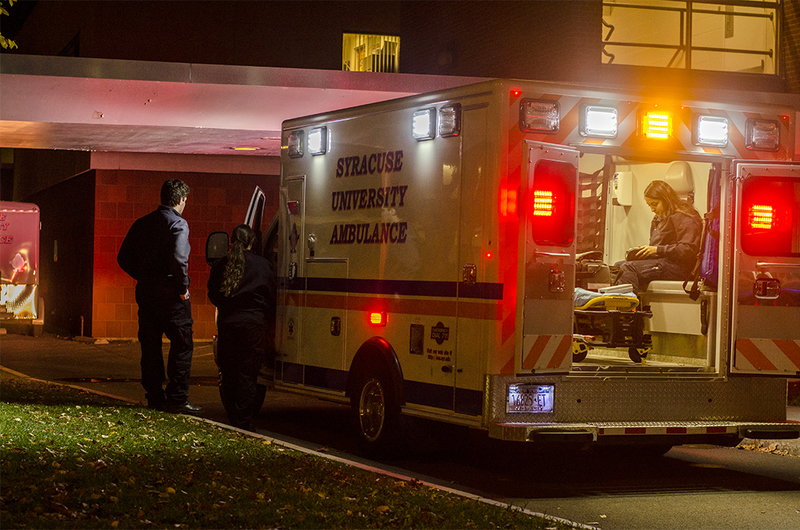 Alexandra Moreo | Photo Editor
Syracuse University Ambulance will host a blood drive in Schine Student Center on Tuesday.
By Charlie Sawyer
The Daily Orange
Syracuse University Ambulance will host National Collegiate EMS Week events across SU's campus starting Monday, including a blood drive, to raise awareness of the group's emergency medical work.
SUA members will have sign-up sheets for the blood drive, blood pressure checks and a candy jar guessing competition at a table in the Schine Student Center. Students who sign up for the blood drive and get their blood pressure taken can guess the number of jar candy for a chance to win prizes.
The blood drive will be held in Schine's Panasci Lounge on Tuesday. Senior psychology major Megan Panebianco, SUA's special events supervisor, said it's the most important event of the week.
"Because of all these things happening in the world, the Red Cross is low on blood," she said. "Hospitals are running out of blood, which never happens."
SUA will showcase its ambulances on the Quad and have an open house starting at 12:45 p.m. Wednesday. Students interested in joining the organization can meet SUA supervisors and student employees there.
In the future, Paul Smyth, EMS manager for SUA and Health Services, said he hopes to expand offerings and events during EMS Week, such as free CPR certification courses for students.
"I think it's important to get the word out … get some educational materials out and get the recognition out to the campus community (about) what SUA is, why we're here and what we do," Smyth said.
The organization will also drive ambulances and bring coloring books to a South Campus' child care center Thursday to introduce young kids to SUA.
SUA was founded in 1973 by a small group of students with first-responder training, Smyth said. At first, the organization had no vehicles or specialized equipment, he said. But it's grown since then.
In 2004, SUA was named Emergency Medical Service Agency of the Year by the New York State EMS Council. In 2012, Smyth was named Emergency Medical Services Advisor of the Year by the National Collegiate Emergency Medical Services Foundation.
Senior finance and accounting major David DuPont, who works as an SUA field supervisor, said a typical shift for him starts at 5 p.m. and ends at 5 a.m. the next day. As a supervisor, he's on call the entire shift, waiting in the organization's Lyman Hall office.
"We respond to any calls that are in our service area, which is typically wherever an SU student is," DuPont said. "Which could involve anywhere on campus, to the Euclid neighborhood to South Campus … even sometimes into the city to, say, the Warehouse. As a supervisor, I'm basically the one responsible for making sure the best care possible is happening on those scenes."
Panebianco said in addition to responding to calls, her job as special events supervisor requires her to arrange standby services at sports games and other big events.
New employees apply to the program at the beginning of semesters and, within a year, are required to pass an exam to become a state-certified EMT.
"EMS Week is an opportunity for outreach and to make people feel more comfortable around us," DuPont said. "Some people are scared to call an ambulance because they're thinking, 'It's going to get me in trouble. It's going to cost me money. My parents are going to be mad at me.'"
The cost of using SUA emergency medical transport, though, is included in the standard Health Services fee, according to the organization.