A certified EMT, Temple student recalls 'organized chaos' following Amtrak crash
By Joe Hernandez
WHYY's Newsworks - November 12, 2015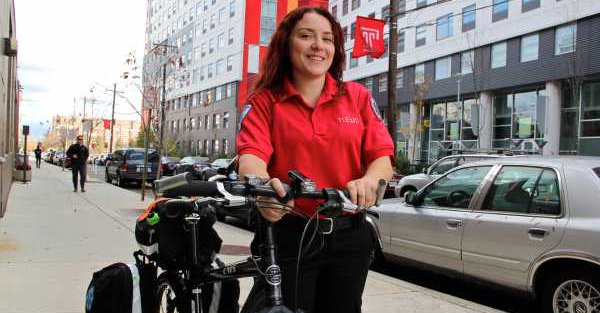 When an Amtrak train bound for New York careened off a curve in the track and crashed in Philadelphia's Port Richmond section six months ago, Danielle Thor had just finished finals.
The Temple University premed student and several other undergrads were putting together office furniture in a conference room on campus when they got a call about a train crash across the city.
The students contacted "the police supervisor on duty up at [Temple University Hospital], got on the bikes, and just went."
That might not be the reaction you would expect from a typical college student, but Thor is far from typical.
She runs the group Temple University Emergency Medical Services, or TUEMS, a student group made up of 85 certified EMTs who patrol campus by bicycle.
"[TUEMS] helps alleviate the burden off of the city," Thor said, "because we can get to the scene first, determine what the patient's needs are, whether they actually need the ambulance to respond or not. It's unique."
Sporting red shirts and riding black Trek bikes outfitted with bags containing medical equipment, TUEMS members are easy to spot.
Even though they are students patrolling a college campus, Thor said, the EMTs still field a wide variety of emergency calls.
"It is a college campus, so there is the student making not the best life choices," she said. "But it's also a major city, so [we respond to] everything from accidents on Broad Street to assaults of all different types."
But in that conference room on May 12, they got a call none had expected.
Having dealt with several smaller "mass casualty" incidents in New Jersey where she grew up and learned to be an EMT, Thor knew she had to steel herself for whatever scene awaited at the hospital where some of the train crash victims were transported.
"Let the adrenaline rush so we can get in and handle it and stay focused for as long as possible," she thought as she pedaled 1.5 miles from Temple's campus up Broad Street to the hospital.
Once she got there, though, she saw organized chaos.
"There was a flow that only those in emergency medical services would understand," Thor said. "We could tell as soon as we pulled up where to put the bikes, where to go, and who to start helping."
Most of the train crash victims streaming into the hospital had sustained broken bones and other traumatic injuries. "Lacerations, breaks, stuff like that. Nothing out of what we would consider ordinary for that scenario," she said.
They also had to keep an eye on the neighborhood folks who were arriving at the emergency room for reasons totally unrelated to the Amtrak crash. "There was someone who went into labor at the worst possible time," said Thor of a woman who arrived in the ER that same night.
All told, the seven TUEMS EMTs who went to Temple University Hospital that night treated more than 40 patients in four hours.
Thor and a colleague even took a break during the chaos for an interview with CNN, which did not identify them as students.
Looking back, Thor recounts the derailment as a major moment in her EMT career, calling it "definitely the biggest incident I've ever been to," but she does not seem overwhelmed by it.
She says, given what happened, that night could have gone much worse.
"As crazy as it was at the time, it still gives me peace of mind knowing how well it was handled and honestly how impressed I am with Philadelphia health care."