The Battalion Online
Lyndsay Nantz
Staff writer
Volunteers from A&M's Emergency Medical Services (EMS) were awarded a certificate of recognition Friday for saving the life of a four-week-old boy.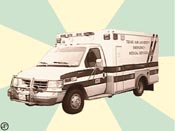 The medical director and the director of the health center honored the five volunteers for service and dedication.
The premature baby had recently been brought to his new home, in married student housing on University Drive, when he went into pediatric respiratory arrest. His father called the Brazos County 911, where the call was routed to A&M EMS.
The dispatcher, Jennifer Carr, a sophomore psychology major, gave the father CPR instructions while the ambulance made its way to married student housing. Paramedics Seth Decamp and Michael Harris revived the baby with the help of Dustin Roberts and Aki Ohinata.
Ohinata, a sophomore nutritional science major, said it was one of the most serious calls she has worked on.
"I was nervous because I had been through all the training but had never been in a situation where someone's life was at stake," she said. "Then it was a little baby and so tiny he looked like he may break."
Ohinata said when the baby started crying it was a huge relief to all of them because it meant he was breathing again. The team kept the baby stable as the ambulance drove to St. Joseph Regional Health Center.
A&M EMS handles 70 to 80 calls a month and is a division of student health services. The majority of EMS workers are students and all are volunteers. All A&M EMS volunteers have the same certifications and capabilities as the College Station EMS.
Jim Schaferling, EMS unit manager, said the training is intense.
"It takes about six months, 100 classroom hours and 100 clinical hours to be an EMT," Schaferling said. "It is a three year process to be certified as a paramedic."
Harris, one of the volunteer paramedics on the call, graduated from A&M and is a full-time paramedic in Houston.
"I come here and help out whenever I can," he said. "I enjoy it because it is a good service and it is good for the school. It helps people and is experience for students who want to go into the medical field."
Schaferling said the volunteers handled the situation very professionally and he is proud of them.