---
By Janet Chang
Daily Bruin Contributor

The duties of a typical student include going to class, meetings, studying and socializing. But members of UCLA Emergency Medical Services also save lives and provide basic life support as part of their regular job routine.

"It's a terrific stepping stone for anybody who's interested in anything in the health care field or in the fire service or other public safety positions," said K.C. Kainsinger, and emergency medical technician and fourth-year physiological science student.

Since its establishment in 1979, UCLA EMS has been providing the UCLA community with basic emergency medical care as well as providing students with the opportunity to gain experience in health care.

A student-run organization, UCLA EMS works with the Los Angeles City Fire Department under a two-tier response system.

UCLA EMS is responsible for providing basic life support, while the L.A. City Fire Department is responsible for providing the community with advanced life support .

"We'll handle a twisted ankle without their assistance, but if it's someone who is unconscious and unresponsive, we want them to respond also," said Peter Dell, manager of UCLA EMS.

Additionally, UCLA EMS is specifically geared to serve the UCLA community, while the L.A. City Fire Department is responsible for the entire city.

"We know the campus much better than the L.A. City Fire department," Dell said. "We're typically on the scene in under five minutes."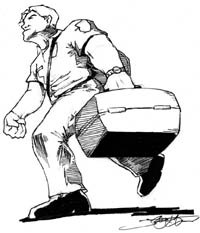 Illustration by JARRETT QUON/Daily Bruin
---
Brie Zaia, a physiological science alumnus who graduated in 1999, still works as an EMT and said most students work from 16 hours to 40 hours a week.


They can choose to work an eight-hour shift from 7 a.m. to 3 p.m. or work from 3 p.m to 7 a.m., which is a 16- hour shift, she said.

The EMTs working the second shift can go to sleep at 11 p.m. but must wake up at 7 a.m., during the time when they can receive a call for an emergency service.

Despite the long hours, most UCLA EMTs do not find their jobs straining on their academics or their personal lives.

"My classes helped me in the job," Zaia said. "It was a way to apply the knowledge and then the knowledge sank in, so it went both ways."

But there are still drawbacks, some of which include dealing with a failed rescue attempt.

Although the majority of the calls EMS receives involve minor trauma, there are situations in which every minute counts. Since they are the first ones on site, EMTs are responsible for caring for the patients until the L.A. City Fire Department arrives with further assistance.

Gabriel Brakin, a third-year political science student, and the public relations and hiring coordinator, recalled a call involving an elderly woman in cardiac arrest.

Brakin and his partner performed CPR and made attempts to shock the patient until the paramedics arrived.

"While you're doing the call, everything moves in slow motion but fast at the same time," said Brakin, who is also a field training officer. "I remember every little thing that I did, but yet it flew by in only 4 minutes."

The woman did not survive the cardiac arrest despite every attempt made by Brakin, his partner and the paramedics.

"Those calls where the patient dies teaches us the value of life and the value of what we do," added Brakin.

Although UCLA EMS serves the UCLA community, their funding comes from a variety of sources beyond the university.

"We work special events on campus. We charge for transports," Dell said. "The rest comes from state money that goes directly to the police department who then allocates that money for us."



The special events that UCLA EMS work include all the men's basketball games at Pauley Pavilion as well as any other events that take place on campus involving a large crowd.

"If somebody slips and falls, we will be the ones who respond over there," Dell said. "At the last two games, we actually had a few critical calls."

Students interested in working for UCLA EMS have to be currently EMT certified, have a GPA of 2.0 or higher, one academic year remaining and a valid California driver's license.

Most UCLA EMTs receive their certification by taking EMT classes through the UCLA Center for Pre-Hospital Care. Thereafter, the student must pass a written test and a skills test as well as completing a 10-hour ride along with an ambulance or a 10-hour emergency room clinical. Following that, the EMT students take the certification exam administered by the county.

After the hiring process, the student goes through six months of training both in and outside of the classroom. The training begins with a minimum of 10 weeks in the classroom followed by another 10 weeks on the field with the supervision of a field training officer. After that, the student spends another 10 weeks on the field as a probationary EMT.

Despite the rigorous demands of the job, the student EMTs consider their jobs rewarding as well as fun. For many EMTs, being part of UCLA EMS often leads to other opportunities outside of the typical duties of an EMT.

For example, Trey Nelson, a fifth-year history student and an UCLA EMT, has been recruited by the L.A. City Fire Department to play volleyball for their club team.

"It allows me to get more involved with them," said Nelson. "I make friendship with them on the volleyball court and in the field as well."

Although most students become EMTs to gain experience, the rewards of being an EMT extend beyond that.

"It seemed like a really good student job," Kainsinger said about his decision to become a UCLA EMT. "I've always wanted to do something in the health care field and I figured this would be a great experience."

For many EMTs, beyond the hands-on experiences are the rewards of saving lives as well as being part of a team.

"Being an EMT is the quintessential example of teamwork and camaraderie," Nelson said.