Press Release
On August 16, 2004 UCLA Emergency Medical Services took delivery of a new ambulance from Leader Industries in El Monte, CA. The ambulance is a 2004 Ford E350 van, the same as the department's older ambulances. New features include a cleaner-burning, more efficient 6.0 L diesel engine, LED emergency lighting components, and redesigned side and rear graphics.
The new ambulance is now in service as the primary responding 9-1-1 ambulance for the campus. The ambulance that was replaced will remain as a back-up to the new ambulance and a stand-by vehicle for special events, to include serving as the UCLA Football team ambulance at the Rose Bowl during the upcoming football season. The third ambulance will be converted to a multiple casualty response unit, stocked with mass casualty supplies in the event of a large-scale incident.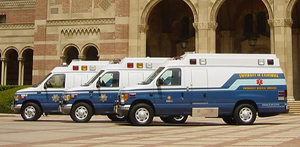 The current UCLA EMS fleet of ambulances. From near to far, EMS-1 (2004 Ford E350), EMS-2 (2000 Ford E350), EMS-3 (1996 Ford E350) all converted by Leader Industries.