Emergency Care Unit wins national awards
The Review Vol. 128, Number 34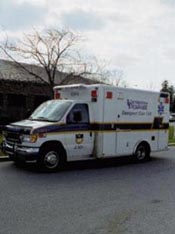 THE REVIEW / Rob Meletti
The UDECU works with Aetna Hose, Hook and Ladder Co. to answer local emergency calls.
BY MELISSA BERMAN
Staff Reporter
Students in the university's Emergency Care Unit received two awards at a national weekend conference earlier this month in Stony Brook, N.Y.
The UDECU members were among 350 emergency medical service representatives who attended the National Collegiate Emergency Medical Services Foundation's ceremony Feb. 8 to 10.
The UDECU received the "Striving For Excellence in Campus EMS" award, given to only six other schools in the nation.
Mark Milliron, a NCEMSF representative, said the award, which is distributed every three years, is based on completion of a detailed self-assessment of the organization's operations and activities by members of the group.
Those who complete the requirements show they are one of the highest quality campus EMS groups in the national organization, he said.
Junior Pete Moffett, co-coordinator of UDECU, said the group was excited to receive the award.
"It's nice to be recognized for what you do," he said. "You know that your patients are grateful, but sometimes they don't tell you."
Junior Amy Compton, treasurer of UDECU, who helped fill out the group's self-assessment, said the award is an honor.
"EMS is a constant learning experience," she said. "It shows how much we strive to learn and do better."
Junior Eric MaryEa, coordinator of UDECU, was the recipient of the "EMS Campus Provider of the Year" award.
The award is based on outstanding leadership and the planning of significant projects to benefit the community.
MaryEa said he won the award because he tried hard to do as much as possible for the organization.
Last year, he participated in 195 ambulance calls and organized a blood drive on campus and a first aid class with a fraternity.
He is currently working on a building committee to set up a new office for the group near the recently constructed Public Safety headquarters.
MaryEa said he could not have won the award without the help of his co-workers.
The 56 current UDECU members receive a number of calls each day, he said.
"You can get four or five calls on Friday that are alcohol-related and then on Tuesday, anything from accidents to CPR," MaryEa said.
He said UDECU previously responded only to on-campus calls until last year, when the Memorandum of Understanding was formed between UDECU and Newark's Aetna Hose, Hook and Ladder Co.
Under this agreement, UDECU takes off-campus calls if Aetna is too busy and Aetna will reciprocate in the same fashion.
UDECU brings patients to the university Student Health Center and several area hospitals including Christiana, Wilmington, Saint Francis, A.I. Dupont Hospital for Children and Union Hospital in Elkton, Md.
Compton said she thinks students on and off campus are more likely to call UDECU when they need help.
"I think because we are the same age as them, we can connect with them better," she said. "They know we understand."