Award-winning Emergency Care Unit committed to campus community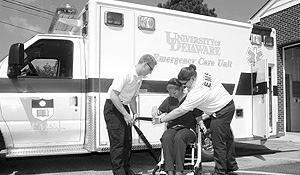 A life-threatening asthma attack. An elderly woman who went into cardiac arrest. Resuscitation of a family cat.
These were just a few of the 600-plus emergency calls that the University of Delaware Emergency Care Unit (UDECU) responded to during the 2003-4 school year.
All of these incidents were successful "saves," Michael Carunchio, AS '05, said. He is coordinator of the student-run UDECU, which works in close cooperation with the Department of Public Safety. Investigator Jack Lynn is adviser to the group.
"Jack is a father figure to the EMTs," Carunchio said. "He regularly invites us to his house for barbecues."
Social get-togethers are an important way for student emergency medical technicians to blow off steam after a stressful day or night on duty. Each of the 50 undergraduate members is required to be on call for a minimum of 12 hours a month, juggling this commitment with fulltime course loads and, in some cases, parttime jobs. Many members work even more hours; Carunchio said he volunteered 80 hours per month during the past academic year.
Members must complete the 140-hour Delaware Emergency Medical Technician course, as well as 24 hours of on-the-job training. A minimum of two nationally registered emergency medical technicians respond to every emergency call.
About 400 of last year's runs took place on campus and involved everything from sprained ankles to coverage at football and basketball games. In addition, the unit offers educational programs to Resident Assistants and CRR training to the University community. And, since 2001, UDECU has had a mutual-aid agreement with Aetna Hose, Hook & Ladder Co., Newark's volunteer fire department. Last year, student EMTs assisted Aetna by responding to more than 175 off-campus calls.
UDECU also helps out at special events statewide, including the Delaware State Fair, the Delaware Special Olympic Games and NASCAR races at Dover Downs.
UDECU earns high marks from Larry Thornton, director of Public Safety. "This student group is highly motivated and deeply committed to serving the University and greater Newark communities," Thornton said.
And, UDECU also has been garnering praise at the national level. In 2002, it won the Leo R. Schwartz Emergency Medical Service of the Year award from the National Association of Emergency Medical Technicians, becoming the first college group to receive this honor.
But the most meaningful accolades aren't trophies and plaques but simple, heartfelt notes of thanks. Carunchio, who hopes to be a professional EMT after he graduates in the spring, said it feels great to be of service to the community. "People frequently tell us how much they value what we do. It's always nice to read thank-you cards and notes from the families of those we've helped."