Student medics induct new members
The Review, vol 127, number 36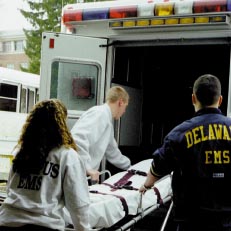 THE REVIEW/Elisa Levin
From left to right: Junior Joelle Cona and sophomores Ben Oyerly and Eric MaryEa practice loading a stretcher into an ambulance.
BY STACEY CARLOUGH
Staff Reporter
All members on duty must wear navy blue pants and gray polo shirts or sweatshirts, emblazoned with the University of Delaware Emergency Care Unit logo.
While on duty, shifts span from 6 p.m. to midnight and midnight to 6 a.m.
Members on call are equipped with pagers and are required to be within three "running minutes" from the ambulance dispatch site at the Public Safety building on Amstel Avenue.
Sophomore Peter Moffett, a biology major and director of membership for UDECU, said the all-volunteer, student-run group held orientation for its nine new members Saturday morning, bringing total membership to 52.
The orientation was the beginning of a semester-long probationary period where the new members, called "probies," will be assigned to a field trainer, who will take them through an extensive checklist of requirements.
By the end of the semester, they should all be qualified to help when the UDECU is called out on an emergency, Moffett said.
The nine members in training were selected from 13 applicants, which included both men and women ranging from freshmen to juniors.
Sophomore Brandon Terranova, also a biology major, said he was interested in becoming involved with the group because he plans to go to medical school, but also felt the need to do something good for the community.
"I've never volunteered before, and I'd like to do my part," he said. "Everything's been about myself lately, like school and work, and I'd like to give something back."
Junior Luke Hodgson, a geography major, said he became interested in the UDECU after completing a "Wilderness First Responder" course, which teaches basic emergency medicinefor outdoor situations.
Sophomore Eric MaryEa, director of training for UDECU, said he is involved with the group because he plans to go to paramedic school and get a job at the fire company near his home.
He was in charge of acquainting the "probies" with the mechanics of the ambulance at the orientation.
"This thing is like the Batmobile," he said. "There are secret compartments everywhere."
Sophomore Carrie Litke also joined the group in preparation for medical school.
"I'll be working in an ER this summer," she said. "But I thought I'd get a feel for what it's like. I've never been around emergency medicine before."
The new trainees' orientation began with an administrative meeting, where pages of information and forms were given out, followed by fittings for uniforms.
Then came a tour of the UDECU's office in the converted attic of the Public Safety building.
The office is outfitted with a television, VCR, refrigerator, computer and two futons for members to sleep on during required "duty nights."
All members are required to be on duty two nights per month and put in six "pager hours" per month, where they come in during their free time to be on call.
Moffett said during their probationary semester, the new members can help the driver and technician with supplies and equipment but cannot legally do anything to the patient except take vital signs.
Junior Dawn Wright, UDECU's co-coordinator, is also one of the technicians.
"The technician is in charge during a run, so you're responsible for the patient and the crew," she said.
Wright said she helps the new members during their training while maintaining the integrity of the UDECU.
"If someone makes a minor mistake, we'll talk about it afterwards," she said. "I don't think it's appropriate to criticize them in front of the patient or the police officer."
Junior Joanna Philippoff, UDECU's coordinator, said members are offered "critical incident stress debriefing" after particularly emotional calls, where they sit and discuss the event after they return.
"We've had some death calls, and in the beginning I didn't think I could handle it," she said. "But with all the training you're able to just go into this mode and do what you have to do to help."
Philippoff said she is still deciding between graduate school and medical school, but her main motivation for being involved is passion for the work she does.
"It's definitely been one of the best experiences I've had here," she said. "I can see myself being a volunteer EMT forever -- it really brings you a lot of satisfaction."
As of Feb. 15, the UDECU broadened its area of service from the university campus to the entire community of Newark, Philippoff said.
She said if Newark's two ambulances were unavailable, the UDECU would be called as a "third-watch."
"It took a lot of wading through political mush," Philippoff said.
She said she believes its involvement with Aetna Hose Hook & Ladder Co., Newark's emergency response team, will hopefully increase the UDECU's presence in the Newark community.
Last year the UDECU answered 275 student calls, Philippoff said.
The UDECU is a "BSL" unit, Philippoff said, which means it can provide basic life support.
More involved care, such as giving injections or IVs, must be done by certified paramedics.
"We can't invade the person," Philippoff said. "We're basically pre-hospital support."
Jack Lynn, faculty adviser to UDECU and Public Safety investigator, said the group has contributed a lot over the years to the well-being of the university.
"I don't think the university could function without this group," he said.
---
Corrections from UDECU:
We actually went on 407 runs in 2000, not 275
Our Coordinator is Rick Bell, Jo Phillippoff is our secretary.
We are a BLS unit, not a BSL.