Campus EMTs Receive National Recognition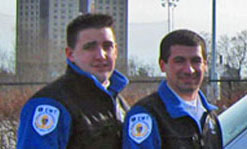 More than 245 colleges in North America have student-run Emergency Medical Services (EMS) organizations on campus. UMass Lowell has one of the best.
In February, UMass Lowell EMS received its fourth consecutive award in as many years from the National Collegiate EMS Foundation (NCEMSF). Senior John Casey was recognized at the association's national conference in Baltimore as the 2009-10 Campus EMS Provider of the Year. Casey is a co-director of UMass Lowell EMS and its director of field operations.
In prior years, the UMass Lowell team was named Collegiate EMS Organization of the Year (2006-07), received a three-year award for Striving for Excellence in Campus Emergency Medical Services (2008), and was given special recognition in honor of its 25th anniversary (2009).
Casey and fellow co-director Matthew Ricci, the director of administration, were also selected to attend FEMA-sponsored training in Alabama in March. These awards underscore the great strides that UMass Lowell EMS, a team of approximately 20 Emergency Medical Technicians (EMTs), has made in recent years.
"Our EMTs carry themselves with a pride and professionalism that is equal to any other emergency medical professionals," says Dean of Student Affairs Larry Siegel. "They make us proud as a university."
Today, UMass Lowell EMS provides the University and its contiguous communities with the same level of professional-quality emergency medical service as a regional EMS provider (with the exception of patient transportation) 24 hours a day, seven days a week during the academic year. It also includes a cadet program for EMTs in training and provides supplemental emergency services for all University events and CPR/First Aid training to approximately 1000 people every year. This level of service was not always the norm.
UMass Lowell EMS was founded in 1986 as the UMass Lowell Emergency Medical Technicians Society under the guidance of David Eberiel, a UMass Lowell alumnus, EMT and professor emeritus of biology who remains a clinical adviser to the current organization. By the early 2000s, however, scheduled coverage was sporadic, relationships with partner organizations were strained and the equipment had seen better days.
According to Siegel, the organization faced a choice between legitimizing its services and disbanding altogether. The student-run organization responded to the challenge by securing a modest investment of resources from the University, refining procedures, procuring new vehicles and adding staff.
Since then the organization has become increasingly professional, earning the respect of the UMass Lowell campus as well as recognition at the city, state and national levels. UMass Lowell EMS works closely with the University police department and with Trinity EMS, Lowell's 9-1-1 provider, and Saints Paramedics, formerly Greater Lowell EMS. UMass Lowell EMS was recently written into the city of Lowell's emergency response plan and a its implementation of a Call-Em-All alert system was the subject of anarticle posted on EMSResponder.com.
"Our professional partners in Lowell have the utmost respect for our EMS program and consider our EMTs as colleagues and peers," says Siegel. "Not only does the organization serve the University, it also provides students with valuable opportunities for experiential learning, leadership and pre-professional training. Over the years dozens of students have become paramedics, EMTs and firefighters based on the strength of their campus EMS experience," he says.
A key to the recent success of UMass Lowell EMS is the leadership that Ricci and Casey have provided since 2007, raising the organization's standard of service and strengthening relationships with their partners. Specific improvements they've brought to the program include regular clinical evaluations and training for staff members; hiring and promotion processes that place a premium on professional standards, and a new uniform. "I would be perfectly comfortable having any member of our team treating my grandmother in an emergency," says Casey.
Both Casey and Ricci will graduate in May and plan to pursue respective careers in law enforcement and emergency management. They have confidence in their successors and are pleased that Associate Director of Student Affairs Nick Piscitello, a certified EMT, will take on a permanent role within the organization. In spite of the long hours they have put into UMass Lowell EMS -; between 30 and 40 hours a week -; Casey and Ricci feel that they have benefitted immeasurably from the experience.
"I'm grateful for every hour I have put into this program," says Ricci. "The network and experience we've gained have been priceless."
Casey agrees: "Everything I've done for others has also been an investment in myself. I don't know who I would be if I weren't doing this. It means so much that the University program is recognized and that we are a benchmark of excellence."