Text by Thomas Weaver
Photos by Sally McCay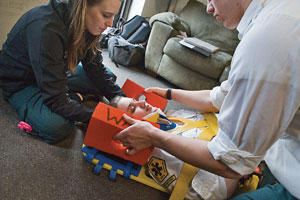 As a member of the UVM Rescue squad, Alison O'Connor '10 is a certified EMT with a self-confessed affinity for the ambulance driver's seat. She also carries a stack of business cards as the organization's public relations officer. Describing Rescue's current operations and history while touring the snug headquarters on East Avenue, O'Connor is given to offering a caution: "Remember, we are college students." It's a legitimate worry, one supposes, for someone wearing the PR hat for her people—this concern that a nickname, a note on the wall, standard sophomoric goofing by sophomores, might offend or diminish the reputation of a group vested with weightier responsibility than any student organization on campus. But as one glimpses the daily operations, talks with the student volunteers, and begins to grasp Rescue's autonomy and round-the-clock commitment, O'Connor's caution comes to mind in an entirely different context: "Remember, these are college students."
SEE ONE, DO ONE, TEACH ONE
Curious facts from the UVM Rescue logbook: The busiest day tends to be Tuesday; the busiest hour, noon to 1 o'clock.
It is neither as Gregory Wasserman '09 and Ben Barash '11 spend a quiet morning on call. They've been amusing themselves with an on-line flight simulator (Barash is a new pilot), but take a break to discuss their experience with Rescue.
"Your friends are here, your enemies," Wasserman says. "It's like a family in this small space; you have to get along and live with others." He compares the dynamic to a fraternity, but says where service and philanthropy are generally a side pursuit of Greek life, they are the primary purpose of UVM Rescue. It makes for a like-minded group. But while many have majors in the sciences or healthcare-related fields, Rescue draws students from a wide range of areas of study, Barash notes. Wasserman points out a more general career aspiration shared by the crew. "We see people who don't want desk jobs. We want to be out there and involved with people," he says.
That spirit carries over into the training and development of new members. Wasserman, who comes from a family of medical professionals, says "see one, do one, teach one," that old teaching standard, is the norm at Rescue where knowledge is passed down through a hierarchy of experience. Witness a set of coat hooks by the door labeled "Mama Bear, Papa Bear, Mama Bear in Training, Big Brother, Little Sister, The Dog."
All know their roles and snap into them the moment a call comes in and the alarm sounds over the PA. "It does give you a jump," Barash says, "but after awhile you learn to settle down."
On the toughest calls, the squad depends on the bank of calm they've built with thorough preparation. Wasserman describes his experience at a fatal car accident scene last fall. "It was surreal," he says. "Though the entire time at the scene was twelve minutes, it was a half-hour of twelve minutes. You put your feelings away and go to your training."
'THE BRASS TO GET AN AMBULANCE'
An old backboard leans against the do-it-yourselfer plywood lockers at Rescue. The board has carried its last patient and is now a large plaque of sorts with the plastic name badges of Rescue members past glued on it. While its display isn't quite ceremonial, it's a step up from the old tradition in which graduates stuck their green pins into the foam ceiling panels.
Alumni have long played a vital role in training the next generation of UVM Rescue and pitching in to help staff shifts. They're a loyal group with a commitment to Rescue that extends far beyond their last ambulance trip.
As a matter of fact, Alan King '74 planted the seeds for this story with a suggestion to the VQ editor. Though King has practiced law in Greater Boston for nearly thirty years, he was UVM Rescue's first public relations director and his skills in that role are still sharp.
King was among a circle of students who founded the squad after the Vermont legislature mandated EMT certification for all emergency personnel. Working with Dr. Richard Amidon, the group began their service by riding along with campus security when they responded to medical calls. They quickly established themselves, won a budget from the student association, got a radio and uniforms, and their first ambulance. King credits Jack Schmidt '75 as a driving force. "In retrospect, I don't think there would have been a UVM Rescue without him," he says. "None of us had the brass to get an ambulance over the course of one summer." From those early days, there has been an unbroken chain of students who have come through Rescue during their years at UVM and found a profound learning experience.
"I truly miss the adrenaline rush and a chance to make a real difference in someone's life," King says. "It's unusual to have so much control at a young age. It's a real test of one's mettle."
MAJOR FOUND
Naomi Fener '10 is a black cloud, EMT parlance for one whose shift is invariably a busy one. If she were a day, she would be Tuesday. If she were an hour, she would be noon to one. Sharing a shift with a black cloud means gaining experience with cardiac arrests and gunshot wounds. Sharing a shift with a white cloud offers a chance to catch up on your homework.
Fener didn't expect to be on Rescue when she came to college, didn't expect to be pointed toward a master's in nursing because direct work with patients is her career goal. Like many students, she did a full tour of majors—undecided, anthropology, sociology, math (for a week), English, and now psychology in preparation for work in nursing.
Rescue has been a transformative experience for Fener in many ways. She says being on the squad has pulled her out of a shell. The peer teaching model demands reaching out and asking more experienced students and alumni for training. "I had three alums firing questions at me on a test—that's pretty traumatizing," she says. Black cloud status means seeing a lot, and Fener has seen the worst of it on calls. But for all of the ways she's been changed by Rescue, Fener says for her father it was the revelation that his daughter checked the oil on the ambulance that was the last straw. He wrinkled his brow and asked, "Who are you?"
She is a college student.