Answering the Call
By Kevin Koehler
Managing editor
February 2, 2006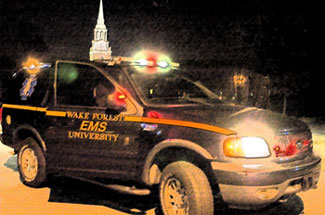 Albert Brown / Old Gold and Black
For many students, pledge night is one of the year's more hectic social occasions, a series of fraternity parties and dark crowded rooms, filled with loud music and ubiquitous red cups.
For student volunteers of the Emergency Response Team, the evening has a decidedly different flavor. Seven of the groups' members spent pledge night this year at Student Health Services. They were there to assist nurses during what can be a very busy time. And, at a moments notice, they were prepared to race across campus for any medical crisis that might arise from the night's excesses.
"It's kind of like our Super Bowl," said senior Andy Kleutghen, chief of the ERT.
But it is just another part of the job for the fifteen dedicated students who serve the campus's emergency medical needs each night and weekend throughout the academic year.
Facilities Management has staff members prepared to handle emergencies during the week days, but the ERT handles all the rest, with at least one student on call from 4 p.m. to 8 a.m. each night during the week, as well as all weekend, from 4 p.m. until 8 a.m. Monday.
Ready for anything
While an ERT is on duty, he or she carries a pager and a handheld radio. When a call for help comes into the university police, the dispatcher will page an ERT student.
The student then uses the radio to find out the location and nature of the emergency before rushing to the scene, often in the ERT vehicle, a conspicuous black Ford Expedition complete with siren and flashing lights.
Their response time is quick. "Once we get paged... it probably takes me about two minutes to get from Student Apartments to Collins (Residence Hall)," Kleutghen said.
On the scene, the ERT is prepared to deal with just about any situation. They carry with them two bags with plenty of medical supplies, from bandages and scissors to a blood pressure cuff, oxygen canister and defibrillator.
"When the pager goes off, you never know what it is... It's kind of like a pop quiz every time," Kleutghen said.
The responder assesses the situation and begins providing what care he can, while deciding if the student needs to be taken to Student Health, or in more dire cases, if the county paramedics should be called in for transport to the hospital.
Drunken and Disorderly
Perhaps not surprisingly on a college campus, many of the calls ERTs respond to stem from excessive consumption of alcohol.
"We're a university of young, healthy kids, so peoples' calls are related to their social life," said senior Evan Young, an emergency medical technician.
Kleutghen estimates that about half of calls they receive relate to students who are dangerously intoxicated and another 30 percent result indirectly from drunkenness. "People can do some really stupid things when they're drunk," he said.
Senior Bryant Tran recalls an instance when a student who had a few too many drinks became angry about Wake Forest football. "So he punched through like seven windows," Tran said. While Tran treated his cuts, the student "was talking to me about how he was pre-med and he needed to see medical attention from the other side."
Throughout the incident, he seemed anxious about being caught drinking. "As I was escorting him back from Student Health to his dorm, he saw sirens off in the distance somewhere and he got pretty scared and just dashed off in one direction somewhere. I couldn't catch him," Tran said. "I hope he made it back okay."
Despite some occasional humorous moments, treating the intoxicated can present an array of problems for the ERTs. "Our most common patient is the intoxicated patient; they're also our most challenging," Kleutghen said.
Many drunk patients or their friends are resistant to help, some belligerent. "Someone's who's violent and injured and scared, and there are figures of authority around, so they lash out," Young said.
Especially when underage, they fear that getting treatment may lead to disciplinary troubles for them, even though ERTs and Student Health Services hold their work in strict confidence. Some students are also dishonest about how much they have had to drink, further complicating matters. In addition, severely intoxicated patients can quickly decline to the point where they stop breathing or go into shock.
"It seems like it's a straightforward thing... but I've been in situations where the patient has taken a downhill slide almost instantly... if you're not able to stay on top of everything, it can get overwhelming," Kleutghen said.
"Another problem with intoxicated patients is their location," Kleutghen added. "A lot of times, they're walking back across campus and just pass out in the bushes or something. And no one sees them until a police officer happens to come across on patrol."
On call
Fortunately, most of an ERT's time on duty is not filled by emergency calls, but rather waiting prepared for one. It's rare that calls come in during the week and on average there only a handful over the weekend.
"Emergency response is long hours of boredom punctuated by moments of sheer terror," Young said.
An on-duty ERT has to be ready at all times to drop everything and rush to a call, regardless of the place or time.
"Most of the calls come in the really late hours. There are sometimes when I'm in a really deep sleep and the pager will go off. It's hard to wake up so fast and be really alert," Tran said. "You go from zero to 60 in a minute. Literally, 60 miles an hour down the road," Young added.
"It's always in the back of your mind, that if some baby were to fall off Wait Chapel, you are going to have to go deal with it. You are the person they are going to call first. Subconsciously, it's a little draining," Young said.
"I'm always checking my pager," Kleughton said, "to make sure it's working properly."
Beyond the call
Volunteering for the ERT involves more work than just responding to emergencies. First, there's the extensive training each student undergoes before joining the team.
All volunteers go through a semester-long course offered at the university, or its equivalent in the outside world, which prepares them for an extensive list of situations they may face.
Then they take a lengthy written and practical exam - which a good portion of people fail the first time out - to gain Emergency Medical Technician Basic certification. 10 of the 15 ERT volunteers currently have at least this Basic certification; the other five are waiting to take the test.
The instruction does not end after the test, however. All participate in ongoing training sessions throughout the year to refresh and sharpen their skills.
In addition, ERTs are on standby for medical assistance special at events, such as varsity and intramural athletics, Project Pumpkin, campouts before men's basketball games and last year's Inaugural Ball. They also lend a hand to health education efforts around campus.
Furthermore, students manage the various facets of running the organization - filling out paperwork, scheduling shifts, maintaining equipment, balancing the budget, recruiting new members and organizing training.
And they do it all on a completely volunteer basis, with no monetary compensation.
Helping out
To be sure, serving on the Emergency Response Team can be a stressful, trying ordeal. "I know first hand now, there's not a lot of people that are willing to do it," Kleutghen said.
So why do they choose this line of work?
"Personally, I enjoy the complete lack of redundancy," Young said. "There's always something new. Every call you get, no matter how mundane it may seem, is challenging because you're dealing with a new set of people."
"People that get injured are very thankful that you're there," Tran said.
"I like being able to help out. I've really developed a good relationship with a lot of people on campus - administration, the police, student health - there's a lot of camaraderie," Kleutghen said.
"The times they're volunteering may be in the middle of the night, and sometimes not in the best of circumstances. It may be a frightening situation, it may be a situation where somebody is deathly ill, it may be a situation where somebody is severely intoxicated and needs a lot of help," said Dr. Cecil Price, director of Student Health Services, who works closely with the ERT.
To Price, these students' commitment is remarkable. "They have a level of professionalism, dedication and concern for the campus, for other students, for other people, which is... extraordinary," he said. "It reminds me that Wake Forest students are great people."