Simulated scenario: WFU students, local agencies participate in mock drill on campus
By John Hinton / Winston-Salem Journal
(For a related video, please visit the Winston-Salem Journal Web site.)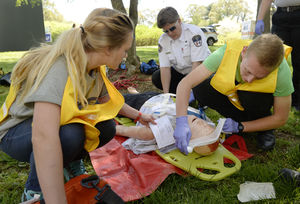 The scene at Wake Forest University was bloody and chaotic.
Victims of a vehicle crash had suffered massive head trauma, broken bones and extensive internal injuries.
Harsh Patolia, a WFU junior and member of the university's Emergency Medical Services team, treated several individuals with severe injuries — including one with a perforated lung — after a SUV crashed on campus, overturning several times until it ended up near a creek.
"It was awesome," Patolia said of the experience.
Patolia was one of 25 Wake Forest University students that trained last Saturday in a mass casualty drill as preparation for handling critical injuries and deaths in an actual tragic event on campus.
"We got a chance to practice our skills," said Patolia, a physics major from Roanoke, Va.
The simulated incident was the rollover crash of a SUV that resulted in 11 casualties — nine injuries and two deaths, said Nella Hendley, a WFU senior and a member of the university's EMS.
The drill was held on the field next to the Scales Fine Arts Center on campus.
Hendley served as a training safety officer during the incident, which was modeled after an actual crash in September 1996. In that wreck, six female students from Wake Forest were going to an off-campus party when their vehicle collided with a car at the intersection of Polo Road and Brookwood Drive. Two WFU students died in the crash and four others suffered serious injuries.
On Saturday, students volunteered to play roles of injured patients and emergency medical technicians. The Forsyth County EMS, the Winston-Salem Fire Department, WFU Student Health Services and the Wake Forest University Police Department evaluated the responses of the student EMTs.
"I think it went really well," Hendley said. "The EMTs did a great job evaluating and treating the patients."
Hendley, a biology major from Charlottesville, Va., said that EMTs also learned how to use their limited resources when responding to an emergency involving many injuries.
"After the scenario, we are much better prepared to handle an emergency," Hendley said. "We learned how to better coordinate with the Winston-Salem Fire Department and Forsyth County EMS to save more lives."
August Vernon, WFU's emergency manager, said that the drill was designed to evaluate how the university's EMS handled a situation with several victims. The incident was part of the EMS team's annual drill, he said.
"If you have large-type disaster scenario, it will take multiple agencies to manage that," Vernon said.
Darren Aaron, WFU's associate director of student health, said that student EMTs learned how to work together and used various medical devices in the drill.
Tim Woodin, another WFU junior, treated a simulated neck injury on a mannequin during the drill. The victim had been thrown from the overturned vehicle into a creek. Three firefighters and Woodin used ropes to remove the victim from the creek, he said.
The victim had a collapsed airway, and Woodin put in a King airway to treat the victim, he said.
"I've trained on that that, but I never did it before the drill," Woodin said.
Sarah Anderson, a WFU senior, had a simulated injury to her left forearm and had such "symptoms" as rapid breathing, no pulse in her injured arm and a weak pulse in her uninjured right arm.
"The EMTs did a really great job of using clues to figure out what was happening and treating it," said Anderson, a biology major from Selma. "If anything were to happen to me on campus, I would have the utmost confidence in the skills of our first responders."
Jordan Stefko, a Wake junior, said he "suffered" several cuts with abdominal pain in the crash. In his role, he was an unruly patient to test how EMT workers would react to that type of person in the drill.
"The EMS workers were extremely patient and helpful despite how annoying I was acting toward them," said Stefko, a biology major from Canfield, Ohio. "I was extremely impressed with how efficiently each of the EMS workers were able to take care of each of the victims."
jhinton@wsjournal.com
(336)727-7299