Longhorn EMS submits second proposal to University, aims to save lives on campus
BY EMILY HERNANDEZ
The Daily Texan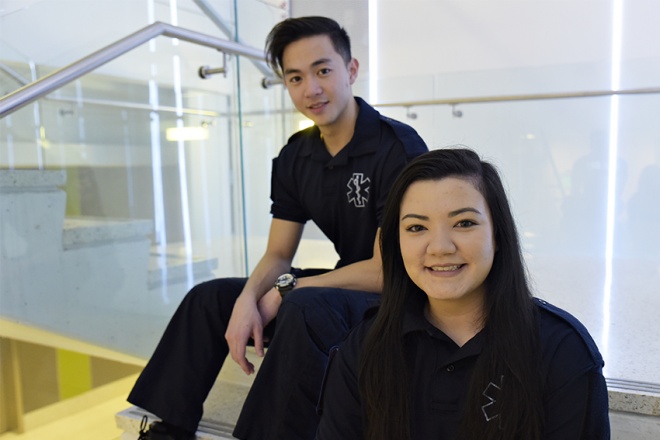 Students may see the establishment of Longhorn Emergency Medical Services as a campus first response organization. Student Body President Colton Becker said in a campus-wide email that a new proposal had been submitted to authorities both on and off campus.
Longhorn EMS chief Anthony Liu said the organization didn't leave enough room for University input in their previous proposal, so this time they left their proposal flexible to meet University needs.
"This is a need on campus; it's not just a perk," exercise science senior Liu said. "We want to give the University options to put whatever they want within the proposal to make it happen."
Longhorn EMS is a registered student organization with 40 certified emergency medical technicians, though students do not have to be certified as an EMT to join.
Nutritional sciences senior Becker said he decided to promise the establishment of a campus first response organization in his presidential campaign last spring following the death of freshman Harrison Brown in May 2017.
"Harrison Brown was a friend and mentee of mine, and I remember the day he passed away," Becker said. "When the stabbing occurred, the ambulance couldn't get to the scene because they were blocked off at the check station in front of the PCL … that's when I really started paying attention to EMS response time on campus."
The University initially had concerns regarding the safety of student EMTs responding to emergencies, but Longhorn EMS captain Jordyn Chang said the EMTs accept the risks.
"Once we wear the badge, we assume responsibility," said Chang, a health and society senior. "If we aren't working on campus, most of our EMTs do work off campus as EMTs, and they assume that responsibility every day."
The issues of campus inaccessibility and insufficient response times are partially why Mark Escott, EMS system medial director for the City of Austin and Travis County, is helping Longhorn EMS with their first response organization goal.
More than 150 universities across the world have some sort of campus emergency system in place, and having this resource helps prepare not only the student EMTs, but also the community as a whole in an emergency, Escott said.
UT-Dallas became the only school in the UT System to have a campus first response organization when it established University Emergency Medical Response in 2017. University EMR chief Scott Bell said UEMR can respond to critical and minor calls within two minutes, which can save lives and put City emergency vehicles back into service faster.
"We deal with a lot of life-threatening things and we also deal with a lot of non-life-threatening things," said Bell, a neuroscience junior at UTD. "Coupling those together, we're really able to have an all-encompassing effect on campus safety."
Escott said he currently provides mentorship to Longhorn EMS and has offered the group his oversight as a physician if they become an official program of the state.
"Any one of these students could be employed by Austin-Travis County EMS and be paid to do this job today," Escott said. "But we have professionals who are students who are willing to do this for free, and I think we ought to provide them that opportunity. It's worth the risk. It's worth the financial investment to provide this layer of safety to the campus community."
Originally published at http://dailytexanonline.com/2019/01/29/longhorn-ems-submits-second-proposal-to-university-aims-to-save-lives-on-campus