After stabbing, UT student looks to teach entire campus about trauma response
By Alyssa Goard
KXAN TV (NBC)
AUSTIN (KXAN) -- A student at the University of Texas at Austin has made it her mission to teach the entire Longhorn community how to respond when traumatic injuries happen around them.
Claire Zagorski was on campus on May 1, 2017 when freshman student Harrison Brown was fatally stabbed by another student. Since then, she's been using her training as a paramedic to teach others on campus simple things they could do to help if another similar incident happened nearby.
Zagorski got her degree from UT in 2006 and went on to work as a paramedic in Austin. But she's recently gone back to school at UT to achieve pre-medical school requirements. Last year she learned about a national program called Stop the Bleed which works to educate the public about things they can do to get people care immediately after serious injuries.
She recalls hearing about witnesses to the stabbings feeling like all they could do was watch on.
I burst into tears, it broke my heart because there are plenty of things you can do, but you must be taught them, this isn't something that people naturally know to do, you have to be taught," she said.
Since October she has been leading Stop the Bleed training at UT. As of Tuesday, Zagorski has trained over 170 UT students, faculty, and staff.
Zagorski said this kind of training matters because a person can bleed to death in three minutes, but the right care can help prevent that.
"This is a class for laypeople, you don't have to have medical training, you don't have to understand physiology or anything like that," she explained. "As we've very unfortunately seen both here and across the country, violent accidents and incidents are becoming more of a reality in our world."
She answered many questions from students about traumatic incidents Tuesday.
What is the best way to call 911? Designate a person to call while you give care to the victim, designating someone to call as opposed to telling a group to call increases the odds that someone will help.
If an object, like a knife or a nail is embedded in a victim, should you remove it? No, it's better to leave the object in and let the emergency room personnel remove it.
What if the victim is in pain after the tourniquet is applied? A tourniquet, when applied correctly will likely still hurt the victim. It's best to get the victim to a hospital so a doctor or surgeon can remove it.
UT student Prakrut Mehta attended the training Tuesday, he became interested in learning about this type of response after Brown's death.
"It shouldn't be taken lightly, I would suggest more people check out programs like this in case [something like the stabbing attack] ever happens again," Mehta said. He learned about applying tourniquets for the first time on Tuesday.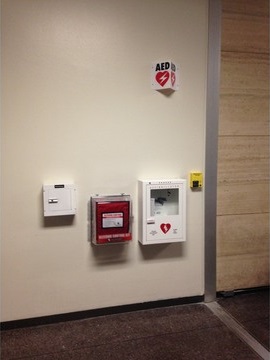 The classes are sponsored by Dell Medical School and part of a larger effort at UT to improve safety. A year and a half ago, the results of a Department of Public Safety audit at UT already had the university reconsidering safety practices. But Brown's death accelerated these safety improvements across campus, said Jimmy Johnson, interim associate vice president for Campus Safety and Security.
"It gained some traction again this last May when we had the horrific stabbing and homicide on campus and based on that campus safety and security was able to identify a funding source," Johnson said.
The campus community members who've gone through Stop the Bleed training will be prepared to use new tools being installed in "safety hubs" around campus. By the end of this year UT will have installed 25 of these, which include one AED, an emergency push 911 call box and two Stop the Bleed hemorrhage control kits. Those kits will contain a tourniquet, trauma dressing, a coagulant package, a pair of gloves, and other tools, Johnson said.
These hubs will be placed at the main entryways of all campus buildings. By October of 2018, UT plans to have all 160 safety hubs installed. In total there will be 450 hemorrhage kits across campus. Additionally, 10 locations with high traffic like the Student Union Building and Gregory Gym will be supplied with 10 of those hemorrhage control kits each.
Johnson said that so far his department has invested $400,000 into this project. As of August of this year, all UT police patrol cars were outfitted with hemorrhage control kits. He added that these changes are just the first phase, in the future UT hopes to secure more funding the bring these changes to satellite locations like the JJ Pickle Campus and the McDonald Observatory.
To sign up for Stop the Bleed training, which are free to the campus community, look here. For training in Austin through the Capital Area Trauma Regional Advisory Council, look here.
Originally published at https://www.kxan.com/news/local/austin/after-stabbing-ut-student-looks-to-teach-entire-campus-about-trauma-response_20180312075125964/1031458781