UREMS educates students in forum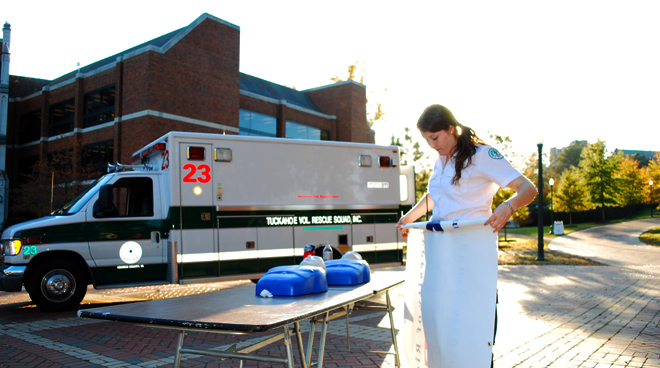 By Pen Panko
University of Richmond Collegian
University of Richmond Emergency Medical Services (UREMS) wants to make sure you know what to do in a medical emergency. To begin National Collegiate EMS Week, this small group of trained, student first responders held CPR classes over the weekend of Oct. 30, culminating in an informational advertising and competition Monday in the University Forum to mark National Collegiate CPR Day.
"The point of National Collegiate CPR Day is to get as many people as possible on campus educated in CPR," said senior UREMS Squad Leader Laura Zemcik, "so that if something happened, they could do it until the ambulance got there.
"Cardiac arrest can happen any time, so if people know CPR: that is one of the key steps to keeping somebody alive."
More than 20 people took the CPR classes offered Sunday and Monday, and many more stopped throughout the day to perform CPR for two minutes on a dummy with sensors as part of the campus-wide contest. A full-sized ambulance parked squarely in the Forum attracted some students. It was borrowed from the Tuckahoe Volunteer Rescue Squad.
Prizes for the competition were points to a campus organization or group of one's choice, including a $100 donation to any charity.
According to Zemcik, CPR should only be done "when somebody is unconscious…and they don't have [a pulse]." Students at the Monday morning class taught by Zemcik and sophomore Adrienne Hogan were instructed to kneel over a person, lock their arms, and push palm-over-hand. Compressions should be at roughly 100 beats per minute, or as Zemcik pointed out, the tempo of the Bee Gees' song "Stayin' Alive." The students also learned CPR techniques to use on infants and children, and the Heimlich maneuver to clear a choking person's airway.
UREMS was founded in 1998 under the name Spider Advanced Emergency Rescue Service, or S.A.V.E.R.S. The squad consists of certified emergency medical technicians, who are also UR students. They are on-call 24/7 to respond to 911 calls from the campus with the campus police department and cover large-scale events such as home football games.