Va. Campus EMS Squad Receives New Emergency Response Vehicle
Source: Richmond Ambulance Authority
Affiliated with Richmond Ambulance Authority since 2009, student EMTs previously answered calls on foot, by bicycle or in a personal vehicle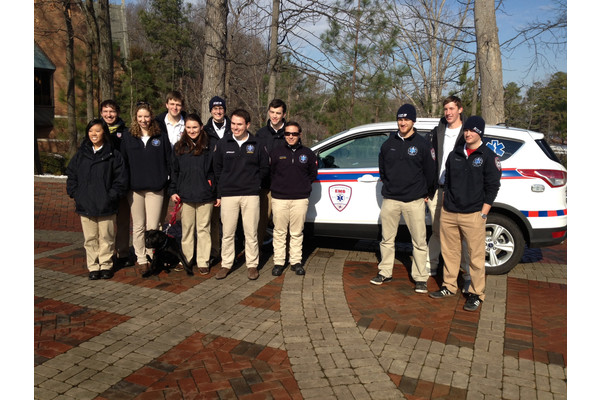 A new four-wheel drive vehicle will enable student emergency medical technicians (EMTs) serving University of Richmond's campus to respond rapidly to emergencies.
University of Richmond Emergency Medical Services (UREMS), a student emergency medical technician program, has acquired a 2013 Ford Escape Ecoboost SE, fully stocked with first response equipment and outfitted with lights, siren and exterior identification.
Affiliated with the Richmond Ambulance Authority (RAA) since 2009, student EMTs previously answered calls on foot, by bicycle or in a personal vehicle, carrying limited equipment in small response bags.
Eleven of UREMS' 16 members have completed the Emergency Vehicle Operations Course and certification required to drive the vehicle. Seven with the most experience will be drivers until the other four certified members gain at least six months of experience in the field.
Richmond Ambulance Authority outfitted the SUV as a basic life support, non-transport emergency vehicle with state-mandated road safety and communications systems. Roof-mounted solar panels will keep battery-powered equipment, such as a heart monitor and laptop computer, continuously charged without being plugged in.
UREMS received additional support in acquiring the vehicle from the university's public safety division, student activities office and former Richmond student EMT and UREMS founder Patrick Oliver, MD.
Student EMTs train with RAA and are issued RAA/UR identification, UREMS uniforms, pagers, cell phones and portable radios that allow them to contact local emergency responders directly. When RAA receives a 9-1-1 call from campus, it dispatches UREMS EMTs to provide patient care until an ambulance arrives.
The student responders work in teams of two and are on call 24/7 during the academic year.They answer an average of two to three calls a week and have treated students, faculty and visitors for everything from heart problems and seizures to traffic accident injuries. Student EMTs began serving the campus in 1998, but affiliated fully with RAA four years ago. They receive additional sponsorship from the university.
"Having an emergency response vehicle with state-of-the-art equipment will provide a timely response to reach patients on campus and increase our treatment options until an ambulance arrives on scene," says Richard Jamesley, president of UREMS.
"There has been a surge of student interest in the program since Chip Decker became CEO of the Richmond Ambulance Authority and helped structure a more formalized EMS program on campus," says University Police Capt. Beth Simonds. "The training and equipment are becoming more advanced each year, and we can now stage our own emergency response vehicle at campus events to provide even faster coverage. It benefits the entire community."
Decker said that UREMS not only provides quick response to patients on campus while an ambulance is en route, but also is a wonderful learning opportunity for the student EMTs.
"These students basically have all the privileges that RAA EMTs do without the paycheck.They receive classroom training from RAA personnel and also ride with our crews in the field.It is great exposure for these undergraduates, many of whom are interested in medical careers, and an invaluable lesson in leadership," says Decker.
Jamesley said the student medics, "enjoy helping our fellow students and others who find themselves in need of medical assistance on campus, and we can now provide a swift response every time."