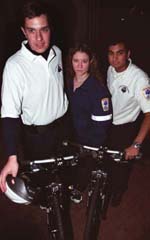 Matt Mandell (l.), Kimberly Stambler and Ankur Modi are three of the campus emergency response group's more than 50 volunteers.
BY WANGUI NJUGUNA
In the corner of the Marvin Center parking garage is a gray door outlined with orange paint. Parked outside the door are five bicycles with book bags and helmets hanging from them. The door's sign also is outlined in orange. It reads in bold letters: EMERG.
"These are not book bags," senior David Rand points out. "They are panniers, specifically equipped bags to carry equipment."
The specialized bikes carry 50 pounds of medical equipment and require special training to ride. Taking a 30-hour bicycle course is just one of the requirements for becoming a certified medical technician working with GW's Emergency Medical Response Group.
Popularly known as EMeRG, the Emergency Medical Response Group is a volunteer emergency response organization sponsored by the University Police Department and GW's Department of Emergency Medicine. More than 50 students participate in the program.
When an emergency call is received by UPD, EMeRG volunteers stationed in a Marvin Center office, are paged to accompany police to the scene. All volunteers are certified as emergency medical technicians, meaning they have the same qualifications as the D.C. fire emergency medical technicians who respond to emergencies around the District.
"We are students," Rand said. "But we are also professionals."
Volunteers can become certified EMTs by taking Emergency Medicine 140, offered by the School of Medicine and Health Services.
"There is a six-day EMeRG academy to learn about the operations of EMeRG and how to use the equipment," junior Kelly Schirmer said.
The three panniers that are strapped to each bicycle contain the same emergency equipment found in an ambulance. The equipment includes a glucometer to measure blood sugar level, oxygen tank and an AED, a machine used to resuscitate individuals under cardiac arrest.
"What you would see in regular ambulances, we carry on our bicycles," Rand said.
EMeRG responds to a variety of calls requiring medical attention around campus. These range from sports injuries at the Health and Wellness Center to seizures, asthma attacks and even car accidents. The group also responds to drug overdoses and alcohol poisoning.
"We are trained to handle gun shot wounds and stab wounds," Schirmer said. "But we don't see them very much here."
She said the most serious injuries EMeRG usually responds to result from automobile accidents.
"If the person has a head injury, we put them on a back board and check for any abrasions and contusions," Schirmer said. "We make sure they are alert and check their pupils."
If the person is not breathing, Schirmer said, volunteers perform CPR. At all emergencies, volunteers make the decision to transport the victim to the hospital. Schirmer said even after all the training, every call is a new experience and learning opportunity.
"You become like a robot," Schirmer said about when she receives call. "It does not cross your mind to be afraid because you are so focused."
The volunteers are required to work two eight-hour shifts a month Working in teams of three, the volunteers respond to emergency calls as they come.
Rand estimates EMeRG gets 200 calls a semester.
Operation Supervisor junior Dan Emmerson recalled one night when EMeRG received nine consecutive emergency calls.
"It is very unpredictable, Emmerson said. "The record was nine calls in a row. Other times we get no calls."
According to the program's Web site, EMeRG volunteers can respond to an emergency anywhere on campus in three minutes or less. The group is attempting to make the response time even shorter and expanding service by purchasing an ambulance. While UPD has approved the purchase, the group is still waiting for the City Council to OK it. EMeRG began six years ago when a group of students proposed forming an emergency response group to exclusively serve the GW community. Having a team on campus reduces wait times for students who need medical attention.
"College is the first time that people are away from their families and doctors," Emmerson said. "It is gratifying to know that in an emergency, we fulfill that need." University Police Director Dolores Stafford, who oversees the administrative operations of the group, said it has grown since its establishment.
"The program is stronger now because more students participate," Stafford said.
In addition to being dispatched to on campus emergencies, EMeRG volunteers participate in on and off campus events.
EMeRG volunteers are present during basketball games at the Smith Center, for example. Outside of GW, the group works at concerts at RFK Stadium, as well as with the National Park Service during D.C.'s annual Fourth of July celebration.
"The program created a win-win situation for students who wanted to volunteer and for the GW community," Stafford said.
While EMeRG volunteers said they have a variety of interests and majors, many of the volunteers join the program to gain experience in the medical field.
Junior Karl Bezak said the program is a good tool for preparing for his future career in medicine.
"EMeRG is the most medically oriented thing a (future) medical student can do as undergraduate," he said.
Freshman Lorraine Stern, who was certified as an EMT in New Jersey before coming to GW, also joined EMeRG to practice emergency medicine before going to medical school.
"From my experience, I will learn how to approach a patient," she said.
But Stern said it has been an unusual transition serving GW after working with a larger community in New Jersey.
"I usually rode in an ambulance (in New Jersey)," Stern said. "Riding on a bike and responding to your peers is a different animal," she said.
As an EMT in New Jersey, Stern dealt with patients of all ages, although she says she now mostly serves people her own age. While it is different taking care of her peers, Stern said it is no less of a challenge.
Another New Jersey EMT certified volunteer, sophomore Ankur Modi, said at first he found the transition from ambulances to bikes challenging. But during his second year as a volunteer, he has become more accustomed to riding to emergencies on two wheels rather than four.
Modi said while the EMeRG is great preparation for the medical field, one of the most rewarding aspects is the community service involved.
Giving back to the community for EMeRG volunteers entails maintaining the professionalism of the program. Volunteers said they adhere to a quotation posted on their bulletin board: "Even though the public cannot gauge the 'gauge' of the medical care you provide, most are experts at judging professionalism."
When the volunteers are on the job, they dress professionally in blue and white uniforms, their bags are always packed and checked for emergency equipment, and they are ready whenever their beepers go off.
Although he receives no monetary rewards for his involvement in EMeRG, Bezak said gets paid in other ways.
"Community service is brownie points for the heart," Bezak said.
Sophomore Ankur Modi agreed with Bezak that the biggest reward is the effect volunteers have on their college community.
"You know that you have potentially saved a life, and then the next day (the victims) remember you," Modi said.
Elizabeth Brown contributed to this report.