By: Sarah Scire
Robert Hawthorne and James Betz were entering Columbia Plaza when they saw an elderly man lying on the ground, flanked by a set of dentures and scattered mail. As worried bystanders gathered, the two students rushed to his side and attempted to revive him.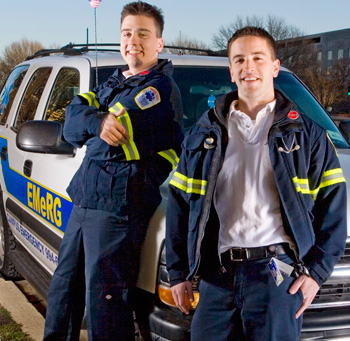 Fortunately for Masud Ansari, the unconscious man, these two EMeRG volunteers and Emergency Department Technicians at GW Hospital recognized the signs of his cardiac arrest.
"The minute I heard the man on the phone say 'I'm not sure if he's breathing' I went into EMT mode," said Betz, a junior.
"There really wasn't much time to think, just perform," said Hawthorne, a senior. "In that type of situation, every second counts, and you are very conscious of that."
Ansari lived, thanks to the students, and the University will recognize their actions this Sunday with the EMeRG Lifesaver Award. They are the first recipients of the award, which will now be given to those who have saved the life or limb of a patient, said EMeRG coordinator Marc Berenson.
"Robert and James' experience highlight the fact that members of EMeRG are able to respond - and quite successfully I might add - to the most serious and grave medical emergencies," Berenson said.
University Police Chief Dolores Stafford, who will be present at the award ceremony on Sunday, said she "could not be more proud" of the students.
"This is the reason that people become EMTs - to save lives," Stafford said.
Ansari has been discharged from GW Hospital and said he is currently in good health.
"I am grateful for the quick treatment I received," Ansari said. "Very pleased and very grateful."
Hawthorne and Betz immediately laid the man on his back and performed two-person CPR. Although neither of them usually carried a pocket mask, Betz happened to have one in his backpack that day.
"It goes without saying that I'll never leave my apartment without one again," he said.
While waiting for paramedics to arrive, they continued to treat Ansari by manually clearing his airways and shocking him with a defibrillator. After a second shock, Ansari's heart began beating.
"I'm not sure if either one of us would have felt as comfortable and confident treating the gentleman without our backgrounds in EMeRG," said Betz, who also works as a CPR and first responder instructor.
Hawthorne, who manages EMeRG's CPR program as the CPR coordinator, also credited the program.
"We walked up to a scene where onlookers were unable to do a single thing to help this guy. It sounds cheesy, but because of our training, James and I were able to save this man's life," he said.
About 95 percent of sudden cardiac arrest victims die before reaching the hospital and very few resuscitation attempts are successful if CPR and defibrillation are not provided within minutes of collapse, according to the American Heart Association's Web site.
Betz said he hopes his experience helps bring attention to EMeRG's treatments beyond the popular association with alcohol abusers, and that it encourages others to see the value of life-saving training.
He added, "I hope that people do see the benefits of CPR training; this type of situation could happen to anyone."