HEATHER TURNBACH
heturnbach@ursinus.edu
Who should you call when you've fallen down a flight of steps, twisted an ankle, or have fallen and can't get up? Superman? The answer does not lie in mythical figures, but rather in the Ursinus community itself. Fortunately, we have our own group of "superheroes" right here at Ursinus College.
Wondering what their name is? They go by SERV. SERV, or Student Emergency Response Volunteers, is an organization of Ursinus College that is made up of students who are specially trained to respond to any emergency on campus. Founded 11 years ago, it was originally called UCSERT (Ursinus College Student Emergency Response Team).
The name may have changed, but its services have not. SERV is there to help until an ambulance—if necessary—can get to the scene. SERV's members are on the job 24 hours a day, 7 days a week, and are ready for anything thrown in their direction.
So why should a student call SERV? Advisor Ray Stitt says, "I feel the best thing a person could do in an emergency is to call SERV via Campus Safety. The reason being that there are going to be Emergency Medical Technicians beside them within minutes…I know if I were in cardiac arrest and had the option to have an EMT beside me in three minutes, compared to 6-15 minutes, I would opt for the three minutes!"
SERV can be of help in any emergency. President/Chief Mike Roberts, who has been involved in SERV for four years, elaborates, "We usually have the general things you'd expect, such as alcohol issues, but we treat things such as diabetes and seizures [as well]." SERV members are trained and experienced. "We're not the getting-ready-to-treat-people society; we are the treat people society... Never hesitate to call."
In the span of four years, SERV has grown from three student members to about 55-60 members. New things are happening each year, and the popularity is rising. One of the newest additions to SERV is the vehicle donated last year from Mr. Paul Garavel (via Lindsey Garavel), a sophomore EMT on SERV. The new vehicle is a 1997 Jeep Grand Cherokee, with decorative SERV decals.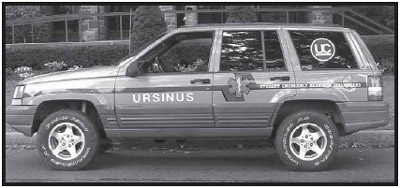 Stitt explains, "This is really going to help when the EMTs respond to an emergency."
Aside from the new transportation, this year, SERV will also be co-hosting the National Collegiate EMS Foundation Conference in Philadelphia this February. Stitt says, "We are also looking into inviting speakers to come to Ursinus and open them up to the surrounding communities."
Students from all classes and experiences have chosen to be a part of the SERV team. No prior experience is necessary. The trainers teach everything that an interested student may need to know. Sophomore and two-year SERV member Colm McCarthy states, "We're always looking for new members. No experience is necessary. The only way to learn is to get your hands dirty... but we do supply gloves. It's a great way to benefit the community."
It is important that students at Ursinus remember that if there is a problem, help is just minutes away with SERV. Stitt points out, "The team is a valuable part of the Ursinus community, and it is a hard thing to do when you are a student helping another student in an emergency situation. [SERV members] handle themselves very professionally."
So, remember, the next time there's an emergency, do not call the man with the red cape—call the members of SERV.
For more information about SERV, e-mail serv@ursinus.edu and for information regarding the NCEMSF conference, email http://www.ncemsf.org/