Celebrate National EMS Week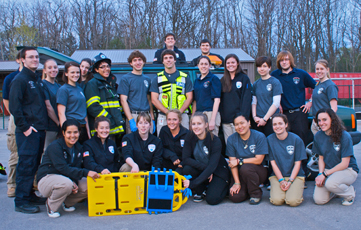 By Hobart and William Smith News Service
Have you ever slipped on ice, had a bad allergic reaction, fallen down the steps, or for some other reason needed immediate medical assistance while at HWS? Chances are the first person to offer medical care was a member of HWS Emergency Medical Services team. The HWS EMS team has been providing emergency medical services to the Colleges since 2008, responding to emergency calls 24 hours a day during the academic year.
This week marks National Collegiate EMS week and is the first time that the national day is being celebrated at Hobart and William Smith Colleges. The week, dedicated to celebrating the efforts and hard work of collegiate EMS programs all over the country, was endorsed by Congress and allows for EMS to highlight their on-campus activities and offer educational programs.
There are approximately 30 students who belong to HWS EMS, all of whom are volunteers that give their time to provide a service to the HWS and the greater Geneva communities. In order to provide the highest level of service, HWS EMS maintains a working relationship with both Res Ed and Campus Safety; as first-response medical technicians they maintain confidentiality and are concerned only providing immediate care for those in need.
"We are simply a group of students who want to help others in need and make sure that every injury or illness results in the best care and treatment," says EMS Chief and founder Gibson McCullagh '11.
Members of HWS EMS will be tabling in the Scandling Campus Center on Friday, Nov. 12 and they will offer CPR education (a non-certifying program), as well as answer questions. Anyone interested in joining the group should e-mail ems@hws.edu.