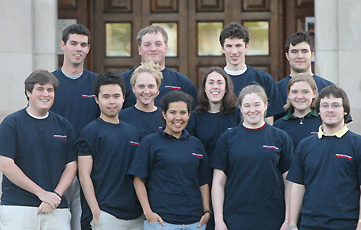 By Hobart and William Smith News Service
HWS Emergency Medical Service (EMS) sent four students –Cassandra Carnright '10, Meredith Dean '10, Gibson McCullagh '11 and current captain of the group Timothy Horstman '08 – to the 15th annual National Collegiate Emergency Medical Services Foundation (NCEMSF) Conference in Philadelphia earlier this semester. The two-day conference hosted nearly 90 student-run ambulance services and 750 college EMTs, giving students an opportunity to network with other student-EMTs about the programs at their schools. "It's nice to see programs from other schools that have been around longer and to see what they're doing," says Carnright '10.
The NCEMSF supports and promotes Emergency Medical Services (EMS) units on college and university campuses. Committed to the advancement of response groups, the foundation provides a forum for the exchange of ideas of campus-based emergency response issues. HWS EMS, founded three years ago by Horstman, recently added 17 new members, graduates of the Emergency Medical Technician class. The group also welcomed Jeremy Cushman '96 , who is currently Senior Instructor in the Division of Emergency Medical Services, Department of Emergency Medicine, at the University of Rochester, as their medical director.
Though anyone is welcome to join HWS EMS, to be become an active member of the service, interested parties must undergo the HWS EMS application process and complete the EMT course if they have not done so already. Completion of the course indicates that the member is EMT certified by New York State and may respond to on-campus emergencies. "We welcome anyone who's interested in joining," says Horstman. "If there are any questions about anything, about the club or the course, feel free to contact us at ems@hws.edu." Beginning Orientation week of the fall 2008 semester, HWS EMS will begin active service, working with Campus Safety and the local emergency response units in response to on-campus medical emergencies. Applications will also be accepted in the fall for the spring 2009 EMT course. "We're really excited about the possibilities for next semester," says McCullagh, who has been elected next year's captain.