At Eckerd College, a team of specially trained students responds to campus emergencies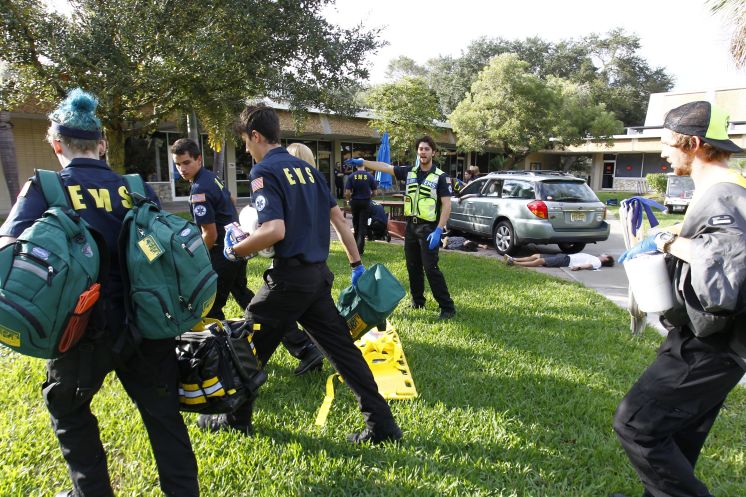 ST. PETERSBURG — Adam Colby, the safety director at Eckerd College, had a problem.
When students called campus safety to report an injury, security guards would call 911. The guards had been trained in CPR and first aid, but could provide only basic medical care.
"If it took a little bit more than a Band-Aid, it was a default 911 call," he said. It became a drain on the department.
As Colby looked for a solution, some students on campus with medical experience approached him and offered to help.
That sparked an idea: What if the school started a student-run emergency response team?
Colby found out the University of Miami had a similar program, and in 2010 secured a grant from UM to buy basic equipment for Eckerd.
In October 2011, he hosted a meeting to gauge interest. Fifteen students showed up. Ten months later, the Eckerd College Emergency Response Team responded to its first call.
• • •
The waterside liberal arts school has long been known for another campus group, the Eckerd College Search and Rescue Team, which has played a role in some of the most storied maritime tragedies in local history — from the 1980 Skyway disaster to the death this year of Phoebe Jonchuck, the 5-year-old who was thrown off the Dick Misener Bridge.
With time, however, the emergency response team has started to gain attention as well, both on and off campus.
Team members, who are volunteers, work in shifts. When you're on call, you're always ready. And when the on-call phone rings, it's go time.
"You could be in the library doing homework," said team member Henry Ashworth, a 21-year-old senior studying biochemistry and philosophy.
Eckerd students call the team directly, and they call for any reason: Seizures, fainting, vomiting. A fall that led to a sprained ankle.
About one-fourth of the calls are related to drug and alcohol intoxication.
Sometimes, students call just to describe their symptoms, asking if they should seek medical help.
All of the team members have emergency medical technician or emergency medical responder certification, along with CPR and a number of other credentials.
They're also trained for disaster response, such as a lightning strike or a car hitting a crowd.
"There are several instances where we'd have an overwhelming need for resources on campus," Colby said.
Nearly two years ago, a construction worker fell to his death while working inside an Eckerd auditorium. The emergency response students got to the scene before rescue officials.
The team also handles psychiatric issues. The college employs a counselor, but members of the team are trained to handle situations such as students suffering from suicidal thoughts or panic attacks.
"It's hard stuff to talk about," Ashworth said.
The group also is prepared for instances of sexual assault and has rape kits on hand.
"Since we're on a college campus, it can happen," said Hayley Musial, the 23-year-old team coordinator.
Musial was one of the team's inaugural members and stuck around after graduation when Eckerd offered her a full-time position as team coordinator.
The non-physical injuries are often hardest for the team to process.
"It's not like you can slap a Band-Aid on it," said team member Madeline McGrath, a 21-year-old biology senior. "We can't necessarily help the underlying problem."
• • •
Of course, there are limitations.
If someone is suffering major bleeding or a serious medical emergency, the school will call 911.
And if an active shooter were ever to enter campus, the team is required to go into lockdown with their peers.
"The reality is, they are still students," Colby said.
But team members are able to have an impact. In 2013, they responded to 189 calls. This year's number is 360 and climbing.
Musial said she thinks the numbers show an increase in student trust.
Instead of calling 911 or campus safety, more students feel safe calling the team first.
"We pride ourselves on bedside manner," said Hannah Banks, a 20-year-old junior studying human development and psychology. "Because we're peers, we understand."
St. Petersburg Fire Lt. Rick LePrevost said the department has seen a reduction in nuisance calls thanks to the Eckerd team. An example of a nuisance call is someone calling 911 for a sprained ankle, he said.
"They have benefited us," he said. "I'm glad for the program."
Because the students are first on the scene, they assess patients and keep them calm when fire rescue is needed.
"We don't have to start from square one," LePrevost said. "It's one less thing for us to do in a case of an emergency."
Next up for the team: Finding a physician to volunteer as medical director.
"We can't use some of the skills we have earned and learned because we don't have physician oversight," Musial said.
The doctor would come to meetings and look at patient-care reports. More important, the students would have the ability to use necessary medications and tools such as aspirin, oxygen and oral glucose.
Until then, they will continue doing what's become second nature: Helping their classmates.
"It's a chance to be there for someone and serve the community," Ashworth said. "It makes this team special."
• • •
Team members have to sacrifice sleep, give up study time and pay thousands of dollars out of pocket to get medical certification.
Even so, the number of members has grown to 38. Musial said about half of the students on the team hope to go into medical fields after graduation. The team turned away 12 students who applied this year.
Through all of the training and emergency calls, team members say they have become like family.
"We're all more than happy to be here. We live for being on-call," said Sadie Schulte, a 20-year-old environmental studies and political science junior. "We're also all here to be there for each other."
"We're so close-knit," Banks said. "How could you not be?"
Contact Ayana Stewart at astewart@tampabay.com or (727) 445-4153. Follow @AyanaStewart.
Originally posted at http://www.tampabay.com/news/humaninterest/at-eckerd-college-a-team-of-specially-trained-students-responds-to-campus/2256649.