Volunteer EMS program launches on campus
By David Lynch
Daily Lobo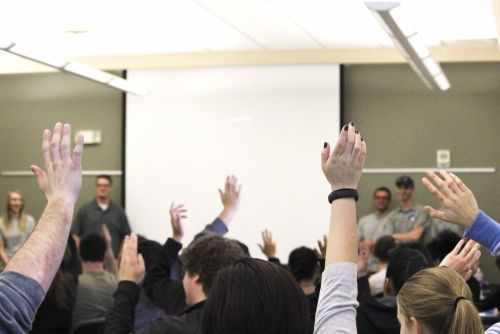 Students interested in joining Lobo EMS raise their hands during an informational meeting at the Acoma SUB rooms on Friday afternoon. Lobo EMS is UNMs first emergency medical service open to all students who would like to volunteer.
MedBow, a branch of the UNM Center for Disaster Medicine, is preparing to jumpstart the University's first student-run emergency medical services team, which will consist of student volunteers responding to 911 calls on campus.
UNM EMS Chief Kane Darling said the group's main goal is timely and efficient medical response to 911 calls — essentially being an extra set of eyes for UNM police.
"Our mission is dedicating ourselves to providing quality emergency medical care to all students, faculty, staff and visitors to the UNM campus," Darling said.
In addition to responding to medical emergencies on campus, Darling said UNM EMS will be providing standby medical coverage for certain University events. MedBow already provides coverage for larger events such as football and basketball games, but Darling said UNM EMS would be on standby at smaller events including intramural sports, fraternity and sorority events, and move-in days.
"Those events that might not have the funding for MedBow or another big group to come in and provide medical care, we could probably help out with them," he said.
The preliminary plan calls for two-person teams on bicycles patrolling campus from 8 a.m. to 5 p.m. in four-hour shifts, Monday through Friday. Darling said that schedule will likely change after determining when and where they are needed most.
"We want to get a feel for campus during business hours and see when people are calling 911," he said. "We'll tailor it to when people need us."
UNM EMS Lieutenant of Personnel Spencer Leiter said that as far as character, the team is looking for students who want to help improve the general welfare and security on campus.
He said they are looking for students who have a good presence and are willing to answer questions that anyone on campus may have. Anyone is invited to join UNM EMS, as long as they are a student or alumnus of the University.
"We're going to be utilized not only for 911 response, but also we will be promoting safe behavior on campus," Leiter said. "We'll be tied to UNM — just establishing an official presence on campus, letting the students and faculty know that we're trying to make campus safer, and that they can find a little bit of comfort in that."
The organization will expand on that initiative by promoting health outreach through forums, health clinics and CPR training courses, Captain of Personnel Myranda Riggle said.
UNM EMS Captain of Training Andrew Powers said that educating the community about health is a vital duty of EMS.
"That's an important part of (our services), the community outreach," Powers said. "We want to try and prevent as many injuries as possible."
According to the National Collegiate Emergency Medical Services Foundation, student-run EMS services are overwhelmingly prevalent on the east coast, at private institutions. There are only seventeen in the western United States, according to the foundation's website.
Darling said that UNM EMS would be the only organization of its kind in New Mexico at this time.
He said there are various benefits to working with UNM EMS, including boosting the volunteer's resume, networking and the possibility of scholarships in the future. He said that hands-on experience is another very valuable incentive for people who are thinking of going into the medical field.
"A lot of people who are going into pre-med, they don't really have that hands-on experience," he said. "And so, if they are not sure whether they like the medical (field), this gives them that opportunity to say 'I'd really like to go into this field, this is what I want to do.'"
Riggle said they are in the process of creating the orientations and planning dates for trainings. She said interested students will be emailed about the process of applying and training as it is developed.
"The plan is to get all the training done before spring break so we can be up and running afterwards," Riggle said.
Aaron Miller, a senior emergency medical services major volunteering with UNM EMS, said they are looking to work over the summer as well, in conjunction with Albuquerque Ambulance.
He added that UNM EMS would stand alone in the country with respect to one connection the organization has to the University.
"It's going to be the first in the country to be associated with a medical school. A lot of others are connected to the university itself, but not the medical school," he said.
Darling said it is his hope that UNM EMS will receive an upgrade in transportation in the future to help the group expand.
"We're hoping to move to some other transportation, like getting one of those golf carts eventually, and possibly down the road, an ambulance," he said.
Daniel Juarez, a sophomore majoring in emergency medical services, was one of about 40 who attended Friday's informational meeting. He said he is excited about the University having an organization that he can get some experience in.
"I'm feeling like this could be really exciting and interesting," Juarez said. "It's a great opportunity to get some volunteer work in the field. I'm really looking forward to it."
David Lynch is a staff reporter at The Daily Lobo. He can be reached at news@dailylobo.com or on Twitter 
@RealDavidLynch.