Lobo EMS launches new campus safety bike patrol
By Dorene Dinaro
UNM Newsroom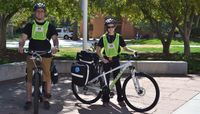 The new Lobo Emergency Medical Services (Lobo EMS) student-run organization began patrolling the campus recently with the goal of providing high quality emergency medical care to all students, staff and visitors on the UNM campus.
"This is a collaborative project between the Emergency Medical Services Department and Student Affairs that has been in the works for the past three years and it's exciting to see it come to fruition and help us further our campus safety goals," said Student Affairs Chief Operating Officer Kim Kloeppel. "This is a proactive approach which provides visible campus safety and education by students to students, staff and faculty."
Lobo EMS is a structured volunteer staff and student organization made up of approximately 50 crewmembers including CPR certified volunteers, emergency medical technicians, and paramedics. In order to qualify for the patrol, applicants must go through a rigorous interview process and a comprehensive training program.
Crews are made up of pairs of two licensed medical providers, or one licensed medical provider and a crewmember with a valid CPR card. Crewmembers are provided bicycles equipped with all the supplies needed to perform basic life support — and being housed on the north campus gives crews easier, quicker response times for campus emergency medical calls.
"The benefits of Lobo EMS will be felt by every department on campus," said Kane Darling, chief of Lobo EMS. "The most obvious benefit of Lobo EMS is providing high-quality medical care quickly on the UNM campus, and because of our location and familiarity to the UNM campus, our members will be able to respond much quicker to 911 medical calls."
Darling took the first shift along with Erin Caulder, ­­­­­a Lobo EMS crewmember on Tuesday, April 7 from 2 to 6 p.m. Subsequent shifts run from 10 a.m. to 6 p.m. every weekday. Darling says they are still looking to add members to the team and are hoping to move toward both later and weekend hours.
While the main mission of Lobo EMS is to provide medical care during emergencies, it will also provide an increased safety presence on campus. "While we will not act as a security group, we will help to report any problems or unsafe situations to the proper authorities," Darling says. "This is a way to make the campus a better, safer place for everybody at UNM while giving the Lobo EMS volunteers real world experience."
For more information about Lobo EMS, email Kane Darling.