Students helping students: New club at Lafayette College provides emergency medical care
By Christina Tatu
The Morning Call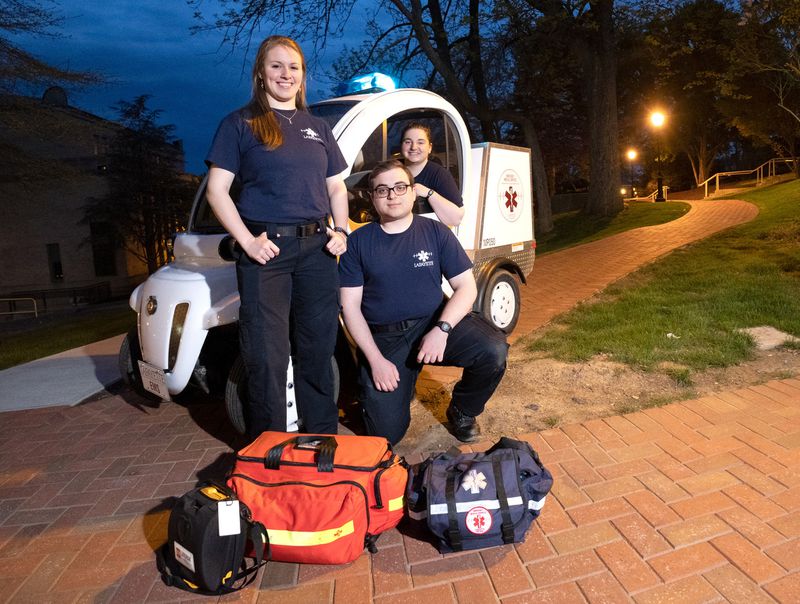 It's 6 a.m. on a Saturday morning, when most college students are still asleep. Karalynn Lancaster, however, is intently listening to a handheld radio strapped to her hip, waiting for any mention of an emergency on Lafayette College's Easton campus.
If a student falls, needs oxygen or even cardiopulmonary resuscitation, the sophomore biology and physiology student will be among the first to furnish critical help.
Lancaster is part of the new Lafayette EMS Club, a group of certified student volunteers who provide emergency medical services on the College Hill campus.
When a call comes in, the students jump in a supply-stocked electric golf cart they affectionately call "the bubble," and they render aid until an ambulance is called.
"It's pretty amazing how dedicated everyone is," Lancaster said.
The squad, which started in February, has grown to 22 volunteers who work in six-hour shifts starting 6 p.m. Friday until 6 a.m. Monday. Of those volunteers, 11 are trained emergency medical technicians. The other students have plans to get certified this summer, said the club's president, Jonny Turovsky, a junior biology major.
The students also get certified in CPR and the use of automated external defibrillators — portable devices that can deliver an electric shock through the chest if someone is in cardiac arrest.
"Being able to finally interact with patients and help people in my community was life-changing. Being in stressful situations builds skills early on," said junior biology student Rachel Broder, who said joining the squad has solidified her decision to eventually specialize in emergency medicine.
Students talking to students
The majority of calls the student group receives are for intoxication, said senior neuroscience major Lauren Steinitz. The squad typically gets one to three calls per weekend.
Students who are afraid they might get in trouble for consuming alcohol or taking drugs are more likely to be honest about their situation with a peer, Steinitz said.
"They feel more comfortable having a fellow student talk to them instead of a total stranger," she said.
Though the college was shocked by the Sept. 11, 2017 death of Lafayette freshman McCrea Williams, who died after drinking alcohol and suffering a skull fracture when he fell in his dormitory, Steinitz said the origin of the squad is unrelated to the tragedy.
Efforts to start the squad have been underway for several years, but it was difficult because of the time commitment required of already-busy students.
"One of the challenges was people looking at us as kids. They said it was a 'liability' to the college to have kids responding to calls," Broder said.
The students credit Roger Demareski, Lafayette's vice president for Finance and Administration, with getting things off the ground.
In his spare time, Demareski is a volunteer firefighter with the Pennington Fire Company in New Jersey. With his backing, the college purchased the Polaris GEM electric golf cart students take to calls, provided handheld radios and built a shed for the supplies.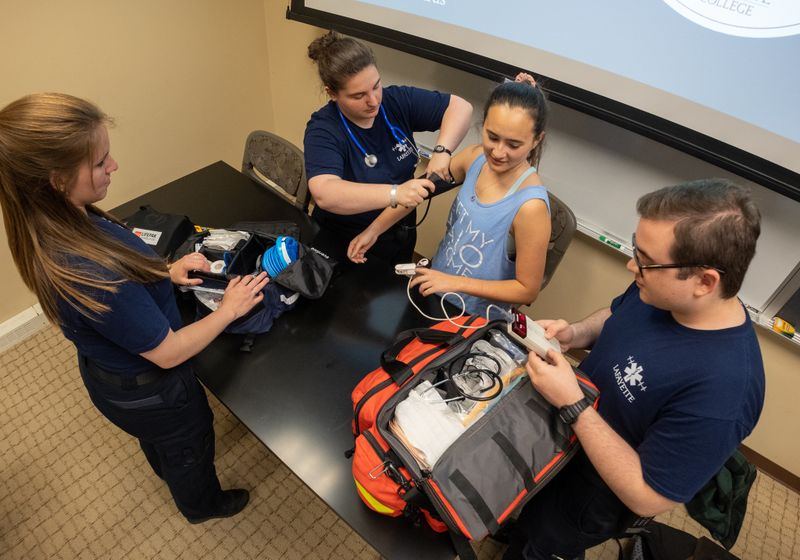 Training with experts
The student group is considered an extension of the nonprofit Easton Emergency Squad, which provides emergency medical care for Easton.
Students are required to do 12 hours of training there per month, said Jason Carita, a member of the Easton squad who is a liaison between the Easton squad and student group.
An EMT can bandage wounds, administer oxygen, do CPR, administer certain medications and start an IV bag. The group is known as a quick response team, which means while they offer care, they don't transport patients to the hospital, Carita explained.
"I think it's a great idea. It takes us between eight to 10 minutes to get to campus. They can be at the patient within three minutes," Carita said.
The unique arrangement with the Easton Emergency Squad allows the student squad to easily get the training and insurance it needs to operate, rather than going through a complex process of applying for an individual permit from the State Department of Health.
In addition to promoting rapid emergency medical care on campus, students are learning valuable life skills such as communication, time management, leadership, budgeting and organization, said Scott Savett, a South Whitehall resident and vice president of the National Collegiate Emergency Medical Services Foundation.
Lafayette joins other campuses
There are nearly 20 active campus-based EMS organizations in Pennsylvania, of which 13 are licensed by the State Department of Health, according to the NCEMSF.
In addition to Lafayette, Lehigh University and Muhlenberg College also have active emergency squads.
A squad at DeSales was founded in 2007, but broke up a couple years ago when a newly appointed university administrator disbanded the group during summer break, Savett said.
Lehigh's squad has been operating since 1991, when it started with fewer than a dozen volunteers. It has since grown to 24 state-certified EMTs and 36 trainees, said the group's adviser, Steve Lewis.
The squad operates 24/7 during the fall and spring semesters, covering Lehigh's three campuses: Asa Packer, Mountaintop and Goodman. Volunteers maintain 40 automated defibrillators throughout campus, conduct CPR, AED and first aid training, and provide standby medical support for large events.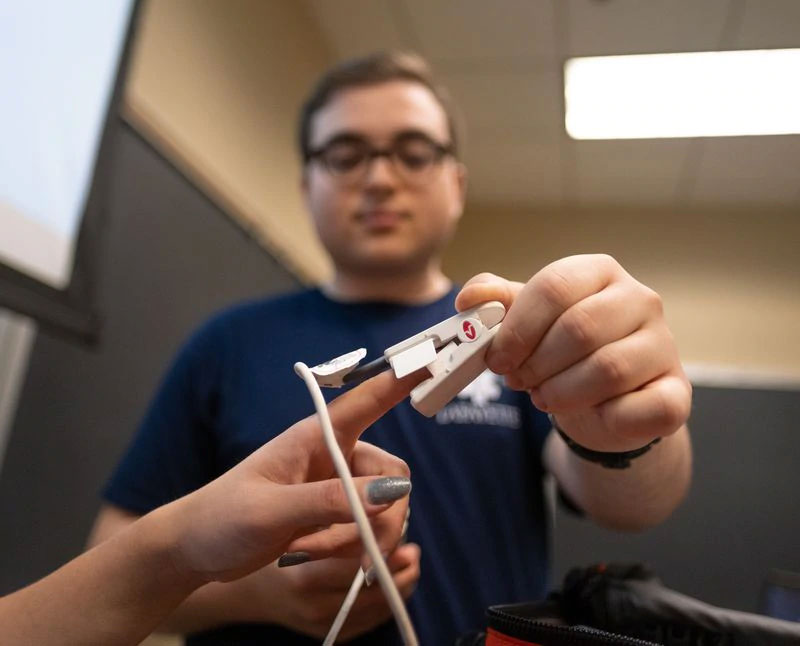 The Lehigh squad is now equipped to perform blood glucose monitoring for diabetics, and the administration of Naloxone for opioid overdoses, Lewis said.
Last year, the squad responded to 116 calls, arriving at nearly half of the calls in four minutes or less, he said.
Muhlenberg College Emergency Medical Service has been around since 1999. With about 40 volunteers, the squad operates 24/7 during the fall and spring semester, said Brian Fidati, director of Campus Safety/Police.
He recalled an incident last year when the squad administered epinephrine to save a student who was having a severe allergic reaction.
"This person, their throat was closed up and they were going unconscious. I think in another few minutes it could have been a different outcome," Fidati said.
Lafayette's EMS squad hopes to eventually operate 24/7, Carita said.
The group of volunteers are certainly enthusiastic enough to make it happen.
"As an 18-year-old, there's not much you can do that's hands on with medical care," said Lafayette freshman EMT Madison Cass. "I love the practicality of EMS. If there's ever a situation where someone drops to the ground and isn't breathing, I can respond to that when minutes and seconds count."
Christina Tatu can be reached at 610-820-6583 or ctatu@mcall.com
Originally published at https://www.mcall.com/news/local/easton/mc-nws-easton-lafayette-ems-20190527-7owi4wrof5b55cbucmpqo5qtdm-story.html