Harpur's Ferry honored for this year's service
By Jennifer Roganti
Pipe Dream
For the second time, Harpur's Ferry has been recognized as the No. 1 collegiate Emergency Medical Service agency in the nation.
Binghamton University's student-run ambulance service was awarded the Collegiate EMS Organization of the Year at the National Collegiate Emergency Medical Services Foundation's 19th Annual Conference this past weekend for the 2011-12 school year. At the conference, agencies engage in skills competitions and attend lectures. At the end of the weekend awards are distributed.
This year, the conference was held in Baltimore, where 959 representatives from 99 schools were in attendance.
Harpur's Ferry also won the award in 2005, making it the first agency to win the award twice.
Robbie Cohen, chief executive director of Harpur's Ferry, said this is the highest award given to a collegiate ambulance service and marks Harpur's Ferry as the top organization in the foundation, which is composed of 250 agencies.
"Being ranked as No. 1 in the nation is really rewarding," said Cohen, a senior double-majoring in political science and history. "We appreciate the support and trust that we get not only from our membership, but from the campus and the students of BU."
Jennifer Larson, public relations coordinator and a senior majoring in biochemistry, said Harpur's Ferry participation in last September's devastating local floods was a main reason it won the award. During an 11-day period after the storm, Harpur's Ferry was the primary transport agency and provided emergency care and transportation to an estimated 2,000 people.
Most notably, Harpur's Ferry members were called to attend to a woman who was not breathing at 1 a.m. on Friday, Sept. 9. They found she didn't have a pulse, performed CPR and defibrillated her successfully. This "save" is one of only three in the 38-year history of Harpur's Ferry.
In the past year, Harpur's Ferry answered 991 calls, a quarter of which were answered during the flood, according to Cohen.
Harpur's Ferry's was also recognized for its personal training conference held in November, according to Cohen. This lecture series featured guest speakers trained in various fields of medicine. Its purpose was to teach EMTs new methods of aid.
Pavel Antonov, Harpur's Ferry operations director and second assistant director, said the agency is still improving. They are currently coordinating with Binghamton's New York State University Police to integrate ideas on dispatching, and are also creating a push for CPR education on campus.
"It is important that as many people as possible know CPR," he said.
Antonov, a senior majoring in biological chemistry, also spoke about Harpur's Ferry's participation in a county-wide mutual aid policy, which requires Harpur's Ferry to take calls for other towns if their local agency is busy. They have traveled as far as New York City — in the past year they covered about 100 mutual aid calls.
John Anthony Tanzi, an attendant for Harpur's Ferry and a senior majoring in English, said he was pleased about Harpur's Ferry recognition.
"It's nice to be recognized as the cream of the crop," he said.
Tanzi said that with Harpur's Ferry's year-round dedication to campus and the Binghamton area, especially during the flood, it would have come as a surprise if it had not won.
"I would have been shocked if we did not receive the award, considering the high quality of patient care we provide and the high quality of members we have in the agency," he said.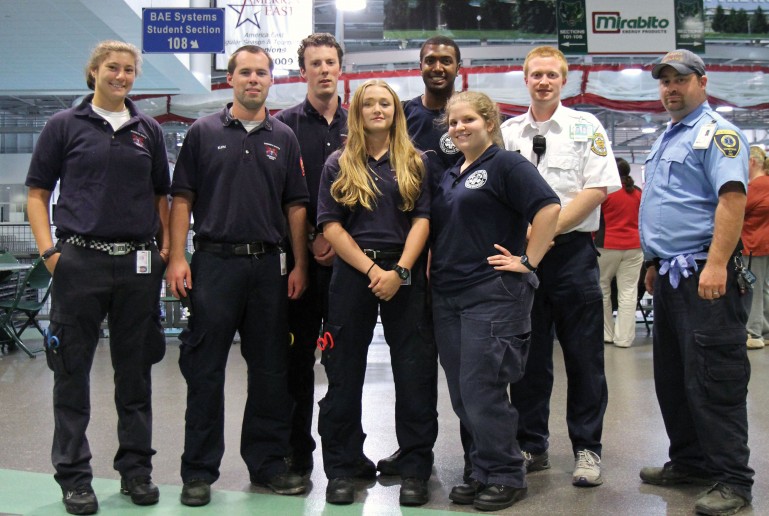 Timmy Shin/Staff Photographer
Harpur's Ferry stands in the Events Center during the aftermath of the September 2011 flooding. Last weekend, the organization was awarded Collegiate EMS Organization of the Year at the National Collegiate Emergency Medical Services Foundation's 19th Annual Conference.