Eagle EMS Seeks To Widen Scope
By Matthew DeLuca / News Editor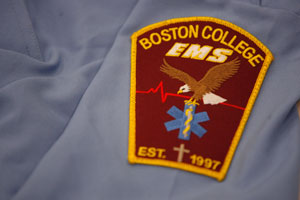 Katie Davis, president of Eagle EMS and CSON '10, is not dressed in a Halloween costume, though her two companions have a pair of funny hats and a clown horn between them. Dave Eastman and Chris Nuttle, EMTs with the Armstrong Ambulance Service, have just begun their night responding to calls on and around the Boston College campus.
The Eagle EMS program is looking to expand, Davis said, especially in the area of education. Davis has seen everything from gunshot cases and stabbings down to stubbed toes and twisted ankles. She started EMT training when she was 16 in her hometown of Hartford, Conn. Both of her parents work in medical fields, but they were still concerned when she decided to become an EMT. Now, as an RA and fellow student, she feels she can offer students at Boston College a special touch. "I think seeing a younger face can sometimes be helpful," she said. "I feel sorry for them, I really do, some of the ones that are really intoxicated. My heart goes out to them."
The Armstrong ambulance Davis rides with serves only BC students on campus and in the immediate surroundings on Thursday, Friday, and Saturday nights from 10 p.m.to 5 a.m. Saturday was a busy day for Davis. She worked the football game from 10 a.m. to 6 p.m. before heading out at 10 p.m. for the night shift with the Armstrong ambulance. All of the Eagle EMS staff members are volunteers. "Part of what we pride ourselves on is that we are volunteering our time in service to our fellow students," Davis said.
In between calls, Davis, Nuttle, and Eastman hang around the ambulance in the Mod lot, in front of the BC police station, or at the Murray Graduate Student Center. Calls for the ambulance come all at once or not at all. When a particular lull sets in, the crew returns to the Murray Graduate Student Center. There are beds and food there for them, but the breaks never seem to last long, Davis said. At times there is little or no time to relax in between calls. "Sometimes you go all night and you don't decompress until later," Davis said. "I like when it's busy, though."
She has become more comfortable responding to calls with experience, Davis said. "I still obviously have feelings for all of the patients, but I'm not nervous," she said. "This sort of stuff is commonplace for me." The ability to retain one's patience and self-confidence while responding to a call is an important skill for the job, Nuttle said. Composure can be important to a patient's outcome. "Our demeanor is going to help the outcome of the patient," he said. Davis and Nuttle talk to the patients and reassure them as Eastman speeds to St. Elizabeth's. "To get them out of themselves, to make them laugh, that's huge," Davis said.
Patients may be in varying degrees of consciousness, and they may sometimes vomit or spit on or even physically assault the EMTs. "What we deal with, what we see is not the everyday sort of thing that people see," Davis said.
Nuttle has worked at other local colleges, but he said that the two times he has worked with Davis have been unlike his work with EMS volunteers elsewhere. "I would work with Katie in the streets of Boston in a second," he said. The sense of camaraderie shared by EMTs is strong, Nuttle said. "It's a family," he said. "I had never met her until a couple of months ago. Now she can come to my house whenever she wants."
Vice President for Student Affairs Patrick Rombalski has been working with Davis and Eagle EMS to expand their services and image on campus. "When I first came to Boston College, they were in the process of looking to be co-advised by Health Services," Rombalski said. "Katie and I know each other very well, and I've tried to be very supportive. I think [the EMS'] service goes unrecognized because I think a lot of people don't recognize that they're volunteers." Rombalski said that the program also receives very good response from the support staff outside the University. "They say that our students are highly trained and excellent responders," he said.
© Copyright 2009 The Heights