Student-Run EMS Helps Save Lives On Campus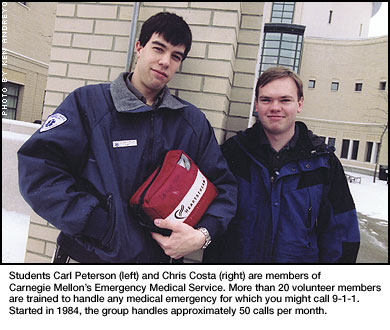 A student is suddenly overcome by an asthma attack. He tries his inhaler and nebulizer but they do not help. He then calls University Police and the dispatcher immediately radios Carnegie Mellon's Emergency Medical Service (EMS).
In less than two minutes, two trained emergency medical technicians (EMTs) reach the student, whose breathing has worsened. They administer oxygen, but the student loses consciousness and stops breathing. The EMTs perform rescue breathing until Pittsburgh paramedics arrive, intubate the patient and take him to the emergency room. The paramedics tell Carnegie Mellon EMS personnel that if they hadn't been there to administer rescue breathing, the asthmatic student would have died.
This is just one of the many success stories that Carnegie Mellon's student-run EMS program has to tell.
Started in 1984 by a small group of students who wanted to expand University Police's existing emergency medical services, the Carnegie Mellon EMS today has more than 20 volunteer members. They are trained in first aid and are supervised by "crew chiefs," certified EMTs adept at quickly determining the best way to treat a patient. There are generally five crew chiefs in the organization, and one of them is always on call, 24 hours a day, seven days a week.
With a response time of about two minutes, Carnegie Mellon EMS is equipped to handle any medical emergency for which you would ordinarily call 9-1-1.
"A patient who is not breathing will be brain-dead in six minutes," said Carl Peterson, a senior mechanical engineering major and past executive director of the group. "Someone who gets CPR (cardiopulmonary resuscitation) during that time can survive almost indefinitely.
"Someone in cardiac arrest generally needs an electric shock. Carnegie Mellon EMS has access to six automatic external defibrillators (AED). The AED is one main reason that we're here. CPR is another. We are able to get someone there in the first six minutes before they're brain-dead," Peterson said.
When they first began offering service, Carnegie Mellon EMS received 1 - 20 calls per month. Today, that number has grown to 50. Incidents from Spring Carnival alone constitute nearly 10 percent of their annual call volume.
Most of the calls to Carnegie Mellon EMS are for minor injuries—sprained ankles or cut fingers—but those types of calls are decreasing.
"We're seeing a higher percentage of the calls being more and more serious," said Chris Costa, a junior electrical and computer engineering major and the group's executive director.
"At least 25 percent of our calls involve a moderate to serious life threat," Peterson said. "Someone is going to die or has the potential to die in 20 minutes if someone doesn't help them."
When a member of the university community has a medical emergency, the person calls University Police and the operator dispatches Carnegie Mellon EMS and a police officer. All EMS members are notified of the emergency via radios that they carry with them. The crew chief on call automatically responds to the dispatch. Depending on the situation, he or she either asks for more support or handles the situation with the help of the police officer. Pittsburgh EMS is called if an ambulance or paramedics are needed.
Once on the scene, Carnegie Mellon EMS can administer oxygen, help patients take their prescription medication, bandage wounds, perform CPR and rescue breathing, and stabilize patients with possible spinal cord injuries until an ambulance arrives.
While their primary mission is responding to medical emergencies, Carnegie Mellon EMS is also committed to providing training for the university community. In addition to holding certification classes for their members, the organization sponsors CPR and first aid classes for students, faculty and staff, as well as classes for specific departments or groups. Carnegie Mellon EMS teaches CPR and first aid to members of the Chemistry Department each fall.
Although these volunteers are trained in treating medical emergencies, they are students whose academic work takes priority.
"We have a policy that classes definitely come first," Peterson said. "If all of the crew chiefs had a final exam at the same time, we would take EMS out of service until one became available."
Service might also be interrupted during breaks in the academic calendar and during the summer. Costa said that even with these interruptions, the organization is active about 330 days a year.
What makes a student with a busy schedule join an organization that requires so much time?
Costa said his interest stemmed from taking a training class that Carnegie Mellon EMS offered. For other people, like Peterson, prior participation in organizations like community volunteer fire departments carried over into college.
"People who are into community service find EMS really rewarding," Peterson said.
Whatever their motivation, Carnegie Mellon EMS members have been helping to save lives on campus for nearly 20 years.
"This community is extremely fortunate to have student EMS available. With the same academic workload and stress as their peers, these students drop whatever they're doing in a heartbeat to help others. What they contribute to the quality of life on campus is extraordinary," said University Police Chief Creig Doyle, who directly supervises Carnegie Mellon EMS. "This is community service at its best."
If you have a medical emergency, dial 8-2323 for immediate assistance. More information about Carnegie Mellon EMS and the courses they offer can be found at www.cmuems.org .
Article by Susan Cribbs