EMS club installs new defibrillator in student center
Press Release, Connecticut College
Connecticut College's Emergency Medical Services (EMS) club installed a new Automated External Defibrillator (AED) in the Crozier-Williams student center during a small dedication ceremony earlier this week.
The $1,900 device, which can detect and treat the irregular heartbeats that lead to sudden cardiac arrest, was donated by Emergency Medical Technician (EMT) instructor Chuck Holyfield and Connecticut College's Fall 2011 EMT class, in memory of Elizabeth Durante '10. Durante, who founded the College's EMS club in 2008 with Stefanie Hinman '10, was killed by a drunk driver in March of 2009 while on her way to a humanitarian mission in Africa.
"Liz was quite the humanitarian, and we wanted her name to live on," Holyfield said. "We decided this was something we could do."
An all-weather, alarmed box for the device was donated by Common Cents EMS Supply in Old Saybrook. The box is located between the post office and the convenience store on the first floor of the student center. The College also has two other AEDs, located in the athletic center field house and with campus safety.
The College's EMS club is a student-run organization that currently includes 21 licensed EMTs and 14 students in the process of getting their EMT licenses. The club offers EMT classes for students (taught by Holyfield on campus) and works with the College's campus safety officers to provide emergency medical services at campus events, club sports games and when called.
Club president Ben Allar, a junior pre-med student with double majors in biology and religious studies, said EMS club members commit to 200 hours of training and take the EMT course and practical skills examination on campus. To help offset the cost of the training for students who can't afford it, the club offers the Elizabeth Durante '10 Scholarship.
"If students are willing to put in the hours for training, we are willing to help them pay for it," Allar said.
Student EMTs are trained to provide first aid, evaluate injuries and respond to medical emergencies. While most EMS club members are pre-med students, Allar said anyone with an interest in helping people is welcome to join.
"Our goal is to grow the club and train at least 10 new EMTs each semester," he said.
This spring, the club will begin offering CPR classes on campus as well. Allar hopes to have as many people as possible trained to administer CPR and use the College's three AEDs.
"When someone is experiencing sudden cardiac arrest, every second matters," Allar said.
Allar added that while EMTs and those who are CPR-certified are trained to use the AEDs, the machines come with directions and can be used by any bystander. "They are very user-friendly," he said. "The AED won't let you shock someone with a normal heartbeat."
Holyfield said he is glad that the College now has third AED in a central location on campus, but added that he would prefer the device never has to leave its box.
"I hope it never has to be used," he said.
For media inquiries, please contact: Amy Martin, 860-439-2526, a.martin@conncoll.edu OR Deborah MacDonnell (860) 439-2504, dmacdonn@conncoll.edu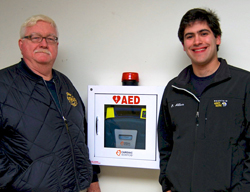 EMT instructor Chuck Holyfield (left) and EMS club president Ben Allar '13 with Connecticut College's new Automated External Defibrillator (AED)