'Got Soap?' campaign gives students the upper (and clean) hand against flu
By Susan Kelley
"Would you like an extra bar of soap?" Vishnu Patel '10 asked a friend walking through Ho Plaza.
"I would love an extra bar of soap," his friend replied.
"Stay squeaky clean," Patel said, handing him a bar.
Passing out 6,300 bars of Garden Botanika oatmeal-peppermint soap, Patel and his fellow student volunteers from Cornell University Emergency Medical Service (CUEMS) launched their "Got Soap?" campaign Sept. 18. The volunteers, wearing T-shirts with a red handprint and the slogan, distributed soap and flu information flyers at Ho Plaza and Robert Purcell Community Center.
The goal of the campaign is simple, Patel said: To tell students that hand washing is an effective way to prevent flu. "Good hygiene is the only way to protect ourselves [from flu] right now. And the best way to do it is to wash your hands with soap."
More than 700 students with flulike illness have visited or called Gannett Health Services since the beginning of the semester. About 1 percent to 2 percent of Cornell students have been ill at any one time during the semester.
Students responded positively to the campaign, Patel said. "My friends are texting me that people are sitting in class and putting the soap up to their noses and saying, 'They're handing out soap on Ho Plaza, go get some.'"
CUEMS also got requests for soap and T-shirts from around campus, including the Department of Psychology and the Vet School's Hospital for Animals. The students may order more shirts if demand continues.
Although the CUEMS students initiated the campaign, Cornell's Office of Environmental Health and Safety, Gannett and Campus Life offered administrative help and sponsored the shirts, donned by staff, students and faculty throughout the day, Patel said. "As we pitched this up the ladder at the university we got so much support."
PSP Unlimited of Ithaca printed 1,510 shirts within 24 hours at a reduced rate; Marietta Corp. in Cortland donated the soap, which it manufactures.
As students walked by Ho Plaza, CUEMS volunteers urged them to "Beat the flu," "Stay healthy" and "Take some soap -- it smells freaking good."
"Take the extra 30 seconds and wash your hands," Patel said, "and you might save yourself the suffering of three, four, five days of flu. No one wants to be out for a week, vomiting, snot everywhere, all that gross stuff."
How often does he wash his hands? "Frequently," he said.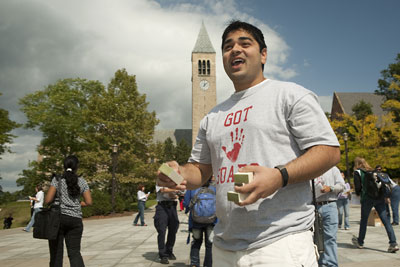 Robert Barker/University Photography
Vishnu Patel '10 and other volunteers handed out soap Sept. 18 as part of the "Got Soap?" campaign. The project, initiated by the student group Cornell University Emergency Services, urged students to fight the flu by washing their hands.