It is National Collegiate EMS Week!!!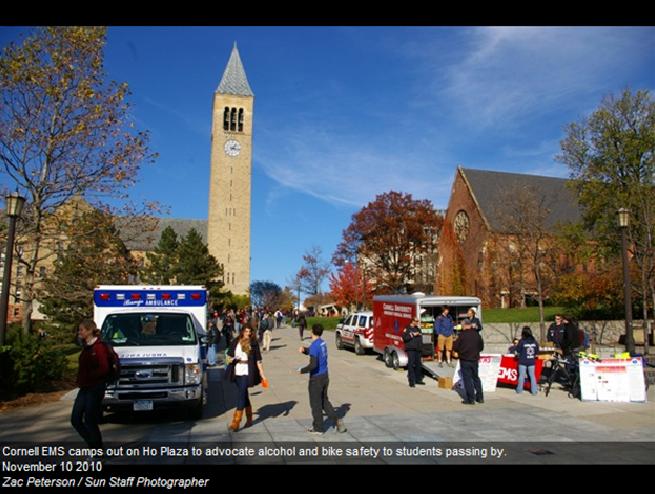 Help Cornell EMS celebrate by participating in the fun events we have planned:Monday (11/11): Get CPR certified for FREE on National CPR Day! We'll be teaching 5 CPR classes around campus: 11am-1pm (WSH), 2pm-4pm (WSH), 3pm-5pm (RPCC), 5pm-7pm (Flora Rose), 6pm-8pm (Location TBD). Email cuemscpr@gmail.com with your top 3 choices to sign up to learn this lifesaving skill!
Tuesday (11/12): Emergency vehicle exposé on Ho Plaza from 12pm-3pm. Come check out the emergency vehicles that keep our campus safe!
Wednesday (11/13): Got Soap? Learn how to fight the flu with Cornell EMS on Ho Plaza from 1pm-4pm. We'll also be in Noyes and Appel from 4pm-7pm. Get free soap, hand sanitizer, and flu prevention tips!
Thursday (11/14): Ask us questions about alcohol safety at Appel from 5pm-8pm. Learn what to do when faced with an alcohol emergency, and about state and university Good Samaritan laws and policies.
Friday (11/15): CUEMS Blood Drive! Donate blood at the Red Cross Blood Drive from 10am-3pm in Bartels Hall. Make an appointment by calling 1-800-RedCross or visiting redcrossblood.org.