DeSales EMS team named nation's best
Daniel Patrick Sheehan
In The Burbs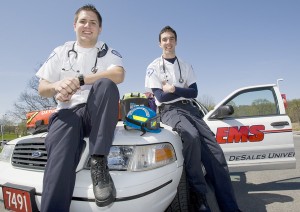 DeSales University juniors Ryan Hay of Bethlehem (left) and Mark Ubbens of Chestnuthill Township are founding members of an EMS team at the college. DeSales' EMS team was honored as the 2009-10 Collegiate EMS Organization of the Year. (Douglas Kilpatrick/Special to The Call / April 12, 2010)
Who knew? Hundreds of the nation's universities are served by student-run emergency management squads, on call to tend schoolmates who fall ill or break bones or need other sorts of help. And the top program in the country this year -- recognized as such by a national foundation -- is at DeSales University.
The Center Valley school has 14 certified emergency medical technicians who provide around-the-clock coverage seven days a week while maintaining typical course loads.
"We like to keep busy," said junior Mark Ubbens, 20, offering a wry assessment of his daily life as EMS captain and biology major at the 3,100-student campus.
Ubbens and squad director Ryan Hay, who began their acquaintance before college as online Facebook friends, co-founded the unit in 2007. Both had cut their teeth with hometown emergency operations: Ubbens, from Chestnuthill Township, worked with West End Ambulance and on ski patrol at Big Boulder. Hay, of Bethlehem, volunteered with Nancy Run Fire Company and Northampton County Emergency Management.
They hatched their squad plan on the first day of freshman year, meeting with the campus police chief and devising a budget for equipment: stethoscopes, backboards, defibrillators, bandages, suction hoses, splints and sundry other necessities of first response. The program was state-certified as a Basic Life Support Quick Response Service in May 2008.
The EMTs don't run an ambulance but provide initial treatment and care and summon ambulances for more serious cases.
Their uniform patches bear the school's bulldog mascot. They get around in a refashioned campus police car or on bicycles. They also used the bikes to patrol the U.S. Women's Open Championship at Saucon Valley Country Club last year in a sunny diversion from school routine.
On campus, "The majority [of cases] are sports injuries," said Hay, 20, a political science major. "Then you have people who get sick for the first time at college." As you might expect, the swine flu pandemic led to lots of those calls.
The National Collegiate EMS Foundation, with about 300 member programs, recognized DeSales as the 2009-2010 Collegiate EMS Organization of the Year earlier this month during its annual meeting. The honor put the Catholic school in distinguished company -- past winners include Columbia University and Penn State.
What gave DeSales the edge this year may have been its cooperative effort with the school's nursing department. The squad holds mass casualty drills twice a year, allowing nursing students to get a vivid look at emergency health care in the field.
"It brings us out of the realm of just responding and into education," Hay said.
The squad's budget is about $6,500 a year. It recruits new members through a notice on the school Web site, a Facebook page and brochures distributed on campus.
"It's pretty addictive," said Ubbens, summing up the lure of EMS life.
For Hay, an Eagle Scout, the work touches on something fundamental: "It's just that nature of wanting to help people," he said, offering as good a reason as any to add a stethoscope and emergency pager to the standard gear of college life.
610-820-6598