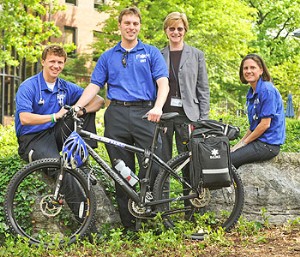 (From left, Edward Stene '11, Josh Rosen '10, Director of Student Health Services Marianne Kelly, M.D., and Megan Hunter '10, with one of the bikes used by the College's new EMS team.)
Somewhere deep inside Appel Health Services, they are waiting to answer the call—even at 4:30 a.m. on Saturday.
They are Franklin & Marshall's Emergency Medical Technicians, students who have added another dimension to health care on campus by providing a medical emergency response system for students.
After months of preparation and planning, the student-run Emergency Medical Service program took flight at the beginning of the semester. The EMTs evaluate and treat medical emergencies on campus during some of the hours that Appel is closed. For the fall semester, at least two students will be on call between 7 p.m. and 7 a.m. Friday and Saturday nights.
"It's a wonderful example of students taking responsibility to improve the quality of life on campus," says Kent Trachte, Dean of the College. "It also fills a niche in overall health care we can provide to our students. We had a timeframe during the weekends when potential emergencies required students to call an ambulance or go to the emergency room. Now, Public Safety can work with the EMS to identify quickly what kind of shape students are in."
The motivation for an emergency services program came after the Virginia Tech massacre in 2007, when Josh Rosen '10 and Dennis Malamut '09 began brainstorming how to create an group of student EMTs. "We wanted a mass-casualty structure for large-scale incidents," says Rosen, who received his EMT certification in high school. "We had complete support from the administration, Public Safety and Health Services. The only request President (John) Fry made was that we make it professional."
Along with Zachary Flum '11, Rosen and Malamut navigated the learning curve of creating a new organization by studying similar programs on other college campuses. The students shaped the program into a quick-response, basic life support service.
They did so with the help of Marianne Kelly, M.D., director of student health services, who works closely with the students to provide medical oversight. Denise Freeman, director of environmental health and safety and a certified EMT, serves as the group's adviser and is one of four instructors who teach a certification course for new EMTs.
"The challenge is being able to get enough students certified," says Freeman, who works part-time with the Lancaster Emergency Medical Services and has a range of experience in crisis management. "Students have been so quick to pick up the training. Anyone with an interest can become involved, and we know that it will continue to grow."
Lancaster EMS and the Lancaster General College of Nursing and Health Sciences brought the local EMT certification class to Franklin & Marshall this year. Classes meet in the Woods Room in the Alumni Sports and Fitness Center, where students learn how to respond to vehicle accidents, mass-casualty events and medical emergencies involving physical trauma. They learn how to control bleeding, splint broken bones and provide a range of pre-hospital treatment. Students also work on an ambulance and in a hospital emergency room prior to being certified.
Nine student trainees are on track to graduate in December, which would bring the number of certified Franklin & Marshall trainees to 20.
"Eventually, student EMTs will be able to make an assessment on the spot if someone is injured at an intramural game," says Trachte, who notes that the program is not designed to respond to flu-like symptoms or other common ailments. "But if you're in an apartment and your roommate passes out and falls down the steps, Public Safety can dispatch EMS to begin evaluation and treatment."
Rosen feels gratified to have seen the group take shape over the past few months.
"I think we are exactly where we want to be at the moment," Rosen says. "On one hand, we always hope nothing ever happens to students. On the other, we're here to help regardless of the time. Even at 4:30 a.m."