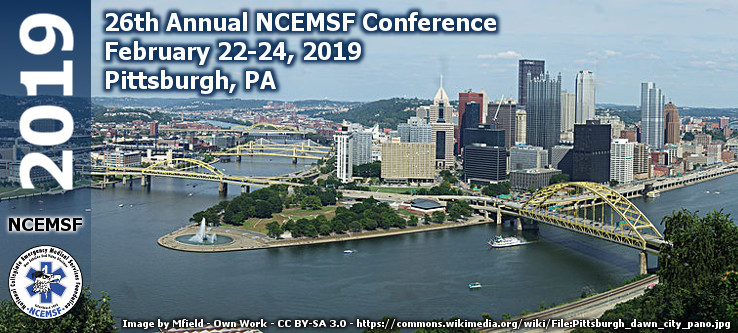 The 26th Annual Conference was hosted in Pittsburgh, PA at the Wyndham Grand Downtown on February 22-24, 2019!
Nearly 1200 representatives from more than 100 colleges and universities registered to attend the conference.
Presentations and Handouts (must be logged in to view)
Evaluation / Claim CE
The deadline to claim CE passed on May 1, 2019.
Conference Pictures
SAVE THE DATE:
The NCEMSF Board is pleased to announce that the 27th Annual Conference will be held:
February 28-March 1, 2020
Boston, MA
Questions: Email confinfo@ncemsf.org.
---
Schools in Attendance
The following schools sent representatives to the 2019 NCEMSF Conference:
| | | |
| --- | --- | --- |
| NCEMSF Region | Affiliation | State |
| Midwest | Albion College | MI |
| Central | Arizona State University | AZ |
| New York | Bard College | NY |
| New York | Binghamton University | NY |
| Massachusetts | Boston College | MA |
| Massachusetts | Brandeis University | MA |
| Northeast | Brown University | RI |
| Pennsylvania | Bryn Mawr College | PA |
| Pennsylvania | Carnegie Mellon University | PA |
| Midwest | Case Western Reserve University | OH |
| Mid-Atlantic | Christiansburg Rescue Squad (VT & RU) | VA |
| Massachusetts | Clark University | MA |
| New York | Clarkson University | NY |
| Southeast | College of Charleston | SC |
| Central | Colorado College | CO |
| New York | Columbia University | NY |
| New York | Cornell University | NY |
| New York | Daemen College | NY |
| Pennsylvania | Drexel University | PA |
| Southeast | Duke University | NC |
| Southeast | Eckerd College | FL |
| Southeast | Embry-Riddle Aeronautical University | FL |
| Massachusetts | Emmanuel College | MA |
| Southeast | Emory University | GA |
| New York | Fordham University | NY |
| Pennsylvania | Franklin and Marshall College | PA |
| Mid-Atlantic | Georgetown University | DC |
| Pennsylvania | Gettysburg College | PA |
| Massachusetts | Harvard University | MA |
| New York | Hobart and William Smith Colleges | NY |
| Midwest | John Carroll University | OH |
| Mid-Atlantic | Johns Hopkins University | MD |
| Pennsylvania | Lafayette College | PA |
| Pennsylvania | Lehigh University | PA |
| West | Loyola Marymount University | CA |
| North Central | Macalester College | MN |
| Massachusetts | Massachusetts Institute of Technology | MA |
| Massachusetts | Massachusetts Maritime Academy | MA |
| Canada | McMaster University | ON |
| Pennsylvania | Muhlenberg College | PA |
| Massachusetts | Northeastern University | MA |
| North Central | Northwestern University | IL |
| Northern New England | Norwich University | VT |
| Midwest | Oakland University | MI |
| Pennsylvania | Pennsylvania State University | PA |
| New York | Purchase College, State University of New York | NY |
| Mid-Atlantic | Radford University | VA |
| New York | Rensselaer Polytechnic Institute | NY |
| Central | Rice University | TX |
| New York | Rochester Institute of Technology | NY |
| Northeast | Rowan University | NJ |
| Northeast | Quinnipiac University | CT |
| Northern New England | Saint Anselm College | NH |
| Northern New England | Saint Michael's College | VT |
| West | Santa Clara University | CA |
| New York | Skidmore College | NY |
| New York | St. Lawrence University | NY |
| Northeast | Stockton University | NJ |
| New York | SUNY Canton | NY |
| New York | SUNY College at Cortland | NY |
| New York | SUNY Geneseo | NY |
| New York | SUNY Oneonta | NY |
| New York | SUNY Oswego | NY |
| New York | SUNY Purchase | NY |
| New York | SUNY Stony Brook | NY |
| New York | Syracuse University | NY |
| Pennsylvania | Temple University | PA |
| Central | Texas A&M University | TX |
| Northeast | The College of New Jersey | NJ |
| Mid-Atlantic | The George Washington University | DC |
| Massachusetts | Tufts University | MA |
| Central | Tulane University | LA |
| New York | United States Merchant Marine Academy | NY |
| New York | University at Albany, NY | NY |
| Central | University of Arizona | AZ |
| West | University of California - Davis | CA |
| West | University of California - Irvine | CA |
| West | University of California - Los Angeles | CA |
| North Central | University of Chicago | IL |
| Midwest | University of Dayton | OH |
| Mid-Atlantic | University of Delaware | DE |
| Southeast | University of Florida | FL |
| Canada | University of Guelph | ON |
| North Central | University of Illinois at Urbana-Champaign | IL |
| North Central | University of Iowa | IA |
| Mid-Atlantic | University of Maryland | MD |
| Massachusetts | University of Massachusetts Amherst | MA |
| Massachusetts | University of Massachusetts Lowell | MA |
| Northern New England | University of New England | ME |
| Northern New England | University of New Hampshire | NH |
| Southeast | University of North Carolina at Chapel Hill | NC |
| Canada | University of Ottawa | ON |
| Pennsylvania | University of Pennsylvania | PA |
| Pennsylvania | University of Pittsburgh | PA |
| Northeast | University of Rhode Island | RI |
| Mid-Atlantic | University of Richmond | VA |
| New York | University of Rochester | NY |
| West | University of San Francisco | CA |
| West | University of Southern California | CA |
| Southeast | University of Tampa | fl |
| Northern New England | University of Vermont | VT |
| Mid-Atlantic | University of Virginia | VA |
| Canada | University of Western Ontario | ON |
| Canada | University of Windsor | ON |
| New York | Utica College | NY |
| New York | Vassar College | NY |
| Northern New England | Vermont Technical College | VT |
| Pennsylvania | Villanova University | PA |
| Mid-Atlantic | Virginia Polytechnic Institute and State University | VA |
| Southeast | Wake Forest University | NC |
| Central | Washington University - St. Louis | MO |
| Pennsylvania | West Chester University of PA | PA |
| Southeast | Western Carolina University | NC |
| Canada | Western University | ON |
| Massachusetts | Worcester Polytechnic Institute | MA |
| Northeast | Yale University | CT |