EMS Week Goes to College (Hopkins)
A weeklong recognition of campus-based EMS
Adapted from ACEP's EMS Week 2014 Planning Guide (http://www.acep.org/emsweek/)
LAUREN CHAVIS, AN EMT and senior at Johns Hopkins University, volunteers 24 hours a week as EMS operations director for her campus EMS service, Hopkins Emergency Response Organization. Although she's thinking of going to law school, Chavis says working in EMS has given her experience in leadership and handling difficult situations she couldn't find anywhere else.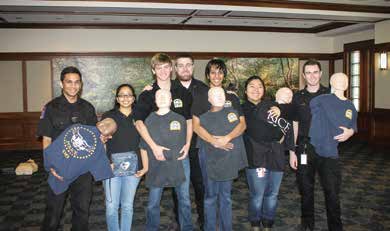 "In EMS, you can do good while at college, not in an abstract way, but in a very real way, where you're helping real people in real time," Chavis says.
She is one of hundreds of U.S. and Canadian college students who participated in 2013's Collegiate EMS Week, which is modeled after the national version of EMS Week, but is held during the second week of November to accommodate college schedules. (In May, many students are either taking final exams or on summer break.)
Sponsored by the National Collegiate EMS Foundation and the American College of Emergency Physicians, Collegiate EMS Week is endorsed by Congress. It is a week-long recognition of campus-based EMS — a time for those organizations to publicize their services and educate their communities. The week kicks off with National Collegiate CPR Day, which focuses on training fellow students and faculty in CPR. Other activities can include open houses, blood drives coordinated with local Red Cross chapters, local or campus media ride-alongs, joint training with other local EMS or fire agencies, and dorm safety events.
At Johns Hopkins, volunteers for the BLS ambulance service taught hands-only CPR to more than 50 people in the quad and created a hands-only CPR video that was shown on monitors in university buildings. Set to heart-thumping music and depicting the sudden collapse of a young male student, the video has received more than 700 views on YouTube.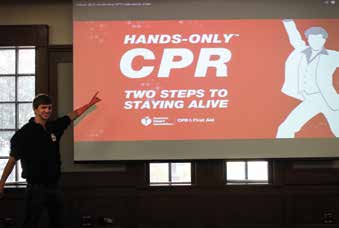 In Houston volunteers for Rice University EMS offered free blood pressure checks, taught hands-only CPR in the quad and held a special AED and CPR training session for the employees in a campus building where a woman had recently died from sudden cardiac arrest.
"Celebrating Collegiate EMS Week lets the members in the organization know how much they do and how appreciated they are," says Patrick McCarthy, an EMT majoring in biochemistry and cell biology and captain of a team of 70 campus EMTs who answered about 750 calls for service last year. "It also raises general awareness among the student body, the faculty and the community about our capabilities, how much time we put in and how dedicated the personnel in the organization are."
The National Collegiate EMS Foundation was founded at Georgetown University in 1993, when the Internet made it easier for campus rescue squads from around the country to connect with one another about ideas and challenges. Since then, the organization has grown to include nearly 250 campus EMS groups in 41 U.S. states and four Canadian provinces, collectively handling more than 90,000 responses annually. Their annual conference draws nearly 1,000 students, for lectures, skills labs and roundtable discussions.
"When the foundation started in 1993, the EMS community in general did not look favorably on campus EMS. The initial impression was, 'What are these kids doing playing around?'" says Joshua Marks, M.D., a member of the National Collegiate EMS Foundation's board of directors and a trauma and surgical care fellow at University of Pennsylvania in Philadelphia. "That has changed completely. Today, everyone in EMS recognizes that these college kids are energized, interested in learning and in that group are the future leaders of EMS."
While some of the students involved in campus EMS go on to careers in EMS or other health fields, many don't, he says. But they retain a lifelong appreciation for what EMS is and what it has to offer. "Collegiate EMS is a unique opportunity for college kids," he says. "It's students helping students, acquiring life skills of leadership, decision-making, problem-solving and teamwork."
Check out the Hopkins Emergency Response Organization video at facebook.com/photo.php?v=10201843550724216